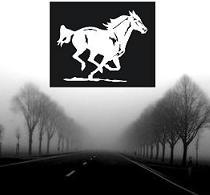 "You are going to keep doing that blog aren't you?" seems to have been the most frequently-asked question I've had since I changed my day-job.
And a few people have asked whether I can still credibly run this blog, now I work for one of the firms actually tasked with delivering the services we have been talking about for the best part of three years.  Heaven forbid. 
As we have discussed at length, blogs and other social media have been a major game-changer with how we engage with issues, market dynamics – and each other. 
We live in a different world today, where the rules are changing and we are constantly seeking out new and innovative ways to reach our industry.  To sum up the new constant in a nutshell, credibility is in the eye of the beholder. 
So here are the reasons for keeping these hooves galloping:

1) Fresh thinking.  We are going to be having a more expansive array of thought-leaders contributing.  We will be engaging with leading analysts, advisors, practitioners, bloggers and other influencers from across the IT services and BPO spectrum;
2) Fresh research.  With 65,000 industry stakeholders on this RSS feed and 7,500 in our LinkedIn Group, are there any better platforms for guaging the industry temperature?  We'll be updating our State of the Industry survey along with our media partners in the coming weeks - and welcome your participation;
3) Fresh banter.  Everyone here is involved in either buying, delivering, advising, negotiating, analyzing, commentating, technology-enabling, recruiting, marketing or blogging global IT and business process sourcing services.  If you're not, I suggest you see your shrink – and soon.  This is an industry resource to share our views, insights and experiences… with a grin 😉
Thanks again for all the sentiments many of you sent in, or commented on the blog.  Please keep them coming – your contributions are always welcome,
PF
Posted in : Social Networking, Sourcing Best Practises