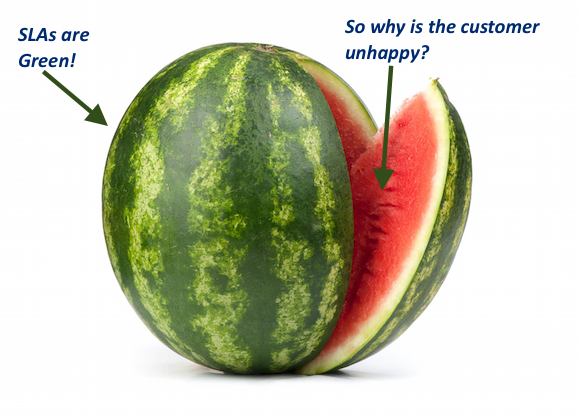 In her recent blog on outcome-based contracts, Christine Ferrusi Ross challenges the industry with Outcome-based Contracts Are A Nightmare –Do Them Anyway, and offers guidance and experience to rally the troops. What is also intriguing about this outcome-based approach is the potential to shatter the so-called "watermelon effect" that often takes shape in an outsourcing engagement that is based solely on key performance indicators (KPIs) and service level agreements (SLAs)… and use those traditional metrics as seeds for new value-based engagement.
What Is the Watermelon We Want to Shatter?
The outsourcing industry grew up on contracts that clearly articulate KPIs and SLAs, providing an agreed upon set of targets for the service providers to get the work done at a level that is satisfactory to the client. As transitions take place and Lean, Six Sigma and continuous improvement methods iron out processes and make them more efficient, these metrics regularly appear "green" on the scorecard. But, even when all the indicators are green, service buyers can be left feeling red—the so-called watermelon effect of green outside and red inside. There is often a sense that while all the targeted metrics for turnaround time, uptime, and transactions processed are being met, clients and service providers "feel" value is still missing.
This effect often leads to questions about the value of the contract and challenges for achieving innovation, price reductions, and competitive re-bids. The key issue is that perceived value changes as relationships evolve; therefore, the benefits received and the associated metrics to measure and manage real performance need to change with it. We once joked that "if outsourcing was an employee it would be fired," meaning if you took a job and were judged on the same performance metrics every year, you wouldn't last very long!
There is a Step Along the Path to Outcomes-Based Contracts
As Christine's blog points out, outcome-based contracts can be incredibly difficult to create, but you can still address the watermelon effect right away while sorting out the outcomes desired. In one such example, we heard of service buyers and providers addressing this point by including a metric and payment based on Net Promoter Score in the contract. That way, all parties in the engagement have to figure out, and proactively address, that feeling of missing value. An example is a simple performance evaluation, on a regular basis, that asks for a rating of partner satisfaction on a scale of one to three. If the feedback comes back as a one, a percentage of the payment is held back, if a two, no movement of money, and, if a three, then a percentage bonus.
The intent is to drive the right attitude, behaviors and cadence of interaction and measure, not just the service levels and performance indicators, but that "feeling."
Yes, it's subjective, but isn't any relationship subject to "feelings"? This "feeling" can be an indicator that the engagement is at a stalemate—that the engagement is no longer driving step change, helping the business to improve or address what matters to their customers today.
Using KPIs and SLAs As Seeds to Grow Outcomes-Based Contracts
How does a business outcome differ from a KPI or SLA? In practice, a business outcome often encompasses multiple KPIs and SLAs. For example, a business outcome in retail could be "increased sales closed by visitors that start a shopping cart," versus an SLA which could be "ensure website has availability of 99.999%." In healthcare, "decreasing the cost of care for a targeted population" could be a business outcome, while a KPI may be "percentage of targeted population enrolled in a relevant wellness plan." They are not mutually exclusive, and when used together, can help advance an outsourcing engagement towards a structured, but more interactive and flexible arrangement for today's dynamic business environment.
Looking at business outcomes puts the focus of the outsourcing engagement directly on the client and the client's customers and stakeholders—the ones who are judging and measuring the client's performance. The business outcomes for an outsourcing engagement in operations are broader than simple transactions, like website uptime or number of bills, invoices or claims processed. Using a healthcare industry example, what matters to a healthcare payer today could include retaining members in their plans, and that means KPIs that could include member satisfaction scores, and SLAs like payer web site uptime, claims processing throughput, and accurate provider data.
The Bottom Line: The point is not to move away from KPIs or SLAs in a contract, but to use them as building blocks for achieving real outcomes that make a difference to the client's business goals… and in a way that can flex and change in order for the partnership between the service buyer and the service provider to stay relevant over time.
Posted in : Business Process Outsourcing (BPO), Design Thinking, Sourcing Best Practises