Just when you thought it may be safe to give up a couple of days of your life to get to know a service provider better, with, maybe, a 10% reduction in slide bombardment (if you're lucky), one of the Indian majors has added a whole new dimension to the sales cheese game…
Fly in anyone with a pulse (literally) to receive the bombardment. Suddenly, they don't really care who they're talking to anymore… they just want butts on seats.
As an industry analyst, I need to devote a good amount of my time with service providers to learn more about their businesses and attempt to decipher what makes them different (if anything) from others.  In addition, it's important to meet their leaderships to challenge their business models and relay what their clients and prospects are saying about them.  Most of the time, these discussions can be held privately in briefings, but once (or twice) a year, some of them beg me to attend an event of theirs so I can absorb multiplous hours of their posturing, pitching and pontification.
And sometimes these actually turn out to be educative experiences with two-way dialog and a chance to meet some new people.  However, I tend to keep my expectations at the floor level, as many of these experiences frequently end in boredom and bemusement that they are pitching the same stuff that was in vogue a decade ago, and depression as all the kingsize rooms were divvied out to the Gartner analysts.
But now enter the new "whack-a-mole" marketing strategy.  Fill the room with suits… and who gives a damn!
This week, my suspicions of this new strategy were initially raised, when I inadvertently showed up late at a lovely airport hotel, where I quickly registered and slipped quietly into the ballroom to join the proceedings.  The room was wall-to-wall packed… there was nowhere to sit, so I sheepishly hid in the corner at the back of the room for a while, with the vein hope some nice helper would slip me a chair.  It didn't happen…
Then followed lunch, when again, there must have been 20% over-capacity with the butts:seats ratio.  Anyway, once that fiasco was endured, we were all rapidly shepherded into our break-out sessions for more PowerPoint proliferation and it was business as usual, as the laptops all came out and the vast majority of the attendees absorbed themselves in whatever they do when their laptops are on, and the provider executives proceed to read off their endless decks.
These days, we're used to some providers mixing up their audience with analysts and a few reputable advisors, but this was a whole new experience.  Here's the breakdown of characters:
Advisors who were actually unemployed;
Even more advisors who were on the bench and openly complaining about the "lack of deals";
Advisors who worked for boutiques even I had never head of (and were probably unemployed);
Any "analyst" based locally in Boston who was trying to figure out whether they had anything in common with the provider's business (I even bumped into one who was covering renewable energy).  Several were spotted slinking our of the exits after lunch;
Analysts who were once gainfully  unemployed and still attended any vendor event under the sun, still holding out hope that the good old days were soon returning and one of the big shops would miraculously rehire them;
A handful of analysts and advisors whose coverage and client engagement was relevant to the provider in question.
And here is an educated guestimate break-down of these characters at the whack-a-mole show: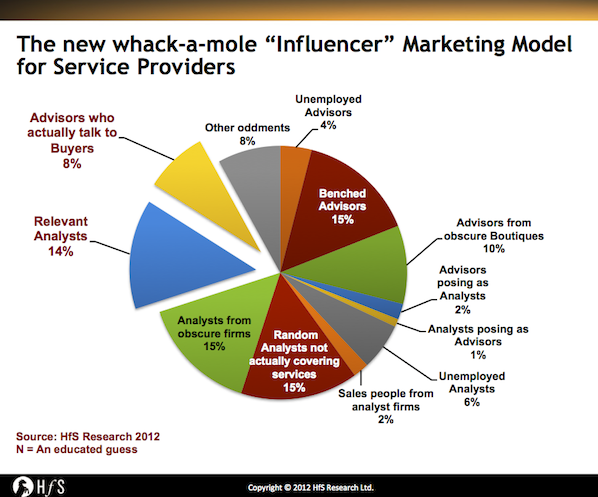 The Bottom-line:  The butts-on-seats model may work with the outsourcing model, but not influencer marketing
The provider in question has a strong reputation for its aggressive pricing and determination to win new client logos.  What baffles me is the ROI with its marketing focus.  Why not pick out the 20-30 folks from the audience who actually care about services who talk to clients and stop wasting time with everyone on their spam list who has nothing better to do than show up at these things?  We estimate that barely a fifth of this audience actually had some relevance to the provider's business and future growth potential.
If you focus on those relevant influencers who actually understand the industry and are involved with real buyer clients on a daily basis, then you're going to have a more intimate and educative experience for all.  However, if you lump those who matter in with those who really don't (many of whom waste everyone's time asking stupid questions), then you're going to lose the real influencer's attention and probably their attendance at future events.
It's time for some of these providers to wake up and start engaging influencers properly – this type of approach has little ROI and the net result likely to be negative.
Posted in : Business Process Outsourcing (BPO), HfSResearch.com Homepage, IT Outsourcing / IT Services, Outsourcing Advisors, Outsourcing Events, Social Networking