This roughly $300M deal, expected to close end of June, doesn't only have the potential to positively impact the HCM agendas of 4,000 combined customers worldwide between the two talent management players. It also has the potential to lift the HR Tech domain overall. How can this deal possibly achieve something that the much larger HR Tech deals done by SAP and Oracle didn't?
For one thing, SAP buying SuccessFactors and Oracle acquiring Taleo were motivated in large part by accelerating a transition to the cloud, and secondarily, by the ability to leverage best-in-class Performance Management (SuccessFactors) and Recruiting Technology (Taleo) at the time. Elsewhere, IBM acquiring Kenexa gave it a nice beachhead from which to eventually launch other HR services and solutions. In short, these deals arguably benefited vendors more than they helped customers achieve better HCM-dependent business outcomes.
The Saba – Halogen Software deal opens new routes to HCM optimization
We suspect many forward-thinking HR technology customers will want to take advantage of the combination of a world-class LMS (Saba) and a top-tier Performance Management solution (Halogen) in ways that extend beyond performance review and coaching outputs feeding employee learning and development plans. These talent management "meat and potatoes" capabilities are there. The "kicker" is the combined ability to address today's unprecedented rate of change, the explosion of corporate social tools, and just-in-time learning.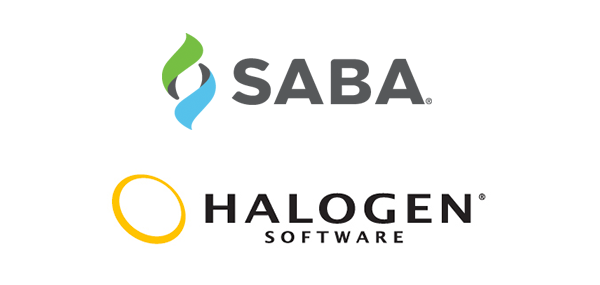 And this leads to the often-illusory goal of "organizational agility."
Saba + Halogen together could enable a bottom-up, employee-owned and initiated way of quickly addressing whatever performance, behavioral or skill gaps are most relevant at any point in time. Saba has robust capabilities around informal learning and social collaboration tools (even social network analysis functionality). Put it together with Halogen Software's flexibility to support many different performance management models, and you go beyond that "meat and potatoes" passing of performance management process outputs to actionable learning plans. It's a whole new level of execution that ties together professional development, employee engagement, individual / team performance and business results that include improved organizational agility.
Take the example of a mid-level professional being moved from an individual contributor role to one of managing a project team, add-in that the vacancy was unexpected, the project is behind schedule, and there aren't many other resourcing options. The new project manager can immediately start marshaling peer and team member feedback, coaching and mentoring, broader community or social network support plus other internal and external resources to make this resourcing dilemma a much more manageable issue. Now multiply this unexpected, unplanned scenario by dozens company-wide.
When you can mitigate risk to sustain momentum on key initiatives this way, you have the essence of organizational agility.
Bottom Line: This new pairing of HR Tech players might be the answer for many organizations that are too often held back by their lack of organizational agility.
Posted in : HR Strategy