The SAP SuccessFactors Influencer Summit, held in California recently, was an opportunity to see up-close-and-personal how the major HR Tech vendor views the concept of transparency, as not all players in this space view it the same way. It was, in a word, refreshing. Mike Ettling, company president, set the tone early by reminding participants what the company committed to the year before so they can be held accountable. Presentations were also "open kimono" about execution areas they want to be better at in the next year, sharing many plans in detail – not just product plans and strategies (staples at such events) but spending hours on areas like delivery, support and even data centers (partly under NDA due to being within the earnings quiet period).
Throughout the event, speakers offered bold and somewhat surprising statements, and not always ones that blanketly served the software vendor's interests. Ettling, for example, stated, "no one will be logging into HR Systems in five years time". Other executives highlighted some subtle aspects of digital disruption; e.g., "it's all about cloud adoption" (implication: not product adoption), and "trust is central to everything we do" (a great word for a company you're taking a major journey with, and one which conveys product quality without saying those words).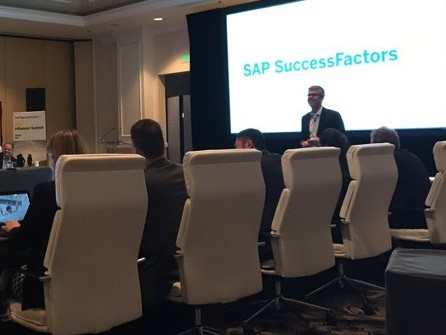 As to Ettling's proclamation about what is essentially the "no platform HR Tech platform" in five years, it led to a discussion of one of the company's product strategy pillars, "Conversational HR." The concept is to enable your employees to use interaction channels and platforms such as Slack, plus HR bots and "intelligent services" that connect and predict application actions and are embedded into daily work. Intelligent services are designed to transform HR operations through targeted analytics and machine learning, and cutting across relevant business processes. They were announced in August 2015 and there are 40 predefined intelligent services today; e.g., change of manager, employee department or job. This results in delivering a user experience that's outside the traditional walls of both system modules and singular HR processes, and also involves linking HR and non-HR data. Also of note, SAP SF is now integrating Slack with its Continuous Performance Management functionality so employees and managers interact around, versus execute a process.
Improving the customer experience
The emphasis on usability and the customer experience was evident throughout; e.g., it's fairly unusual to hear targets like this from an HR Tech vendor: Unlimited scalability, 99.9% availability and 80% of support cases resolved within 2 days. And the company has learned more about "attention to detail" in the mobile experience from its collaboration with Apple. I was also impressed with seeing plans to bring the customer support function into the digital era and make it a more engaging, tailored experience; e.g., by using such mechanisms as guided answers and even a tool for customers to easily schedule 1-to-1 "expert sessions" at a mouse click.
A "Peer Match" capability is now also being leveraged by the base. This is the company's direct, peer-to-peer connection tool that allows SAP SuccessFactors' customers to connect and share experiences with their counterparts within other SAP SF customers, from implementation to best practices to thought leadership. More than 227 "advisors" have self-registered and have made 200 connections in short order. Frankly, actively participating in a customer community (and sharing lessons learned for example) is one of the major benefits enjoyed by HR Tech customers of the cloud model, as you are on the same software instance and version. One other example of the customer experience focus is the new Digital Boardroom soon to be in production. It is touch-(boardroom) screen, dynamic, visual, based on multi-sourced data, and SAP SF's HR Department was the design partner.
Fast take-up of newer capabilities
Continuing the theme of transparency, we learned that 260+ SAP SF customers have enabled or are using Continuous Performance Management: real-time coaching, feedback and learning even though it was more vision than seamless product capability when it was launched just two years ago. That is changing.
And beyond the vendor's continuing product emphasis on candidate relationship management, internal mobility, better mid-market penetration and removing gender bias in decision making, two other interesting takeaways:
The "marketplace" concept is catching on in the HR Tech space, as now another vendor is making it easier to find and inter-operate with 3rd party apps that are innovative or focus on a specific area of HCM functionality. It's a great marketing / PR tactic, as current/future competing products probably won't find their way to the marketplace. 157 apps are available today.
Diversity really does matter to SAP SF, as highlighted in the anecdote shared about a developer asking: "How come in the org chart a blank image (for a vacant position) is always a man?", thus bringing about a change in the vendor's org chart.
Outstanding questions
While the presentations and sessions with experts and customers provided considerable information and insights, I'm left with a few additional questions:
Shouldn't HR Tech vendors also be transparent about their product roadmap prioritization process, not just the roadmap itself?
How can change management be done effectively when you're so focused on reducing deployment times?
Will SAP SF's support of more flexible organizational structures cause similar issues that Workday customers experience when interfacing HCM with 3rd party Financial Systems?
Bottom Line: For more than 10 years, SuccessFactors has emphasized cool, innovative features, an engaging, consumer-like user experience – and in more recent years, rolling out a Core HR System and additional Talent Management components (e.g., recruiting and learning). Now, by also addressing issues like diversity and biased decision making, and by embracing and executing on the Conversational HR vision, SAP SuccessFactors is poised to weather uncertain times in general, and maintain its top-tier market position.
Posted in : HR Strategy