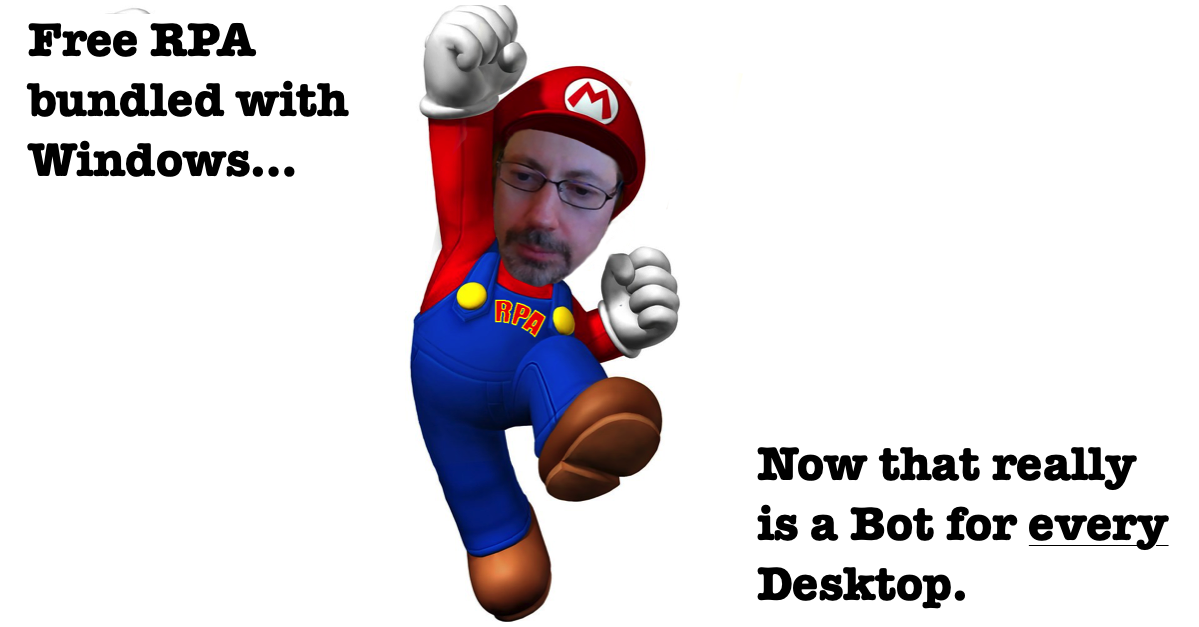 We've been pushing our concept of Native Automation hard these past few weeks, where it's imperative for organizations to embed an attitude to automation workflows deep into their operations. So what better to promote this native adoption, than to get it for free from the world's juggernaut desktop software institution, Microsoft? And does this spell trouble for the likes of UiPath and AutomationAnywhere's desire to IPO… now RPA is practically free for all? They now have little choice but to prove their value beyond RPA.
RPA is not dead, as previously stated. Thanks to Microsoft, it's going mainstream.
In line with day one of its annual Ignite events, Microsoft announced that it would immediately offer a free version of its Power Automate Desktop robotic process automation (RPA) application. This is available for complimentary download starting today. Additionally, it will become a standard part of Windows 10 and subsequent versions on a go-forward basis. This seemingly modest announcement baked into a sea of other Ignite news has the potential to drive RPA mainstream through a bottom-up approach of democratized use.
Here's a quick RPA history lesson on how we got here and why this announcement matters:
2012 – "Greetings from Robotistan" – HFS picked up on the RPA trend when we learned about a company called Blue Prism and how it was primed to shake up the offshoring outsourcing model with "robotic automation." HFS, in fact, put the "P" in RPA.
2103 – 2016 – A market is born – Vendors proliferate such as Automation Anywhere (AA), OpenSpan (acquired by Pega), WorkFusion, Softomotive, Kapow, UiPath, and Blue Prism goes public
2017 – 2018 – The hype years – adoption but lots of unsubstantiated value claims and insane UiPath and AA valuations
2019 – RPA is dead – frustrated with the lack of transformation and scale, HFS declared RPA dead and advocated for the Triple-A Trifecta approach of integrating AI, Automation, and analytics to drive value.
2020 – The burning platform for Automation has arrived. The pandemic forced digital change and a 'work-from-anywhere economy'. Automation is recognized as a critical value lever for those enterprises willing to change.
2021 – Native Automation supported by cloud-first. As we emerge from the pandemic, we have a once in an era opportunity to reinvent how we do work. The reinvention plan must embrace the skill of the cloud, the elevation in value of data, and the everyday use of automation technologies to power how work is done natively.
Based on the above timeline, Microsoft was decidedly late to the RPA market. By their own admission, this was entirely intentional as it waited to see how the hype played out. It first announced its entry into the RPA market in 2019 with Power Automate, its Power Platform rebrand of Flow with newly added UI Flow for RPA. It hit general availability (GA) in April 2020. And then, suggesting it did not quite have what it needed, Microsoft acquired RPA firm Softomotive in May 2020. Our view of the acquisition was that it would strengthen the legitimacy of the RPA industry and that if any vendor was going to achieve UiPath's vision of a bot for every worker, it would be Microsoft. Perhaps the inherent RPA scale issue could be solved by making RPA the world's next standard desktop application.
Softomotive integration ensued, and then in December 2020, Microsoft announced the general availability of Power Automate Desktop, the native integration of Softomotive's WinAutomation technology into Power Automate. The GA announcement heralded the expansion of Microsoft's RPA capabilities with added features such as a drag and dropped no-code visual designer, embedded web and desktop recorders (to record your work and automate automation builds), and a host of connectors to various systems. The resulting PowerAutomate product as it stands today is a hybrid of cloud-based API automation (flows in Microsoft vernacular) and on-premise user-interface (UI)-based Automation (aka RPA) with the availability of enterprise collaboration, governance, reporting, and integration capabilities – with the rest of the Power Platform (Power Apps, Power BI, and power Virtual Agents) as well as Teams at the top of the integration list. Its primary form is attended Automation – which is Automation triggered by a user.
The resulting impact has been a rapid uptake in enterprise tinkering with the Microsoft tools, as 23% of automation decision-makers now view them as one of their primary automation suppliers, which our recent survey across 400 of the Global 2000 demonstrates: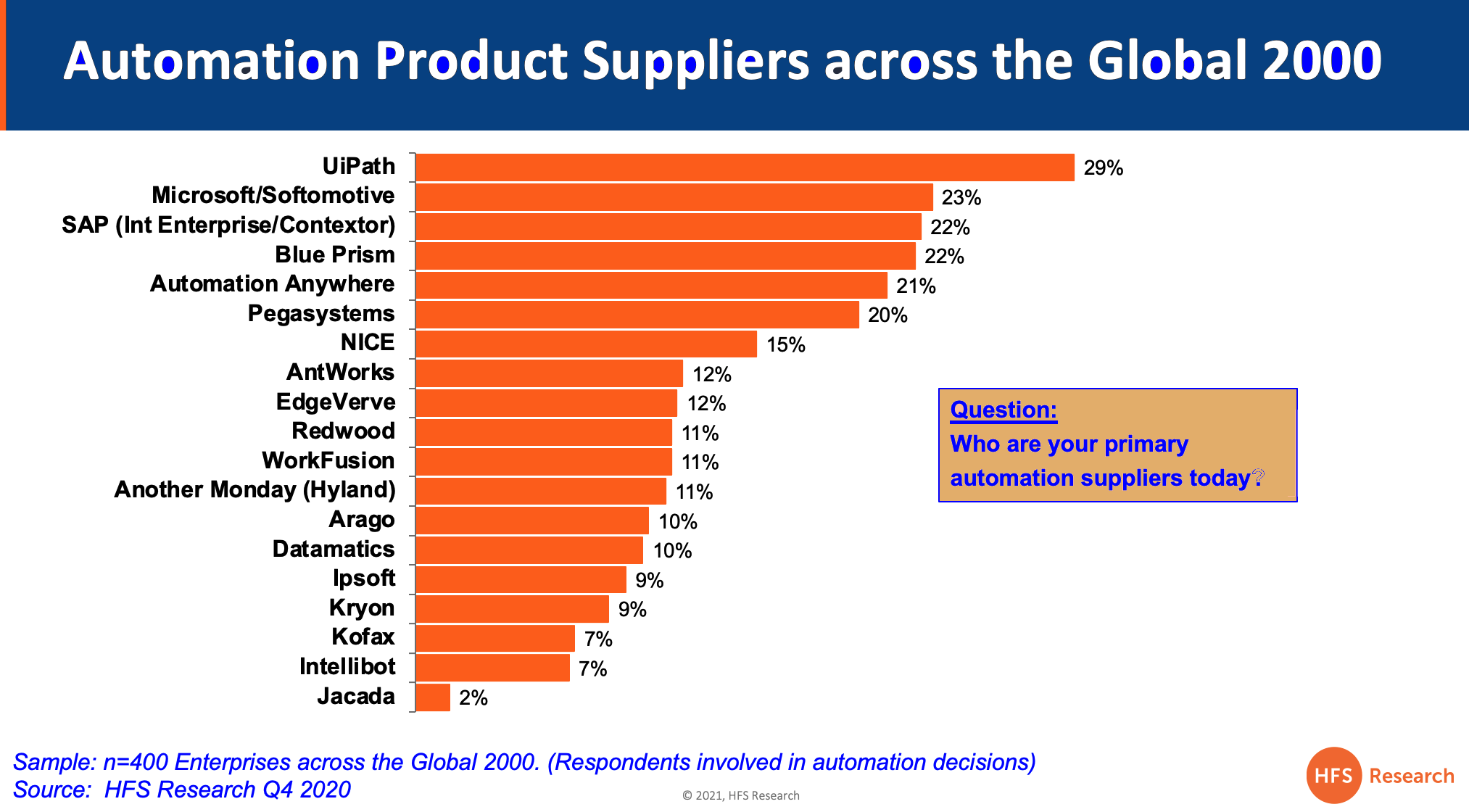 With so many enterprises under pressure from their leaderships to align all desktop software onto the plethora of Microsoft applications, it's no surprise that interest and adoption in the PowerAutomate platform to be on a sharp increase.
So what is actually "free", folks?
The PowerAutomate pricing you'll find on Microsoft's website shows a tiered approach going from $15 to $40 per user per month. This pricing stands, and Microsoft has essentially added a new, freemium option as the entry-level. The freemium provides access to Power Automate Desktop, the desktop-based attended RPA functionality – essentially the Microsoft version of the former Softomotive WinAutomation. The $15 price point is for cloud-based API automation (unlimited flows). The $40 price point is the combination of RPA functionality plus cloud-based API automation flows with an added enterprise governance and management functionality. Other enterprise options exist for unlimited users as well as an unattended offering.
Notably, this freemium version will be offered as part of Windows 10 and subsequent versions going forward. Microsoft is literally offering RPA to the world as part of its evolving standard toolset to get work done. With Microsoft's reach, we may actually make some progress with business user adoption.
Bottom line: Native automation is not "Hyper", it's a must-have attitude and mindset, and we now have broad access to the tools to make this happen
Automation is not your strategy; it's a necessary competency ensuring your processes provide data to deliver your business outcomes. If your processes are not automated, you will struggle to run a work-from-anywhere business where front and back offices are blended to create OneOffice. Automation must be native to organizations giving it the ability to apply AI to orchestrate these processes, It is not "hyper" or even "intelligent"; it just needs to be native. Your strategy is to have data to drive smart decisions to stay ahead of your competitors and refine your supply chain impact.
However, despite the business-led automation revolution that has been the hallmark of RPA, it continues to suffer from a fundamental adoption issue: no one knows how to use it and has not been incentivized to use it. Enterprises that have set up RPA programs, particularly those in the formative years, learned the hard way that trying to run and scale RPA without IT was a road to nowhere and/or required expensive perpetual use of external service partners. Initiatives to create "citizen developers" – essentially business users who could develop and manage RPA programs were lackluster at best. Seriously, "developer" is in the description, foretelling the skill set actually required to do anything more than build a simple task bot to answer email or do data entry.
In the process of setting up RPA programs, the people whose work was being automated realized that their jobs may actually be at risk based on the hyped promises made by RPA vendors to transform business processes and eliminate manual work. Toss in a shocking array of images of physical robots and then sprinkle in confusing RPA licensing and you've basically created a product doomed to be implemented by IT, who don't really respect it, and managed by a select group of MENSA business users who have dedicated their lives to its proliferation and talking incessantly about it. Maybe we've succeeded in "democratizing" business-led Automation, but we certainly have NOT brought Automation to the workers. Centers of Excellence have co-opted the revolution.
What if we tried the Microsoft approach – free and easy – native Automation for everyone using Windows (we'll save our views on how Apple did this ages ago with workflows for another time). If it's free, it becomes less about how the RPA vendors pay back their investors and more about how we actually improve how we do work.
Posted in : Artificial Intelligence, intelligent-automation, Robotic Process Automation, robotic-transformation-software