You may recall the discussion we had earlier this year regarding whether it is time to stop using the term "Outsourcing".  The general consensus among many of you (including myself) was that we are stuck with the phrase and we shouldn't go out our way to dress-up global sourcing with other, more relevant, terminology:
"However you want to spin it, your staff will view it as outsourcing, and the more you try and disguise the taboo term, the more suspicious your staff will be that you are simply trying to ship them out for lower-cost labor"
With the dramatic changes in our corporate climate and political attitudes in recent months, I believe it's now time to change our well-worn phrase.  The core issues being:
1) Poor comprehension of global sourcing. Too many people associate "outsourcing" with greedy corporate leaders only interested in slashing costs, with little regard for employee livelihood. They have pre-conceived notions that organizations have forgotten about their people, and only care about the bottom-line.  I can assure anyone that is not the case with the majority of companies with whom I speak with daily. 

 In fact, the prime reason why many firms haven't ventured into wider-reaching global services delivery models, is because they care about their people too much and worry about the turmoil a global transition would have on staff morale and retention of key talent.
2) Guilt by association. The current recession is fuelling political passions regarding job protection.  I have had a couple of occasions recently where I have been drawn into hard discussions regarding what I do.  I have to explain that most my clients are going to "outsource" whether I like it or not, and my job is to help them approach it correctly, and not simply jump at the lowest cost solution.  The simple fact that I am associated with "outsourcing" paints me in a poor light with some idealists, which, quite frankly irks me. I see myself as a realist, helping real businesses deal with the hard realities of surviving in todays challenging business environment.  I know many of you who visit here regularly feel the same way (and 20,000 of you do), whether you are a consultant, practitioner, analyst or service provider.  
3) Many companies need to make hard decisions or risk going under.  As we discussed last week, 2009 is a survival of the fittest across almost all industries.  Enhancing global market penetration while reducing operating costs has never been as critical in this long corporate winter.  Putting tough decisions on hold is no longer an option and simply shaving a few percentage points off pockets of cost is unlikely to have a dramatic impact on many struggling businesses.  Global sourcing clearly provides a vehicle to help make radical changes, but is only part of the answer.  The other ingredients are the ability to make smart business decisions and deliver great leadership through your managerial ranks.  This simply isn't "outsourcing", it's smart global business strategy.
4) Skills at affordable prices.  The talent available across the globe to help drive competitiveness is so much more developed than it was 5 years' ago.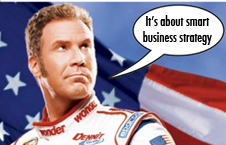 The incredible advancement of the Internet has completely changed the game in bringing international markets close together. Global sourcing is so much more than using a low-cost call center rep these days – and too many people are not aware of this yet. It's about supporting complex ERP systems, analyzing accounts, clinical data, logistics, investment research, engineering etc. In so many cases, it's easier to find many of these skills engaging with global sourcing partners than hire them yourself. That's not "outsourcing", it's smart business strategy. We work in business of global service delivery, which is tied directly to global business strategy. Hence, we are "global business services" executives.
Love to hear your prolific thoughts on this topic (as per usual).  PF
Posted in : Business Process Outsourcing (BPO), Confusing Outsourcing Information, HR Strategy, IT Outsourcing / IT Services, Sourcing Best Practises