For a business even to consider outsourcing its operations, is a resigned acceptance that it's not running them very well and it may as well source to a provider that can try and do a better job at it.  At the very least, outsourcing will reduce costs and they'll continue to plod along with more of the same.
Most people still claim they really outsource to save money – of course that's an immediate benefit, but you wouldn't even be considering it, if you had operations in place that were really good.
For example, this company wouldn't have to do a lot of outsourcing:
"We have world-class HR, where we attract and keep top talent to run our business"
"We have superior finance, where we close the books in a week and our management can make rapid, informed business decisions"
"We have great customer support which upsells our products and makes our customers love us"
"And we have great IT brains that works with our business units to develop the applications our departments need, while automating processes to enable the business to be run efficiently."
If your business is at the point where you view your IT support, HR, finance, procurement, customer service etc. as largely low-value administrative functions, then your functional heads and their supporting teams have failed you.  I'm sorry, but if your business operations were run in a manner that could add significant value to your organization, you wouldn't consider outsourcing them for a minute.  I've been covering outsourcing for more than a decade, and I still believe in the value that great finance, HR, procurement and IT can give to a business, and it's a crying shame that so many businesses today are giving up the ghost of finding this value within themselves – they know their business  and their institutional processes the best, and looking to ship them off to a third-party is the final admission that their people have failed them. Here's the hard evidence: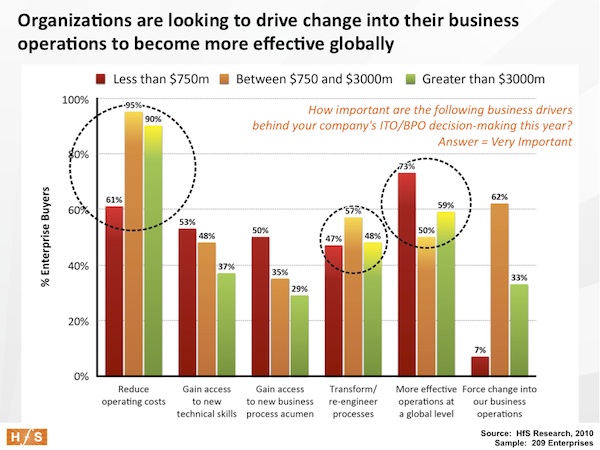 This recent HfS Research study of 209 US and European enterprises found that six-out-of-ten large enterprises are considering outsourcing to achieve more effective global operations.  Yes, 90% are looking to save money, which is a clear short-term motivation, but the simple fact that over half of all business are also looking to re-engineer their processes, and achieve greater effectiveness into the bargain, is one major admission that their own operations are not good enough.
Why are so many business seeking to improve their operations?
I blame our education system – and this is endemic across many first-world countries.  Why are we not producing enough graduates who are schooled in the value of developing great human resources functions, passionate about providing great talent management to business?  Why are we not producing enough finance people, trained to develop a deep understanding of the complex global business needs in todays' environment?  Why are we not producing customer service leaders who believe the customer is still king?  Why are we not producing enough IT grads who can apply real business logic to application workflows?  The list goes on…
In India, we're now starting to see several of their leading service providers hire kids straight from high-school at 18, bypassing a university system that clearly isn't giving them the right training that most businesses today require.  Conversely, in China, their education system is tightly interwoven with their economic development.  But what about the US, the UK and other countries, where everyone is supposed to go to college and and get some some of degree, before graduating to face a genuine relevance gap between whatever they studied, and those skills employers actually need today?
In the olden days, graduates would start at the bottom, processing invoices, answering the phones etc. and work their way up the company.  In today's environment, if those staff are readily available in other global locations with more relevant training, a more willing attitude – and prepared to work for less (and not have a crippling student loan to repay), that's where you'll take your operations.
These are some of the core issues that are really failing today's businesses, and outsourcing is merely a symptom of these core issues – not the cause! Preventing outsourcing to overseas locations is only going to punish our businesses which are crying out for a support infrastructure that can keep them competitive in today's markets.  The key is to serve up onshore talent that is primed, trained and ready for the needs of todays' businesses.
Side-note to readers to clarify some points: There is no hard answer to my thoughts outlined in this post, and this is a complex, sensitive topic with many nuances. I am observing long-term macro trends that are shaping corporate behavior.  The irrelevance of many college degrees to suit today's business needs, combined with the financial impact on graduates' early-stage career behavior, is having a major indirect impact on many businesses' ultimate decisions to outsource.  What is clear, is that there needs to be a complete overhaul of how young talent is developed in our educational system, if government leaders want to fight this ongoing trend of its leading enterprises looking overseas, not only to save money, but to access talent that is ready and willing to be plugged into their operational support functions. It'll take a long time to reverse this trend, and you do start to wonder if it's already too late…
Posted in : Business Process Outsourcing (BPO), Finance and Accounting, HR Outsourcing, HR Strategy, IT Outsourcing / IT Services, Procurement and Supply Chain, Sourcing Best Practises, sourcing-change