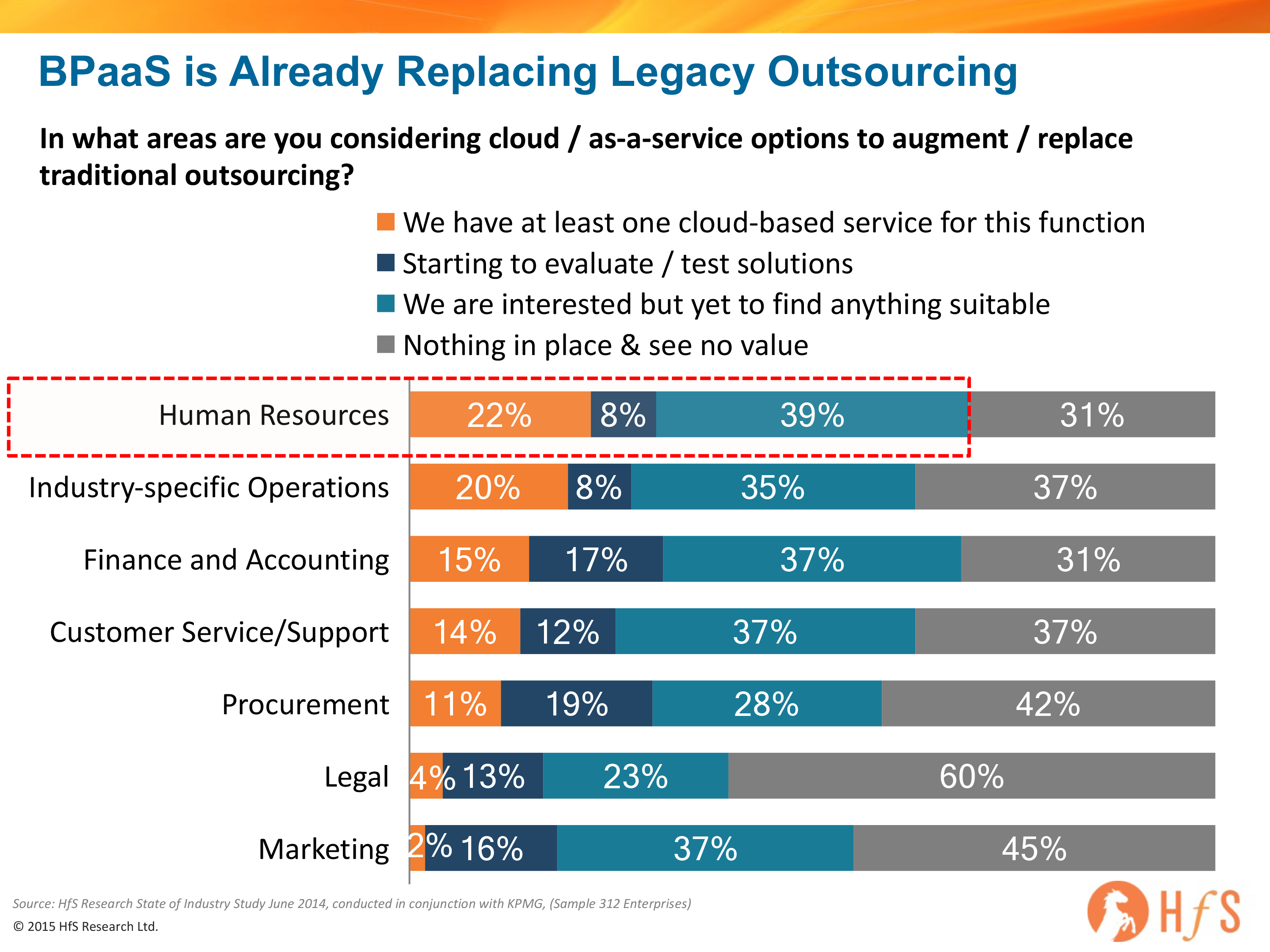 The rise of cloud-based HCM platforms has been a key driver in pushing the business case of HR to the c-suite and making HR one of the primary focus areas for IT managers. Further highlighting this point, in a recent study (attached chart) HfS identified HR as been the leading business unit adopting cloud implementation and BPaaS support. This movement is leading to the days of the dreaded green screen fading into the distance and slicker, user-friendly and more compliant HR cloud platforms becoming the norm, thanks to SaaS.
Whilst these platforms have largely been extremely positive for HR managers and employees alike, process change management and continuing integration issues have made these systems far from fool proof. Continuous updates are a headache for organizations to absorb, incomplete compliance functionality is a constant thorn in legal's side, and piecemeal buying of these platforms has hindered the benefits organizations can glean from them.
NGA has just introduced a new offering into this market that is designed to be fit for purpose and globally compliant. It's built around SAP SuccessFactors as a bundled software offering including the NGA's proprietary MyHRW, and PEX platforms. PEX allows for integration with payroll systems.  cleaHRsky will be front ended by SuccessFactors Employee Central and include an interactive case management portal, AskHR as well as transactional automation in support of processes, reporting, and interfaces.
Here are three characteristics of what NGA is offering:
Support for Local to Global Growth: CleaHRsky will be marketed to medium, private domestic firms that do not have established, centralized global HR functions and are mid-sized multinationals between 5,000 and 25,000 employees aspiring to become global. In the interest of practicing what they preach, NGA is in the process of rolling out cleaHRsky internally.
Plug-and-Play Functionality: The solution pivots around a "grow and evolve" approach. NGA is offering it to clients with Employee Central and therefore core HR at the heart of the solution. Clients can then opt in to deploy payroll and talent management support as well as expanding geographically. NGA is seeking an aggressive implementation time-frame of 14 weeks including change management for core HR functionality aspects of cleaHRsky
Mobile and Social Support: cleaHRsky will include essential components of SuccessFactors which will be optimized across mobile and social channels. In support of cleaHRsky, NGA will provide a global best practice catalog to support in-house processes of the implementation.
Will it work for everyone? No, the preconfigured nature of the offering will not work across the board. The solution is better suited to organizations that are seeking more vanilla HR standardization across their operation. There is a certain degree of customization within cleaHRsky, but its core aim is to be a fit for purpose SuccessFactors implementation. I have spoken to many buyers who have dived head first into implementing cloud HCM platform and in some cases, these buyers have ended up using the same functionality and processes that they did on their legacy platform. In short, a key attraction is that this approach is how it can remove much of the consultancy and internal debate over SuccessFactors module usage and processes to optimize use of SuccessFactors based on NGA's experience.
The key challenge for NGA is selling an end-to-end solution of this ilk, especially in the upper end of NGA's target market (up to 25,000 employees). At these larger companies, the need for customization to fit standard procedures generally increases and HR and finance departments are more formally separated internally, often requiring a top down, transformative approach to HR. Currently many of NGA's relationships remain with the VP's of HR making this level of transformation a challenge. NGA requires a new approach to get c-suite buy-in and has been acquiring sales talent, over the last year, in support of this.
NGA is putting its weight behind this offering and has stated that cleaHRsky will be its "go-to" offering for all organizations that fit within its target range.  This big push could be just what NGA needs to kick-start adoption of cleaHRsky and entrench itself as an HR transformation partner.
Posted in : Cloud Computing, HR Outsourcing, HR Strategy