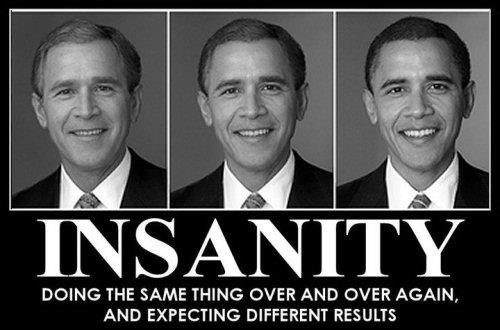 The official definition of insanity: asking the same question over and over again, from every conceivable angle, and always arriving at the same conclusion.
The official definition of insanity in sourcing: recounting how many times a service provider has asked you, "We've got to get to the C-suite to pitch innovative ideas, because middle management is too risk adverse."
So who better to analyse sourcing insanity than HfS' own sourcing insanity analyst, Tony Filippone…
Are service providers addressing the right audiences?
Is there really a disconnect between senior executives and the rest of their teams regarding the importance of innovation during service provider selection? Will ideas fall on deaf ears unless a service provider can schmooze a CFO? Are service providers addressing the right audiences? We asked a few questions in our State of Outsourcing survey to delve deeper into the topic…
To begin with, we can bust part of this myth once and for all. Namely, during evaluations of service providers is the executive suite the only group interested in transformational and innovative ideas while the junior ranks are concerned with process efficiency and execution? When asked which was more important, senior executives favored execution over innovation 71% of the time. That result is statistically consistent with opinions of their middle management (73%) and junior management (70%). All levels of buyer organizations are severely and equally biased toward process efficiency and execution issues, which strongly supports our research findings that motivations of buyers are firm focused on cost reduction. Transformational ideas are going to fall on relatively deaf ears at all levels of the organization.
Exhibit 1: "Which is more important: Execution or Innovation?"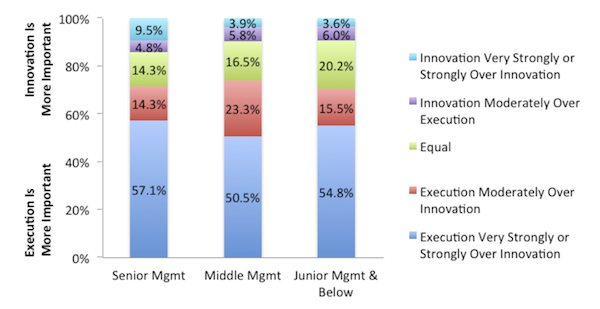 Is time spent with the C-suite worthwhile?
But isn't there value to schmoozing up the C-suite? Aren't senior executives swayed more often by relationships over delivery capability than their middle management? Is time spent with the C-suite worthwhile?
This is another myth we've bused. We asked whether customer relationship skills were more important than delivery capability during service provider selection, and senior and middle management have statistically similar opinions. For both groups, nearly 30% feel relationships are more important than delivery capability, about 40% feel the opposite, and 30% feel the issues are equal. Junior management is where the switch in perspectives appears. While a similar percentage of junior managers find relationships more important (28%), 52% believe delivery capability is more important and just 10% find the areas equally important. Energy to build relationships therefore is best spent on directors, vice presidents, and senior executives who all find relationships more important than their frontline staff.
Exhibit 2: "Which is more important: Customer Relationship or Delivery Capability?"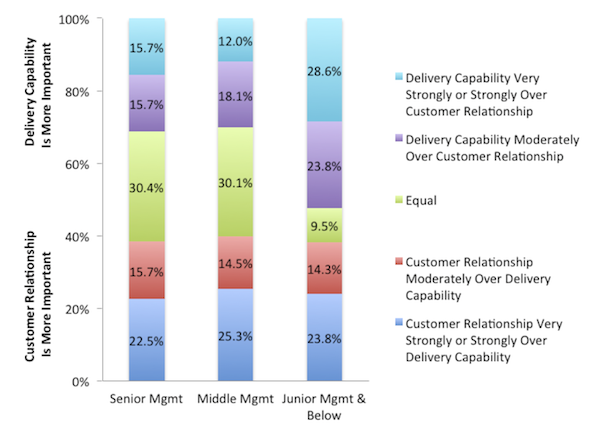 The Bottom Line: Don't Sell Execution Capabilities Short
Our newest data should help service providers build the right strategies to address potential customer interests. Most importantly, all service providers should realize:
The current state of buyer sentiment is emphatic: Today's market is obsessed with execution, which demonstrates buyers haven't grasped the potential value of outsourcing. In most competitive bids which sadly provide limited time for buyers and service providers to exchange information, pushing innovation and transformation to hard in evaluation processes may not ensure buyers that service providers can do the work.
Buyer values are identical throughout their ranks. While a CFO may hold the decision-making power, recommendations from their staff are likely to reflect the same bias of execution capabilities over innovative opportunities. This makes influencing all levels in equally important in a buy-decision.
Relationships matter as much to middle managers as they do to senior managers. They want partners with great relationship skills and people they can trust. Spending political capital to address these levels of influencers is important, but the focus of these discussions needs to be on strengthening relationships, not on delivery. Pitching quantities of FTEs and systems savvy to senior executives are wasted opportunities.
Jumping rank over a potential client's vice president wont win you any favors and doesn't reach an audience that has a difference of opinion. In fact, vice presidents value relationships just as much as their bosses do and building these relationships may be just as valuable in a competitive bid.
Note to readers:  there are no intended political undertones to this article, based on the picture above.  All good, apolitical, tongue-in-cheek humor 🙂
Posted in : Business Process Outsourcing (BPO), HfS Surveys: State of the Outsourcing 2013, HfSResearch.com Homepage, IT Outsourcing / IT Services, Social Networking, sourcing-change, the-industry-speaks