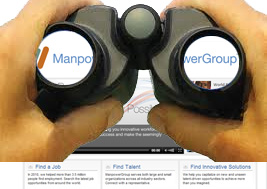 Our resident travelling HRO impressario, HfS Research Fellow Keith Strodtman hit the road earlier this month to head to Milwaukee. Top of his agenda, other than sampling Milwaukee's finest cheese and ale, was ManpowerGroup's industry analyst and influencer day. As the headline on this post may indicate (and Keith's RAPIDInsight shows), Manpower is more than a staffing company now.  It is?
Keith files this blog report. Take it away, Keith…
Manpower Group held its industry analyst and influencer day on June 9, 2011 at its headquarters in Milwaukee, WI.  ManpowerGroup is the third largest staffing company in the world based on revenue and the largest based in the United States. It operates in 82 countries, has more than 30,000 full-time employees and places 3.5 million people in permanent, temporary, or contract positions.  That's a lot of staffing.
While much of the day was devoted to business overviews and strategy updates, the company's executives and analyst participates also spent a lot of time discussing the changing dynamics in global workforce.  ManpowerGroup has an extensive research group that studies workforce trends with its customers, economists, governments, and think tanks.  Instead of covering the business overviews in this blog post, I'll share some of the thought leadership discussed at the event.  More details about ManpowerGroup's businesses can be found in the HfS Research RAPIDInsight ManpowerGroup – A Whole Lot More Than A Staffing Company.
While some of the language and buzzwords used by ManpowerGroup rivals those of the big consulting firms, I found the company's research and positioning to include thought provoking views that HR and other business leaders would be well served to be thinking about.  Many of the observations made by the company align with some of the topics I covered in my blog post on The Future of Work.  ManpowerGroup has encapsulated many of their views on the future of talent into a thought leadership piece they call "The Human Age", an era where unleashing the human potential will be the key driver of global economic growth.
It may seem a little strange to think about talent shortages when many of the leading economies have high unemployment rates, but the reality is there is a growing talent "gap", where the people available to fill a role lack the specific skill required for the role.  An example is the shortage of software engineers in India.  Most of us probably think that India has an unlimited supply of engineers.  The reality is that it is estimated that India will experience a shortage of software engineers just six months later than the United States will experience the same shortage.  In fact, India ranks second, behind Japan, for overall difficulty to fill key skilled positions.
People with the skills most desired by companies will have more power to dictate the terms under which they will work for a company.  In response, employers will need to be more creative and agile to attract skilled individuals.  ManpowerGroup believes that companies that are able to create environments that unlock the creativity, innovation, empathy, passion, and intellectual curiosity that sits at the heart of the human spirit will be the companies that win in the marketplace.
Technology plays a big role in "The Human Age" by enabling communication, collaboration, and the ability for people to work together virtually – allowing companies to tap into diverse talent pools to fill critical skill gaps.
This type of thinking tells me that ManpowerGroup is not our grandparent's staffing company.  However, like many other firms in the HR services space, they need to continue to invest in thought leadership, marketing, and of course talent to get the word out in the marketplace.  I think they are off to a good start with "The Human Age"…but then again, I like buzzwords.
For more details on the information presented at the event, please see the HfS Research RAPIDInsight ManpowerGroup – A Whole Lot More Than A Staffing Company.
Posted in : Business Process Outsourcing (BPO), HR Outsourcing, HR Strategy, sourcing-best-practises