Our research shows that India is the most popular destination for ER&D centers and now we're seeing Indian Prime Minister Narendra Modi's "Make in India" program accelerate ER&D center investments in India.
Modi launched the Make in India program in September 2014 as part of a wider set of economic initiatives. Devised to transform India into a global design and manufacturing hub, it aims to increase manufacturing's share in the Indian GDP from the present 17% to more than 25% by 2020. The Make in India program is focused on 25 sectors, including: automobile, chemicals, electronics systems, electrical machinery, construction, railways, defense, and aviation (read details of the Make in India program and its 25 sectors here). The program aims to create more effective government policies for each sector, such as increasing the limits on foreign direct investment (FDI) in manufacturing while also making it easier to conduct business in India through the easing of regulatory regimes for both domestic and foreign enterprises that manufacture.
Overall, foreign enterprises are increasing the manufacturing footprint in India to produce products for the Indian market and are accelerating investments in ER&D centers to design products for the Indian market.
India leads with 30% of the global ER&D center announcements:
In the nine months from April to December 2015, we uncovered 190 announcements of either new ER&D centers or the expansion of existing ER&D centers around the world. India leads the pack with 57 of those ER&D center announcements, as we show in Exhibit 1. Other prominent ER&D destinations are US, China, Singapore, France, Israel, UK, South Korea and Ireland.
Exhibit 1: Summary of ER&D Centers New/Expansion Announcements By Countries in Apr-Dec 2015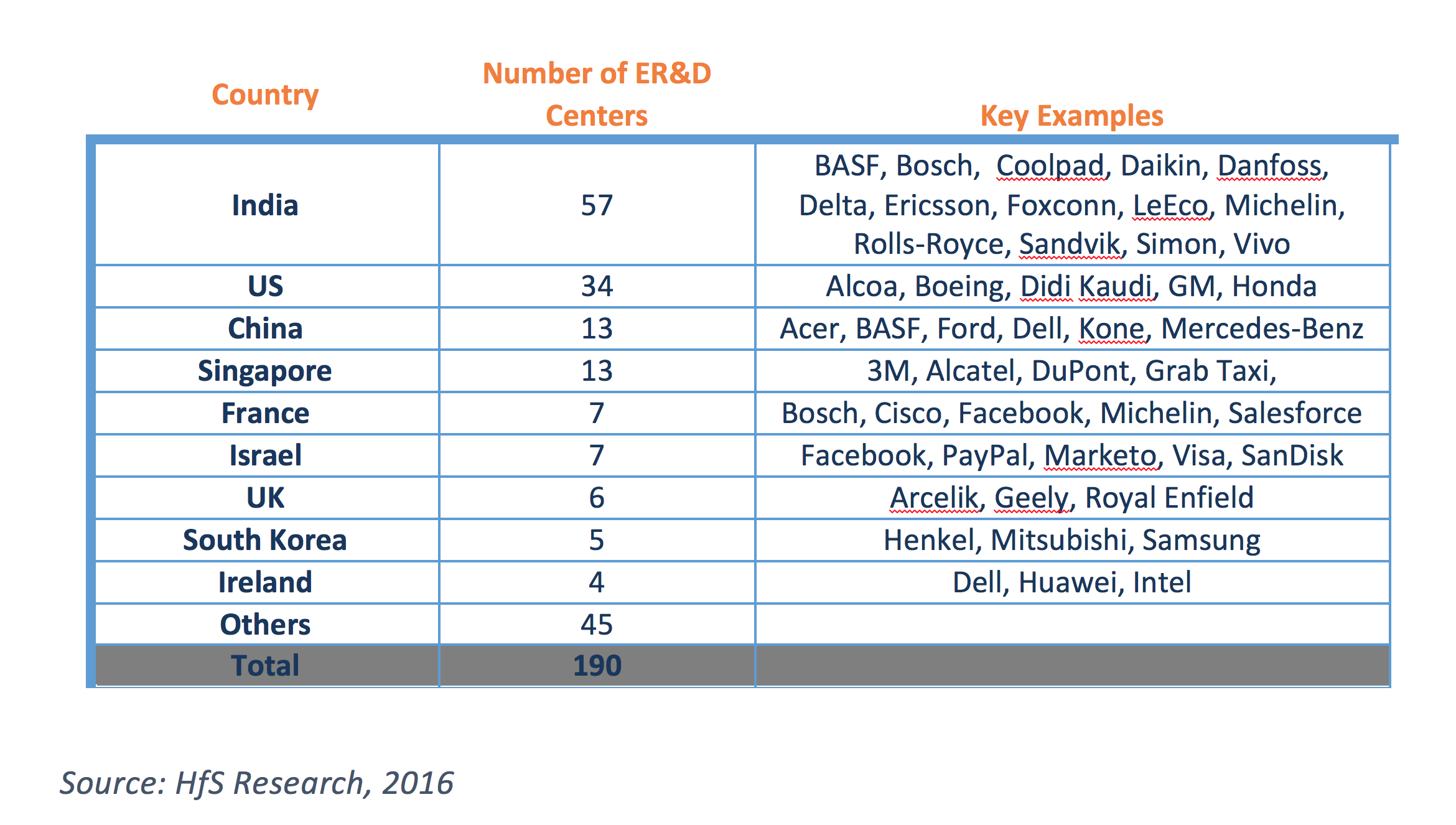 One-third of Indian ER&D center announcements are driven by Make in India.
Out of the 57 ER&D center announcements in India, 19 are driven by the Make in India initiative, as we outline in the Exhibit 2. Many enterprises that plan to start or increase manufacturing in India are also opening or expanding their ER&D centers to design products specifically for the Indian market. Some of these enterprises are BASF, Bosch, Coolpad, Daikin, Danfoss, Delta, Ericsson, Foxconn, LeEco, Michelin, Rolls-Royce, Sandvik, Simon, and Vivo.
Exhibit 2: The Percentage of Indian ER&D Center Announcements Driven By Make in India in Apr-Dec 2015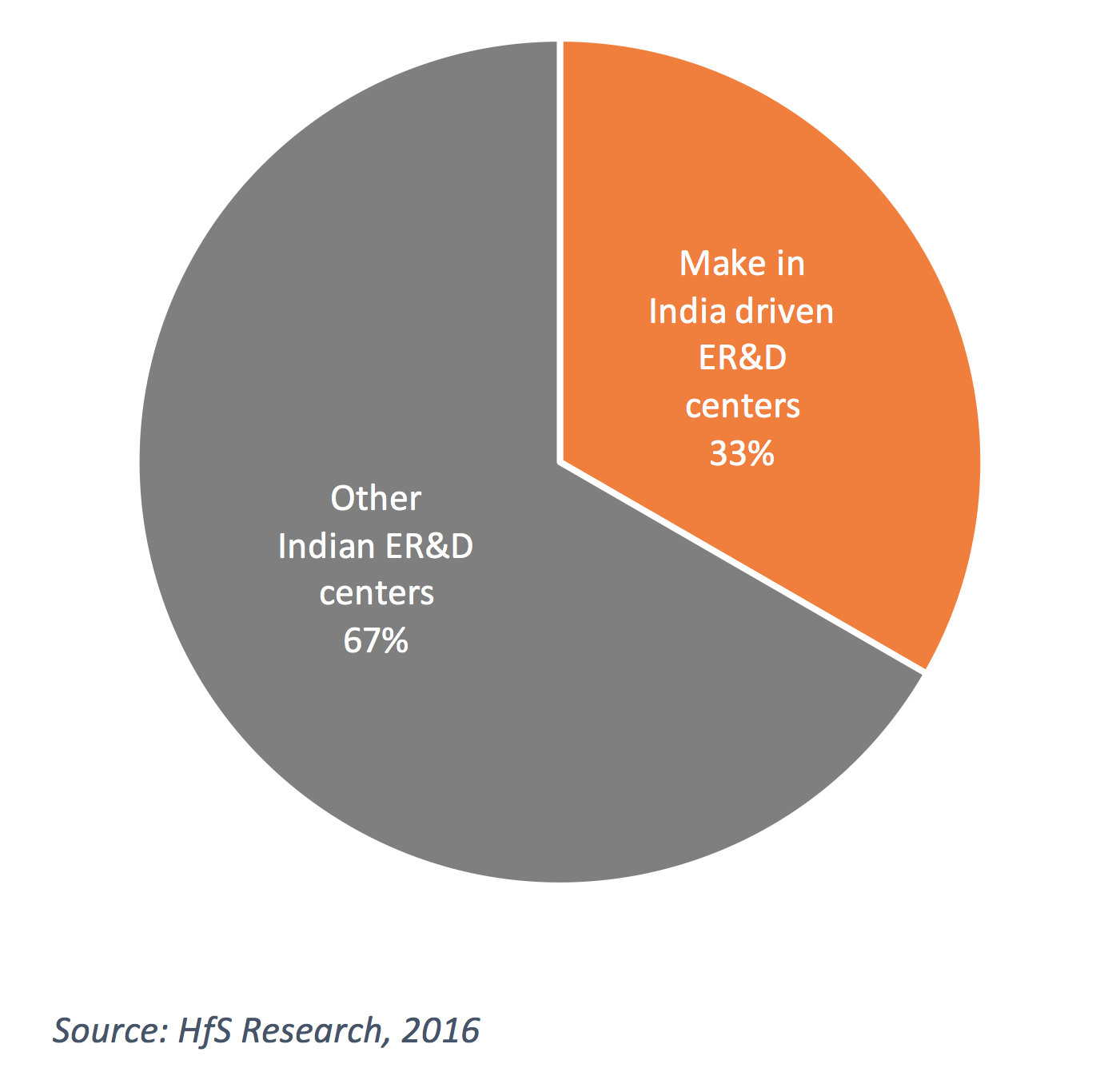 The establishment of ER&D centers in India is not a new trend. India is home to the ER&D centers of more than 1,000 enterprises. But the use of ER&D centers for designing products specific to the Indian market is new—and the Make in India program has accelerated this trend. India is becoming one of the biggest and fastest-growing emerging markets, especially in sectors such as electronic systems, electrical machinery, and automobiles. Global enterprises are investing their ER&D resources to design and manufacture products specifically for the Indian market. So Make in India combined with Designed in India and Sell in India is an attractive value proposition which enterprises can't ignore.
The Bottom Line: It's all upside for engineering services market in India thanks to Make in India!
In our Engineering Services Blueprint Report, we saw the trend toward many engineering services providers offering value engineering services to global enterprises to design cost-effective versions of their products, especially for emerging markets such as India. Now, with enterprises setting up their own centers for designing these products, we see an increased focus on this area, which will benefit both engineering services providers and global ER&D centers.
No matter how we look at it, the engineering services market is set to grow thanks to Make in India.
HfS subscribers can click here to download the full POV, which details the ER&D center trends.
Posted in : Procurement and Supply Chain