While the UK government is busily doing a tremendous job destroying the country's position as one of the world's great financial centers and multi-cultured commercial environments, one unlikely scenario is unraveling: the steadily devaluing currency, availability of labor (especially in its former manufacturing cities), and adequate education system is placing the country up the league as, now, the third-most attractive location to source business operations and IT support. This is according to the brand new data from the HFS 2019 State of Operations and Outsourcing study, conducted with the support of KPMG, where we interviewed 355 operations leaders from 355 of the Global 2000: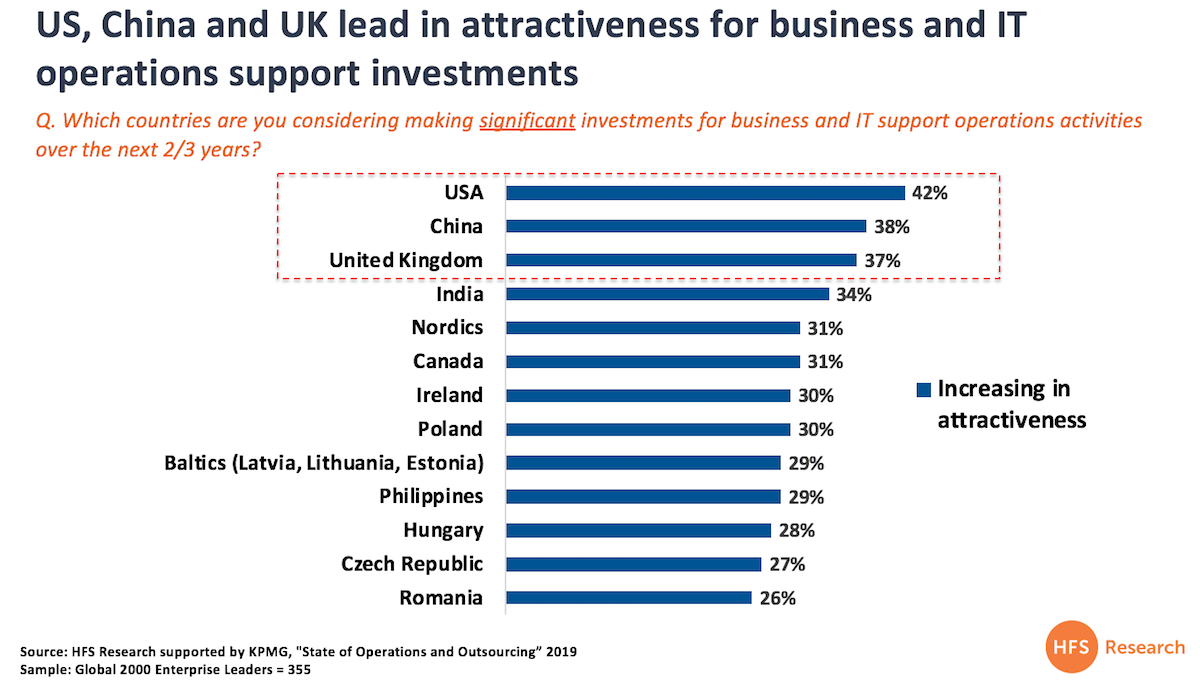 Bottom-line: As value from low-cost labor levels out, the focus shifts to increased complexity and talent closer to the business
As we reveal more of the new survey data, you'll see a prominent shift away from enterprise intentions to invest in traditional outsourcing pivot towards a strong desire to find partners which can support technical complexity in AI, hyper-personalization, and automation. Net-net, enterprises need support staff close to the business with the ability to understand process and technical complexity that they have never before needed. This doesn't mean that popular locations like India and Philippines will see their service industries plummet, it just means outsourcers and GBS leaders need a healthier balance of onshore/nearshore/offshore to bring it all together. It also signifies a shift from "outsourcing" to "expertise partnering" that changes the location playing field significantly. While the USA and China are no surprise as their host the world's largest economies and businesses, the UK is the surprise mover, as political conditions have created a more competitive market to invest in support services.
Watch this space for more as we drip-feed you this incredible data over the next few weeks…
Posted in : Business Process Outsourcing (BPO), Global Business Services, IT Outsourcing / IT Services, Sourcing Locations