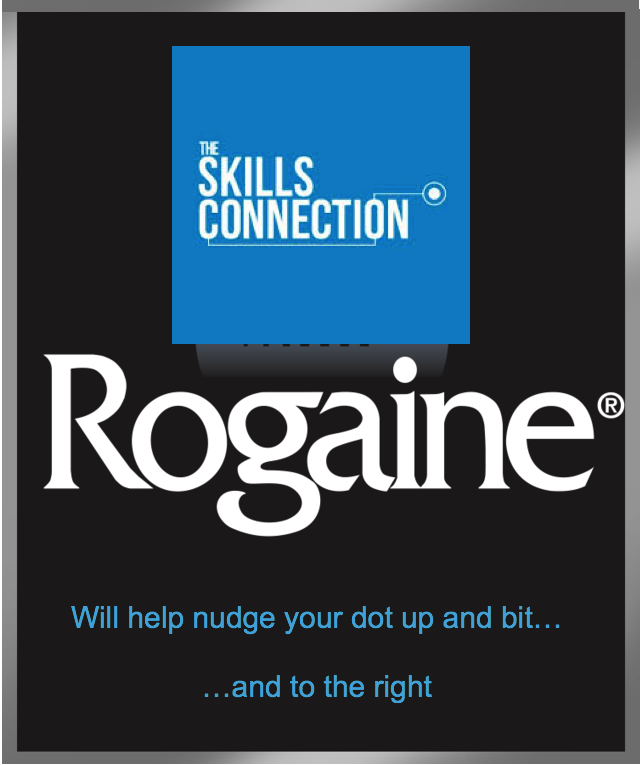 There's nothing more jarring than an ex-Gartner analyst desperate to continue dining off a legacy analyst industry that is actually trying to change. And lo and behold, Just before the Christmas break, a blog emerged on LinkedIn with an enviably click-baity title 'Is Gartner research quality under threat?'.  
Simon Levin, a Gartner Alum and owner of a boutique business "The Skills Connection" that helps tech vendors lobby their way through the Gartner and Forrester MQ and Wave processes, plies his trade on the fact he "knows" how to work his friends at Gartner, to help his vendor clients get their dots edged in a more positive direction for the firm.  And why not?  If I was a CMO, and lobbing Simon some moolah can help get some sort of leg-up in the process, I'd probably give him a shot.  And however you performed, there is no doubt Simon will claim it would have been worse without him.  It's like that hair product "Rogain" that claims to slow down hair-loss… you'd never really know if it actually helped unless you went completely bald…
 Simon makes the case that now most his former Gartner buddies he worked with in the 90's are being quietly "retired" and replaced with a new breed of youthful analysts, and their research maybe less predictable:
"Quality control is hard to enforce. When a client of ours became involved in escalating a dispute over an MQ assessment recently, we saw some signs that Gartner's controls may occasionally creak at the seams.
Our vendor noted factual errors in both the wording and the scoring of the draft assessment. We protested and took the client through the escalation process, and the company's dot was rightly promoted from midway down Niche to the top quartile of Visionary, while the words were rewritten and became significantly more positive."
So Simon literally cannot lose here:  "In the old days I could leverage my influence with my former colleagues, now they're going, I can help even more with the new kids they're throwing into the mix  who might make a few errors"
Predictably, the conclusion from Simon Levin was "as long as you hire my firm early enough in the MQ process to make sure their analysts don't misrepresent you, you'll have nothing to worry about".
 Why the content of Simon Levin's blog should also be of real concern to the industry
In many ways, the stance taken in this blog is representative of how tech marketeers AR professionals view analysts – after all Simon's revenues come from advising vendors on how to put pressure on analysts in the right places. But let's break down in stages what's wrong with this argument:
Misguided principle 1: Wining and dining analysts mean they're in your pocket and should stay there!
The piece starts off innocently enough by confirming what we already knew and discussed in our blog covering nodding dogs – vendor marketeers and their analyst relations professionals should expect analysts to do their bidding all the time they're being wined and dined. We know this because Levin discusses at length how irritating it is for vendors when they have invested so much time "cultivating" an analyst, to find out that said analyst isn't handling that big competitive analysis this year. The misguided presumption here, of course, is that wining and dining analysts is just as important for getting a decent score as, say, providing relevant and timely information.
While this isn't true for many analysts – we can infer, given the provenance of Levin and his compatriots, that Gartner analysts are perhaps more willing to boost scores if they have a good relationship with the vendor. Isn't this knocking the value of objective assessment somewhat?  I'm sorry Simon, but most analysts do this job because they actually value their ability to be objective.  While one analyst firm obsesses with incentivizing its analysts with P&L responsibilities, most separate their analysts from the direct revenue impact of license reprints. Having a good relationship never hurt anyone with any business engagement, but a decent ethical analyst is never dissuaded by a decent steak (or vegan) dinner. Which moves us neatly on to our next puddle of misguidedness…
Misguided principle 2: Fresh perspectives are bad – the game is about controlling stale opinions, not embracing new insight
This is a big one, and it slithers through Simon's blog as a core theme – the only stakeholder worth thinking about is the vendor. What's misguided here, though, is the prospect that a fresh analyst jumping on a piece of research is always a bad thing. Sure, vendor marketeers and their analyst relations professionals may be rightly upset the steak dinner they bought has gone to waste as a new analyst's in town, but for the enterprise executive who relies on balanced research to make decisions, a fresh perspective is almost always welcome.
The same staid analysis from a crusty ol' analyst recycling the same themes may well be predictable and easy to influence. We all know the types who have those decade-long loyalties to the likes of SAP, Workday. Oracle, IBM et al.  It's very hard to convince a 30 year long analyst that the world is changing and and the vendor that have been lauding for their entire career may be losing its edge.  Changing things up a bit is important to keep the research fresh, and analysts on their toes.
However, change is nearly always inconvenient for vendor marketeers and their analyst relations professionals – the clientele that keep Simon Levin's coffers swelling.  What's soul-destroying here is that the quality of the research (despite being the core focus of the misleading title) is pushed to the fringes of the discussion. Simon's blog isn't about getting the best research and coverage into the market. It's commiseration on the annoyance that is losing a tame analyst for a new one that may not be as willing to down the Kool Aid.
Nevertheless, quality is mentioned – but it masquerades in the narrative as a single metric – the average tenure of an analyst. Because, of course, the longer an analyst is in a firm, and covering an area, the better they get. I mean that's just math's…sort of. But unfortunately, even that old-world idea is being consigned to the history books. And – just like the rise of avocado ownership, and the crippling private rental market, we may as well blame the millennials for our next part.
Misguided principle 3: Experience trumps relevance
This is the bit that really goads us. Why are we perpetually locked in this bizarre world in which we believe the best perspectives come from those that have been doing it the longest? Why do we shrug off the new and refreshing insights because their origin hasn't been dipped in decades of painful CIO workshops?  We endlessly hear the need to develop new skills, to re-imagine our processes and redesign our business models, so why do the analysts get a free pass when it comes to keep up with the times?  Why shouldn't analyst firms practice what they preach?
The main assumption in Levin's blog is that age begets wisdom. That there may be a quality issue at Gartner because the average tenure of analysts has dipped. But could it be possible, just possible, that the average tenure dropping is a good thing? Already we're seeing hordes of younger executives and professionals flood into enterprises, no longer restrained by mandatory experience quota's or ridiculous policies from HR insisting that employees stay put in a junior role until they've paid their dues. This coupled with the army of young entrepreneurs driving growth in tech start-ups and disruptors, is starkly altering the demographics of the average analyst firm's client. So, is it reasonable to infer that the demographics of the analyst catering to this market also evolve?
Comments and blogs that imply quality research is inextricably linked to the quality and value of research are not only wildly out of touch with the changing market. But they're just obscenely ill-informed. In a room full of 20-year-old tech innovators, does the experience of an analyst with decades of early 90s CIO experience more valuable than a young analyst who can live and breathe the unique challenges of the market?
Bottom Line: It's not about tenure, it's not about gaming the system, it's not about wining and dining analysts. If this analyst is to survive to see 2020, it needs to focus on the quality, relevant research that a diverse market needs
The reality is that diversity is always beneficial and throwing in the perspectives of both analysts will undoubtedly be of benefit. But what doesn't help is commentators like Levin churning out the same vapid and misguided tripe, in a bid to form a reactionary guard against the changing tides of the market. If anything, they're proving themselves to be irrelevant and damaging to an industry that, much to our lament, is crashing around us.
Posted in : Uncategorized