Last week we wrote a blog about the leading BPO/IT services players in EMEA, this week we'll look at North America. Conveniently the headline is more or less the same: the Global majors: IBM, Accenture, and HP, still dominate the top of the list. Although the question here is… for how long?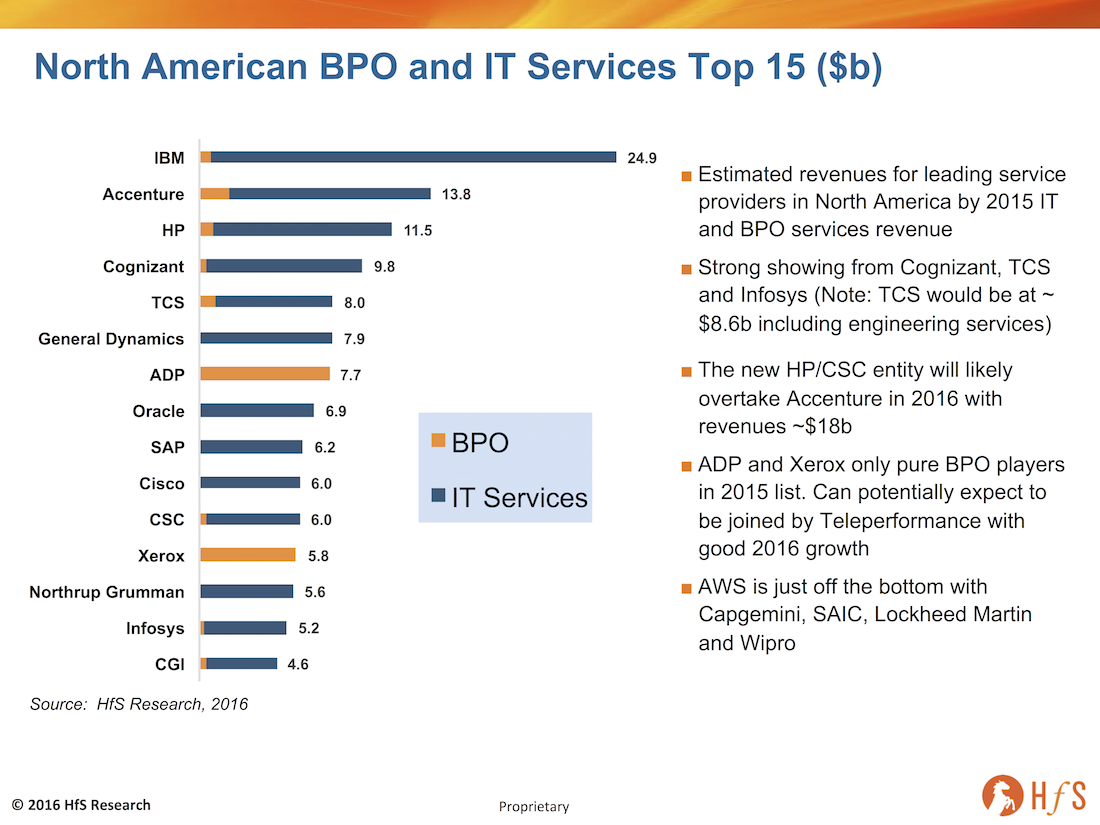 Frankly, much of the same comment applies to the Top three in North America as it does to EMEA:
IBM is struggling to know what to do with its services business. The cash cow days of traditional large scale infrastructure and BPO deals are gone – with the remaining "traditional" large scale engagements much slimmer pickings and being very aggressively targeted by Indian-heritage competitive usually offering lower price points. Its pivot, like many of the technology players (but with more justification), is toward a more intelligent adaptive operations play driven by more advanced cognitive computing and analytics where clients pay for achieving business outcomes, not bill-by-the-hour labor rate cards. However, the industry is caught in a time lag between the old world scale deals and the coming intelligent deals, which could take several years to flesh out. How IBM (and its ambitious rivals) can bridge both old and new worlds of service delivery is a significant challenge.
The "New HP" – is pretty much an unknown quantity in services with the announcement of the CSC merger. Obviously, the new entity will be larger, and likely to be in the number 2 spot next year. However, while, HPE is making announcements about its future, we have heard little about the new services firm. We apologize slightly for still calling them HP, but we just keep thinking there is no point changing it until we know what the name will be, and people understand whom we are talking about even if it should technically be HPE right now. What concerns us about New HP is it appears it could be planning to compete head-on for bread-and-butter IT infrastructure business against the likes of Wipro, TSC, HCL, and Infosys. Brand India is popular among enterprise clients these days, especially for operational delivery at scale. Hence, New HP has its work cut out attempting to preserve its slide of the North American IT services pie.
Accenture has managed to balance the worlds of operational delivery and consulting to become the industry bellwether. The one service provider which has firmly established itself with its 144 diamond clients is Accenture, which expertly manages them through the forces of change at a pace which suits them. Accenture's path is on the face of it a little smoother, partly down to its market performance, its deep C-Suite consulting relationships and its reputation to bring sanity to complex IT and business process worlds – its services seem as in demand as ever, with many clients boating their "we use Accenture" badge with pride.
The differences appear just after these three service providers. With the offshore-centric firms making a much stronger showing with Cognizant and TCS in number four and five positions, not forgetting Infosys at 12. Ignoring the shenanigans at HP, you could argue that Accenture, Cognizant, and TCS are the top three performing IT/BPO services firms in North America in recent times.
Over the next two years, there isn't likely to be much change in the top three. Accenture is unlikely to be caught by Cognizant and TCS in that time. This is unless IBM makes a similar move to HP, hiving off another part or parts of its services business. Although there is a question mark, at least in our mind, on the exact final number attached to the new HP entity – and this will depend exactly on what is included and not included in the final deal. However, it is still likely to be significantly bigger than Accenture. So – even with big declines and fair winds behind the offshore players, it's unlikely they will overtake in this time frame.
Not to spend too much time dwelling on the comparison with EMEA, the lack of the European giants Atos and Capgemini in the Top 15 is worth mentioning. Largely given their recent focus and acquisitions, this demonstrates the level of investment and determination required to make a dent in the North American market.
The US government contractors would have also dominated a similar list to this in the past – with Lockheed Martin, Northrup and General Dynamics all having significant revenues in this space. However, thanks to restructuring and slowdown in US government spend, Lockheed Martin has slipped off the bottom of the chart. General Dynamics and Northrup still have a place in the list, but revenues have slipped significantly for both firms over the last five years.
Amazon Web Services (AWS) remains just off the list, but is likely to overtake CGI next year if it continues its current market momentum, we could also see other cloud players like Microsoft and Google in the years to come.
Bottom Line: Agility to keep ahead of the market headwinds is still the critical X-factor
Although the global majors are likely to dominate the top of the list for at least the next couple of years. The direction of the market is largely being forged elsewhere, and unless they can tap into the zeitgeist more directly, most will end up as another CSC or EDS.
We have observed, in other blogs, that the competitive landscape was increasingly two-tier, with the main differentiator between the two categories being inertia, however, it is those companies that are reacting quickly to the changing market conditions that are growing, and not necessarily the low-cost offshore-centric providers. We are sticking by this fact that the x-factor for an enterprise service provider is agility – both regarding the provider's ability to adapt to the market conditions and capacity to deliver adaptive intelligent solutions to clients.
You can read all our thoughts on the BPO and IT Services market in the Americas in our Americas IT Services And BPO Market Size And Forecast, 2016 – 2020 report.
Posted in : Business Process Outsourcing (BPO), IT Outsourcing / IT Services