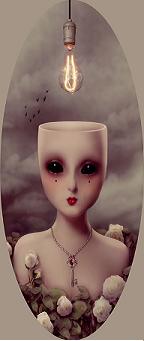 2009 is going to be remembered as the year of cost-containment. Most client discussions are not very sexy – it's largely about cost, as opposed to innovation or revenue generation. McKinsey recently revealed 70% of its current client engagements are cost-reduction focused, only 30%focused on revenue-generation (the opposite of a year ago).
I strongly believe our businesses, while being diligent about cost-containment, must use this opportunity to make fundamental changes to their business operations in order to emerge more profitably in the future. Simply ripping away cost elements and failing to improve access to global corporate data and processes, is a massive wasted opportunity to be more competitive over the long-term.
I wrote recently about how the lay-off culture that has afflicted both the US and UK in recent years, where many firms treat their labor as a variable cost that can be scaled-up or down at will, depending on the next quarterly forecast. I cannot stress enough the damage this can cause to businesses as the economy recovers. One common theme that has dominated discussions with business leaders recently has been their surprise at the amount of visible cost they have been able to take out of their businesses as they move from a revenue-generation to cost-containment strategy.
It's not solely the cost of labor that is highly visible – it's the costs of technology, travel, infrastructure, real-estate etc. that can often be easily driven-down in a desperate business climate. Less visible are costs associated with poorly-integrated business processes and procedures, of dated analytical tools, of ERP systems incapable of supporting global process templates, and so on.
Focusing too heavily on labor take-out polarizes a corporate culture on visible short-term quick-hits as opposed longer-term innovative strategies that will ultimately help the company become more productive and profitable. Doing things the same way as before, but with less resources, is a slippery-slope to corporate failure in this environment. The same slippery-slope scenario applies to outsourcing, where companies fail to drive any business transformation, and simply focus on the quick-hit of using low-cost labor.
And whether or not a firm outsources IT or business processes, its operations leaders should be examining how to make these processes more efficient, and how they can span global business units more effectively. This short-termism causes a general stagnation where anything that causes change to peoples' roles and responsibilities scares them. Our recent survey shows "business disruption" as a major impediment to outsourcing. I read this as "fear of change":
Fear of disruption holding back outsourcing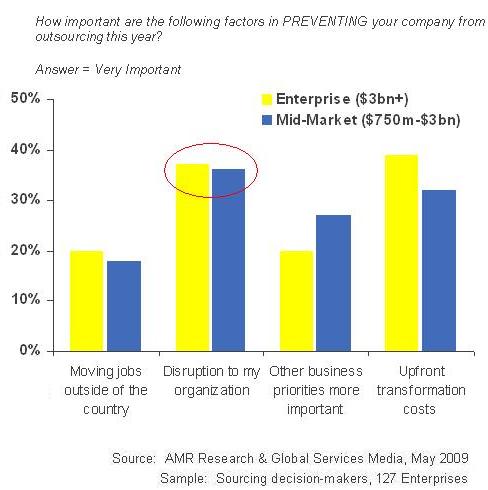 Outsourcing in a tough market is a powerful lever to drive business transformation, improve workflows and associated technology, provided it is managed with process innovation as the ultimate goal. Yes, it often involves some layoffs, but never as many as when companies go through downsizing exercises with no other goal in mind other than cost-reduction.
Operations executives are capable of driving change into their processes, their technologies, their own roles and their employees' roles, but many of them are simply not incentivized to flirt with change. They are so scared of what change means to their job security, they opt for more of the same, normally with less resources or staff to do it.
Ultimately, if companies fail to shed this stagnation mentality, they will become increasingly uncompetitive globally, if their competitors embrace global sourcing models to drive out excessive cost and improve their global business operations.
So what do we take from all this? Simply put, short-termism drives negative and anti-innovative corporate behavior. Business leaders need to find ways to develop their management talent more effectively to cope with change and disruption.
Posted in : Business Process Outsourcing (BPO), Cloud Computing, IT Outsourcing / IT Services, SaaS, PaaS, IaaS and BPaaS, Sourcing Best Practises