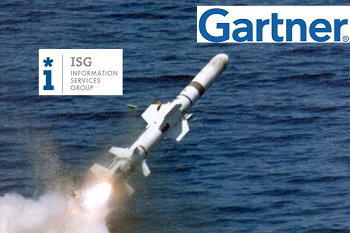 We're awarding an HfS bravery medal to ISG analyst Stanton Jones for pointing a nuclear missile at the credibility of Gartner's recent Magic Quadrant for Managed Hosting.  Stanton doesn't mince words as he declares:
"Did you know that of the companies listed on the Managed Hosting Magic Quadrant referenced above, less than half would be capable of supporting a transformational infrastructure sourcing initiative with a multinational company, or that only 10 percent could support the same for a global company?"
Stanton then seizes the opportunity to pitch his firm's own capabilities: "ISG is comfortable (and confident) in making this statement because we're on the ground every day with both buyers and sellers of IT services. This unique position gives us unprecedented insight into what suppliers are really capable of delivering to clients — clients that trust us to help them vet providers in a fair, transparent way to make sure the vendor will help them solve their ultimate business problem."
While I have no doubt that Stanton's knowledge of providers' IT sourcing capabilities is top-notch (I have always been impressed by the caliber and culture ISG's people), I think we need to look at this accusation in a broader context:
1) ISG lives in a world where it's all about outsourcing – how about the other 72% of enterprises?  Our recent studies show that only 28% of large enterprise rely predominantly on an outsourced model for IT infrastructure.  While Stanton correctly states that  "less than half of these providers would be capable of transformational infrastructure sourcing initiatives", he conveniently ignores that fact that most of Gartner's clients – and the majority of large enterprises, probably don't care too much about these capabilities.  They may just want a quick no-nonsense glance at managed hosting providers.  I'm sure Gartner's clients who do care about "transformative sourcing cababilities" would call them up to find out more.
2) ISG makes the vast majority of its income facilitating and negotiating outsourcing transactions – doesn't this bias its research?   I can speak from personal experience that it's really tough trying to produce "unbiased" research when working for a company that makes most of its money from clients undertaking outsourcing engagements.  The bottom-line is your firm is vested in the success of outsourcing, and your research will always be pressured to advocate the benefits of outsourcing.  At the end of the day, the consultants want to wave research in front of their clients that supports the case for doing an outsourcing transaction, because that's how they get paid.  However, for those companies who've already made the decision to outsource, or are renegotiating existing outsourcing contracts, ISG's research is likely to be highly pertinent and relevant.
3) All quality consultants conduct good research and thought-leadership, but they're not trying to badge themselves as research companies.  In sourcing, some of the best research comes from the likes of PwC, KPMG, AT Kearney, Deloitte etc – in fact, we even showcase some of it at our BPO Resource Center.  However, they do research to enhance their eminence and consultative credibility, and they make every effort to make it widely available and accessible to enterprise decision makers.  I don't think I have ever read a detailed piece of ISG (or TPI) research in my entire career beyond their quarterly index calls.  I am sure it's great, but it's not easily accessible or widely available to the industry at large.  If they truly want to become a research firm, then let's have a gander at some and we can all form our own opinions.
The Bottom-line: Outsourcing specialists need to base their business models more broadly than solely on outsourcing if they want to take on the traditional analysts
Love them or loath them, Gartner serves the vast majority of IT buyers, whether or not they outsource.  Moreover, Gartner is predominantly a research firm and IT strategy advisor, who I haven't ever seen facilitate an IT outsourcing deal (I've seen them dabble in it in the past, but they never really got anywhere).   ISG is a great outsourcing consultant, and has consistently been the industry-leader for facilitating IT outsourcing transactions for the last couple of decades.
While Gartner could clearly do a better job researching the sourcing transformational capabilities of providers, ISG could similarly do a better job producing research for the 72% of enterprises who haven't done a lot of IT outsourcing.  If I'm a CIO and need some unbiased validation of my overarching IT strategy, I'll be likely to call Gartner (among others) for an independent viewpoint.  If I was doing an outsourcing deal and needed specific advice and data around how to do my transaction and develop my shortlist, ISG will surely be on my list of experts to call.
As we have painfully laid out here time and time again… it's not all about outsourcing!
Posted in : Business Process Outsourcing (BPO), IT Outsourcing / IT Services, Outsourcing Advisors