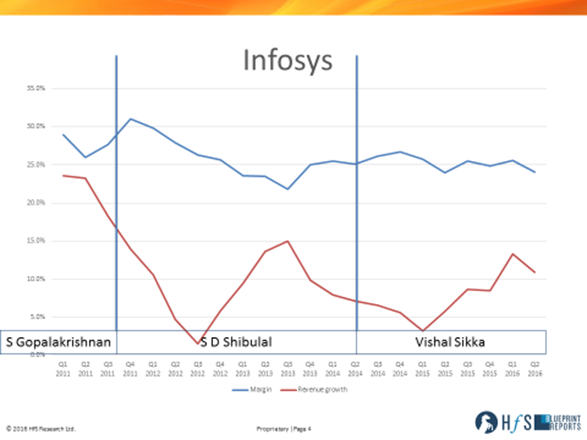 HfS produces a roundup of the quarterly financial results (see our recent one for Q2) – which means we have to wade through lots of financial data and listen to quarterly calls. We also read various bits of commentary around the performance. One thing that always surprises me is how much commentators make of one single set of results and even one small part of those results. I ought to say that I look at the results as indicators for the market as a whole and the individual supplier performance. I tend to focus on annual changes rather than quarterly changes. So I am always a little shocked when the bigger picture is lost. There's nothing worse when investment analysts and market pundits take such a short term quarterly view of the world, so let's take a step back and look at it long term.
When I looked at Infosys Q2 2016 results (I use calendar quarters not fiscal – I am referring to Q1 2017 fiscal) I thought they looked OK. Growth was OK, down from the predicted growth, but round and about on par with the overall market performance – and certainly better in market terms than the last two years, except last quarter. Operating margin looked OK / consistent with previous performance. While I understand there are other metrics to measure success – I think this shows a pretty good showing, nothing concerned me.
Then I see the commentary which seemed to suggest the CEO was doing a bad job and lots of quite negative thoughts, disappointing results, etc… – mostly concerning the forecast adjustment. I certainly get the value in accurate forecasting, and consistency in forecasting well is a sign of smart leadership. However, in a market that is going through the major upheavals seen in IT and BPO services at the moment, the ~10% growth year-on-year enjoyed by Infosys is at the top end of the scale in performance terms. To put this in context, Accenture's last quarter was not as good, and neither was the stalwart TCS. We have yet to see other contemporary's Cognizant and HCL Q2 results which may show an equivalent dip.
Because of the criticism leveled at Vishal Sikka – I looked at Infosys' long-term performance and mapped against each CEOs tenure. Looking at the chart, the financial performance during his reign seems to be pretty good. With increasing revenue growth and stable operating margins. This quarter has shown a modest drop in growth of a couple of percentage points (from 13.3% or 15% in constant currency in Q1 to 10.9% or 12.1% in Q2), but it just seems too early to say this is a trend.
The bottom line: you cannot judge a provider's performance effectively with one set of results.
Moreover, without seeing some of the other results, it is difficult to gauge – as success can really only be measured in market terms and is relative. However worrying any dip in growth is, we will not know if it is a problem until next quarter, after all the results are out.
Posted in : Business Process Outsourcing (BPO), IT Outsourcing / IT Services