At HfS Research, we're growing fast in a very competitive and volatile market… and with growth comes change – but change is always good if you ask me! The most fun in jobs is when you have changes – you learn new things, get new ideas, and you meet new people to help accommodate the change.
HfS is always on the lookout for serious talent that can help our clients become even more successful. So happy days when I heard that some serious quality was on the lookout for some new chapter in her life. Sunayana Hazarika has joined per January, and today I wanted to give you a little more background about her.
Bram Weerts, Chief Commercial Officer, HfS:
Bram Weerts, Chief Operating Officer, HfS Research: Sunayana, can you share a little about your background and why you have chosen Marketing and Brand Reputation as your career path?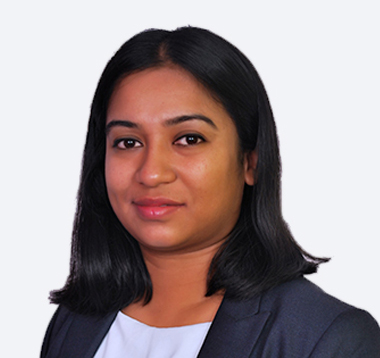 Sunayana Hazarika, Senior Brand Strategist at HfS Research: As the saying goes" Everything happens for a reason," the economic recession in 2008 changed my career path. From an engineering graduate to a remote executive, my first job in TTK Services introduced me to the world of marketing. I was facing global clients- the who's who of the business world from renowned bloggers to technology founders, and helping them in doing Digital marketing (web marketing is what it was called then). The varied requests from clients opened the door for understanding SEO, content marketing, social media promotions, brand messaging, to even executing fundraising events. This inspired me to pursue my MBA in marketing and soon after explored both services marketing and product marketing of software enterprise solutions.
What draws me towards Marketing is the very nature of it – dynamic, fast paced and the fact that it is centered around the relationship between People's awareness, product/service innovations and the value generation. I am intrigued by how brands impact the market. To me, Brand Management is like nurturing a sapling to grow and proliferate into a forest. The right and proper projection of the organization is the heart of Brand Reputation. A big and serious task, but with the passion and right intention, we can see the results. All this put together has compelled me to make marketing a career and more so in brand management.
Bram: Why did you choose to join HfS?
Sunayana: HfS Research is an industry leading research and data analytics firm, renowned as a trusted voice with edgy insights and disruptive viewpoints. They do not shy away from raising real issues even if it bruises some egos. I echo the same spirit. The organization has an impressive and matured outlook focusing on fostering an optimized business function, fully empowered team and delivers maximum value for the global community of clients. This provides me an opportunity to unearth optimum potentials to scale heights of success. Moreover, the fact that it analyzes cutting-edge technology and services like Digitization of business processes and Design Thinking, Intelligent Automation and Outsourcing makes it even more viable for a marketer to be on top of latest market trends. And to top it up is the pleasure of working with some of the most intelligent and good people on earth. Trust me; I have never been more content.
Bram: What are the areas of focus for driving success in your current role?
Sunayana: The success of marketing in a Research, Data Analytics, and Strategy firm lies in enabling the "informed decision making" by providing the right information at the right time to the right set of people. For this, it is crucial for Marketing to merge into the organization's core objective and culture. This enables outlining the appropriate value proposition to the audience. It is also equally important for marketing to connect with the audience to know their expectations and be abreast with the market. The focus on maintaining a symmetry between the two approach creates a two-way network for shared experiences and true value projection.
Bram: What trends and developments are capturing your attention today?
Sunayana: The world is moving towards digitalization and the marketing function of an organization, as a harbinger is expected to lead the way. Mobile, Social Media, Analytics, and cognitive automation are breaking the path for an individualistic approach towards interacting with the target audience. We as marketers should harness these technology enablers to increase market reach and have personalized engagement with the audience directly. These innovations can be used to evade distractions, garner relevance and bridge the gap between insights and actions.
Bram: And what would you like to see different in the research/services industries?
Sunayana: "Change is inevitable" and occurs sooner than ever. Information, opinions, trends, technology and processes have an expiry date, so it makes sense for the industry to keep ahead and have control of this transformation through continued innovation and research. Even if it requires challenging or superseding conventions, proven methodologies, tested services, recommended solutions, wealthy analysis or rich offerings.
Bram: And, what do you do with your spare time?
Sunayana: I love to explore nature and my husband partners with me, we go hiking in the forest and hills, trek to mountains, swim in natural water sources, to get out of comfort zone and appreciate the basics. I love to travel and go on backpacking trips to live life in a million different ways, with people from various regions and enjoy a variety of cuisines.
I also play racquet sports regularly and enjoy watching good movies and reading books.
Bram: If you could change one thing in Marketing what would that be?
Sunayana: Marketing has often been looked at as a function that projects the magnified and exaggerated image of the values provided by an organization. This need not be the truth anymore. Marketing is an integral part of an organization aligning to its goals and objective. Marketing enables organizations to stay in touch with their target audience, understand them and relate to their unique and different needs. Now in this new age with the availability of instant information in one's fingertip, the audience is gravitating towards facts and authenticity of every promotion and do not get allured by the shine. Therefore, it is time marketing reflects the true image of the organization and value of the offerings to its clients.
Bram: Thank you for your time Sunayana, it's a real delight to have you onboard and work with you in these fascinating times!
Posted in : About Us