At HfS, we're growing fast in a very competitive and volatile market… and with growth comes change – but change is always good if you ask me! The most fun in jobs is when you have changed – you learn new things, get new ideas and you meet new people to help accommodate the change. Nine months ago, we needed to add more firepower to our sales function. To be precise, we needed top sales quality that could thrive with the HfS mentality and culture. We found that person in Samyr Jriri (see bio), and today I wanted to give you a little more background about him.
Bram Weerts, Chief Commercial Officer, HfS: Samyr, can you share a little about your background and why you have chosen sales as your career path?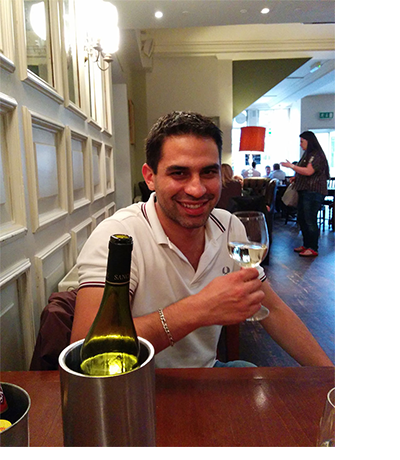 Samyr Jriri, Vice President, Global Business Development, HfS: Next to having owned a small restaurant and antique furniture business, I started out working in the Telco sector here in Belgium. That was just at the time when the monopoly held by the – at that point – state-owned Telco provider, was broken up, and I joined it's first big competitor. After spending about five years working for the two largest Telco providers in Belgium, I joined Microsoft where I focused on the upcoming Dynamics platform and later on became a generalist, managing a portfolio of top and mid-market clients. In those days I wasn't too familiar with the research industry yet until I moved to London and joined Gartner. There I spent seven years, mainly working with startup and midsized tech providers, as well as helping set up the account management team for their Supply Chain business in Europe post the AMR acquisition during my last year there. After that, I went to Kea Company, a consulting business in the analyst relations industry, before joining the HfS team. Sales were always in my blood I guess, I always had an interest in this multi-faceted discipline, from the perspective of an individual contributor as well as from sales leadership point of view. It's one of those arty sciences that touches upon many principals that are applicable in daily life. I also always enjoyed the meritocratic character of a pure sales role, where I think this philosophy had a motivating effect on me.
Bram: Why did you choose to join HfS?
Samyr: Being active in the research industry for quite some years, I was already familiar with HfS before joining. I guess HfS had a high likeability factor as a new upcoming brand, but my sympathy for HfS went further than that. The As-a-Service Economy really isn't covered by any other analyst firm in the way that HfS does it, and it profoundly resonates with where the market is going. On top of that, I liked watching this 'new kid on the block' who came to challenge the conventional business models of the bigger analyst firms – and successfully so! Everyone talks about change, innovation, sharing and all that good stuff, but in practice, we often see the low-risk safety approach. So for a young research firm to put out 70% of their punchy and high-quality publications for free, shows a great understanding of how information and insights should be treated these days, as well as courage to do so in today's economy. That was all before I got to meet the team here, where I discovered the pleasure of being part of the HfS family.
Bram: What are the focus areas on driving your revenue?
Samyr: The research and advisory business are all about the relevant exchange of information and insights that fuel business decision making. What we sell is not transactional, nor is it tangible, so relationship and trust are essential. In our efforts to grow the business, we focus on matching our capabilities against our clients' priorities, as well as ensure that the ecosystem we build up is compatible with the trends we see happening in the market. Sales are the growth engine, which fuels the investments in talent and content, which in turn fuels business growth and market influence. This principal needs careful discernment.
Bram: What trends and developments are capturing your attention today?
Samyr: I think that we are living in great times, there is great insecurity of course, but great opportunity equally balances that. It's a cliché sentence, but it seems that the fabric of our current organizational structures is being pressured so much that we will start to see real change in how people organize themselves from the bottom up. It can be observed in the business world as well as socially and politically. The automation trend is a great example; there are many doomsday predictions of disappearing jobs and the redundancy of human labor. This only used to be true for mechanical processes, today it is almost equally applicable to cognitive processes. It's the organizations' actual choices that will determine whether we will experience the automation continuum as positive or negative. One thing is for sure, at some point, the entire organizational premise on which automation solutions are built will need to be revisited. This will initiate the real change.
Bram: And what would you like to see different in the research / services industries?
Samyr: We already see the beginning of an important trend that I would like to see move a little bit faster: companies should refrain from taking a directive role towards their service providers by just telling them what they want from them and move towards treating them as equal partners, which allows for more dialogue leading to better solutions. Only when this dynamic is truly in place from both sides will we see real innovation. But it takes some time to learn to let go. It remains hard to let complete control slip through your fingers in exchange for projected innovation and improvement.
Bram: And, what do you do with your spare time?
Samyr: I love cooking; I am a bit of an audiophile, and I enjoy traveling as well as hiking.
Bram: If you could change one thing in Sales what would that be?
Samyr: I think a lot of sales efforts across markets have created a dynamic that is seen as normal when it comes to negotiations. If you can get a 50% discount on a deal, you might be happy with that cut. However, I see that as a total loss of credibility. Every company is trying to create customer loyalty, meaning no matter how transactional your business is, you need to build trust. A correct pricing strategy should therefore not allow for ridiculous discounts, which in the long term only creates unnecessary confusion with the buyer, as well as often cannibalizes long time opportunity for the seller anyway.
Bram: Thank you for your time Samyr, it's a real delight to have you onboard and work with you in these exciting times!
Samyr: Thank you too amis!
Posted in : Outsourcing Heros