While there's a lot of puff coming from several providers, expectations are not being met when it comes to the actual achievement of innovation within many Business Process Outsourcing (BPO) engagements.  Consequently, this improves the options for the first-time BPO buyer to select a provider that can demonstrate a proven track record of innovation, but what about the second-time buyer, firmly-rooted in BPO purgatory?
Our brand new survey* of 588 shared services and outsourcing executives, studying the current achievements of innovation within BPO, serves up a major does of realism to the global sourcing industry:  buyers want it, but they are not working effectively with their providers to achieve it.  And many buyers and providers are pointing the finger at each other.  So why should we care?
Innovation is becoming a critical component when it comes to BPO
In the past, many buyers shied away from innovation because they were so laser-focused on achieving operational stability within their BPO environment. Many claimed that they would have to sacrifice meeting service levels if they tried to tinker with their processes to find new ways of achieving better outcomes.  However, when we  look at how those buyers with significant influence over BPO decisions are viewing innovation today, the importance being placed on innovation is distinct: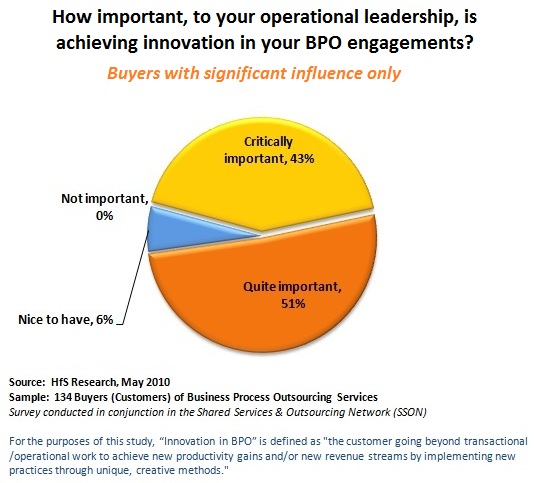 Close to half of enteprises' operational leadership today now view the achievement of innovation as a critical component of their BPO strategy.  With most providers operating within a similar price-band today, this is clearly becoming the major differentiator for the first-time BPO buyer, as we first discussed in our "New Normal in Outsourcing Delivery" study, ealier this year.
First time BPO buyers can select proven innovators, but the second-time buyers have a challenge on their hands to escape BPO purgatory
As the following data illustrates, both buyers and service providers of BPO services are equally disappointed with each others' provision of resources and technology to meet their expectations of achieving innovation. Considering 38% of enterprise customers view innovation in BPO as critically important to their operational leadership, with a further 50% viewing it as quite important, this is becoming a major concern for the future of BPO services: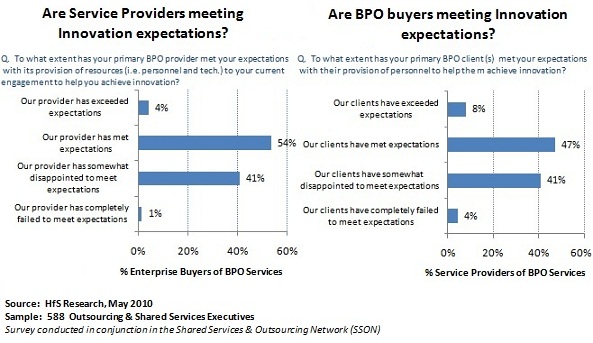 While the present disappoints, hope for future innovation is abundant
While buyers are clearly not seeing a lot of business value beyond operational delivery today, they see abundant potential for innovation in both generic processes and industry-specific domains.  Major findings, which will be featured in a forthcoming HfS Research report, include the following dynamics:
More innovation has currently been achieved across industry-specific, analytics, supply chain and general accounting processes.  Customer care, recruitment, payroll and management reporting are noticeably failing to meet customer expectations. 
The potential to achieve innovation across many core business processes is huge.  This was notably cited in industry-specific process and analytics areas, in addition to some maturing BPO domains, namely procure-to-pay, and payroll and recruitment. 
Major impediments to buyers achieving innovation included unempowered governance teams, and ineffective change management and communications. 
The Bottom-line:  escape-plans from BPO purgatory are bring hatched, but the hard work starts now
All-in-all, an increasing majority of buyers are aware they can achieve innovation, and know the potential is there to do exactly that.  Moreover, most realize the blame doesn't always sit with their service provider – it rests with both parties to work together to a well-crafted plan that introduces innovative goals and milestones over time, that do not derail from meeting service levels that actually matter.  This involves developing more partnership-oriented relationships with their service providers, increased IT-enablement of business processes, and developing gain-sharing metrics based on business outcomes. 
Stay tuned for Part II, which will take a look at the specific processes where innovation is currently being achieved, and – perhaps more importantly – where their is real innovation potential in the future…
* The survey, entitled "Are you Achieving Innovation in BPO", was conducted in May 2010 by HfS Research, in conjunction with the Shared Services and Outsourcing Network's (SSON) network of senior finance and operations executives.  It received 588 participants that encompassed senior decision-makers within buy-side enterprises, BPO service provider executives and outsourcing advisors.
For the purposes of the study, "Innovation in BPO" was defined as "the customer going beyond transactional / operational work to achieve new productivity gains and /or new revenue streams by implementing new practices through unique, creative methods."
Posted in : Business Process Outsourcing (BPO), Finance and Accounting, Financial Services Sourcing Strategies, HR Outsourcing, kpo-analytics, Procurement and Supply Chain, Sourcing Best Practises