If I had a rupee for everytime someone had told me that Indian based providers are…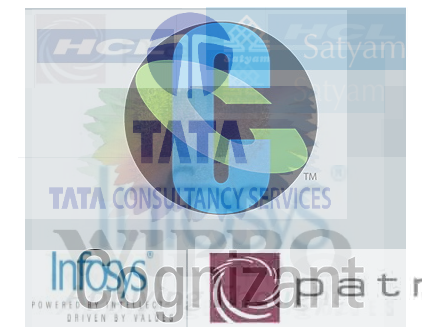 a) Running out of steam;
b) Just offering staff augmentation at lower prices;
c) Suffering from such bad wage inflation that the house of cards is about to come down;
d) Providing services of such low quality that everyone is following Randy Mott's lead and backsourcing everything;
…I would have at least a month's worth of app testing at my disposal right now.
However, the sustained growth surge of the leading Indian majors is proving much more resilient than the naysayers are claiming and I would argue has created a dynamic where many of the traditional providers may never find a return to prominent growth.  Let's discuss…
Global business is never going back to the way it was 
Many of these people are simply waiting for the world to return the ways of pre dot.com crash days, where clients paid the exorbitant fees of consultants for "transformation projects" and dumped hundreds of millions into dysfunctional ERP projects that often achieved little beyond creating meaningless work to support faltering processes, many of which are now rendered obsolete.
I hate to be the hearer of bad news, but the world really has moved on since then, and the emergence of the Indian majors has been a bi-product of the emerging opportunities for enterprises to shed their bloat and create an environment to do things differently.  Cloud computing platforms, improving analytics opportunities and the advantages of lower-cost global delivery are the three main game-changers in today's business environment – and this isn't going to change anytime soon.
What we've witnessed is the Indian majors literally doubling their share of the global market in barely four years, while the "traditional" onshore-centric IT and business service providers have largely floundered. With the notable exception of Accenture, the onshore-centric major providers have only managed to post growth rates in the low single digits, with both HP and CSC revenues actually lower in 2013 than in 2009. Over the same period, the major Indian-based offshore-centric providers all grew annually in double figures with Cognizant expanding at almost 30% year-on-year over the last four years: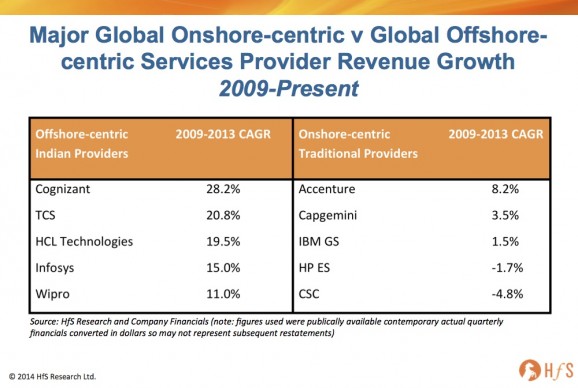 Nine reasons why the offshore-centric providers have enjoyed their unprecedented growth
It's time to acknowledge one of the phenomenons of the electronically-connected era of global business – brand India and its emergence as a key component of the IT and operations back office for the Global 2000 – and it's done it while using Indian delivery as the hub.  It would be convenient just to pass this off as the effect of labor arbitrage and resultant price pressures, but over this period of time, all of the onshore-centric suppliers have steadfastly developed significant offshore presence and access to an abundance offshore resources at genuinely massive scale.  At HfS, we have identified the following nice elements that have been the main reasons for the success of the Indian majors:
1) Brand. India's brand in IT services has matured in last 5 years – whereas businesses, in the past, were seen to be using Indian offshore-centric providers for primarily low-cost services, now they are genuinely going to offshore-centric /India-based providers for IT value and knowledge, as costs have leveled out across all providers for bread-and-butter business and IT services. The offshore-centric providers increasingly benefit from India's growing brand equity, as well as their own.
2) Customer satisfaction. Many clients like the more humble approach of the offshore-centric providers, where delivery managers are more flexible, and "going the extra mile" for clients is never an issue.  Moreover, many of the offshore-centric providers' account managers are not constantly trying to "go up the totem pole" within their clients to sell more services and undermine their client relationships.   Client like to feel in control of their provider and the Indian approach often gives then that.
3) Client understanding. The "penetrate and radiate" strategy of the leading Indian offshore-centric providers has worked wonders.  Once they have developed an understanding of their clients' institutional processes, their clients do not want to kick them out – even if they haven't performed as well as hoped.  Getting to know the "warts and all" of clients creates an incredibly sticky and sustainable relationship.  While many of the onshore-centric providers shy away from small projects as they like to concentrate in the big, high margin engagements, many of the Indian providers love to take on the small stuff, preferring to take the longer view that once they get embedded within a client, their opportunities will quickly emerge.  Any advisors reading this will empathize with the enthusiasm of the Indian firms to chase after all types of business, not matter how small or unappealing it may often be.
4) Incentivized and entrepreneurial employees. Offshore-centric providers have driven success within employees by offering incentive based pay and share options. This has helped to tie employee success and corporate success together.  Anyone who's attended their sales offsites and customer events will quickly see how entrepreneurial some of their staff are – always keen to engage and build relationships.
5) Hunger. The offshore-centric providers are clearly hungrier for the business – always eager for more business and always eager to please their clients.  Clients like hunger and determination, as long as it is supported by execution, which the offshore-centric firms work hard of achieving.  In addition, when providers show passion and determination to please their clients, they earn a lot more forgiveness from their clients when they do mess up, as opposed to creating constant escalations and issues that can derail a relationship.
6) Aggressive pricing. Both TCS and Cognizant are great examples of keeping the prices competitive, even when the Western providers, such as Accenture and IBM, have also brought their prices down to similar levels. Moreover, the Indian majors tend to carry much less overhead than their traditional competitors, where many have much thinner layers of management and administrative and marketing functions, which enable them to be much more aggressive when they need to drop the price points to win business.
7) Sticking to client commitments. The offshore-centric providers value strong customer relationships and, as mentioned above, often go the extra mile in a deal, this is just as true when things do not go as planned. When things don't go to plan the offshore-centric providers are less inclined to "change order" their clients to death, which is frequently the criticism of their Western counterparts.
8) Innovation. In many cases client increasingly cite some of the Indian offshore-centric providers as innovative – constantly coming to them with new ideas, offerings and capabilities. They frequently see their client base as fertile ground to develop BPaaS platforms around client situations to be used with other clients, and are often willing to do this at much lower cost when compared to their illustrious competitors.  Many take the longer view of building future business through new endeavors than simply trying to maximize revenue from current situations. While onshore-centric providers are also capable of providing great innovative offerings to their clients, some of the offshore-centric providers have surprised their clients with their ideas and capabilities.  Sometimes beating client expectations with innovation is more important than selling innovation at $500/hour.
9) Executive relationships. Indian offshore-centric providers have done a great job of having their senior executives available for their clients, when requested – many of them have the mobile phone number of the CEO, even though the provider is well into the billions in revenues.  Most senior clients have met the likes of Frank at Cognizant, Chandra at TCS and Tiger at Genpact, while very few clients of the big traditional providers are able to say the same about the Megs, Ginnis, Pierres etc.
The Bottom-line: The future winners will be those which can adapt today's winning services formula to the evolving technology and business domain needs
Most of the onshore-centric providers need to take a good look at the success of the offshore-centric providers and see what characteristics from these Nine Steps they are lacking.  While many arguments can be made the the Indian juggernaut has to slow down (and it eventually will), these firms and their armies of passionate employees are not going away anytime soon.  Quite simply, the traditional providers need to offer something different for clients that they actually need – and to be able to offer a level of service at similar costs that the Indian majors are providing.  Yes, there are some real factors that could diminish the competitiveness of the Indian majors, namely rising domestic wages, rupee appreciation, robotic process automation, Cloud based offerings and the availability of skilled BPO staff, however they have proven very adept at protecting their existing business, while continuing to grow their market share.
However, everyone needs skilled and affordable labor to underpin delivery, and while advanced in technology and automation will reduce the amount of staff clients may need in the future, there will be the emergence of new skill demands, such as data scientists, process and domain specialists and technology experts in emerging areas such as mobility and Cloud.  From what we've witnessed over the past decade, the Indian majors have been ahead of the game when it comes to developing a pipeline of young talent, while keeping the management overhead down… their next challenge is to adapt this to the changing demands of the clients and not rest on their laurels.  If anything, it may be harder for some of the traditional providers to fight their way back into the services game than the Indian majors to continue their surge…
Posted in : Business Process Outsourcing (BPO), Cloud Computing, Global Business Services, HfSResearch.com Homepage, HR Strategy, IT Outsourcing / IT Services, kpo-analytics, Mobility, Robotic Process Automation, SaaS, PaaS, IaaS and BPaaS, smac-and-big-data, sourcing-change, Talent in Sourcing