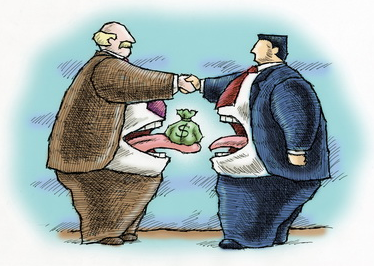 Having spent more than a decade in traditional analyst houses before starting a boutique research firm over four years ago, I've genuinely seen both sides of the coin when it comes to "pay-to-play" shenanigans with analysts.
We've heard all the accusations of vendors "buying" their positioning in quadrants, waves and marketscapes for years, and I'll leave it to your own judgement what actually transpires there.  In anycase, I think most knowledgeable people just use those things as guides when they make decisions.. and do not always take them as gospel.  Am sure we get the some sniping when we run our Blueprints, even though analyst opinion only accounts for 10% of the scoring.
However, one practice I seem to be exposed to every bloody day is the blatant opinionating from a host of "independent" analysts/bloggers/pundits/consultants /influencers/journalists who all make a living from the dirty vendor marketing dollar.
Essentially, these "independents" make money using three tactics:
Tactic 1) Pay for Praise:  
The oldest model for the dollar-eager "independent".  Simply go to vendor conferences, tweet sweet-nothings to noone in-particular (just so their marketing team notices) and write up some favorable pitch for their products/services. Then license it to them for ten grand and Bob's yer uncle. Do one of those a month and you can eke out a meager living for not using a helluva lot of brainpower. Alternatively, just call up a vendor and offer up your praise services, and have them pay you twenty grand to write a white paper where they can have liberal "editing rights".
How to identify: It's pretty easy to pinpoint these"independents", and there seems to be an inexhaustive supply of marketeers who persist with feeding the beast for their nice little independent endorsements to add to their handout bags at conferences.  Why they haven't figured out that noone trusts (or reads) "analyst" puff-pieces being offered up from vendors is another curious enigma.
Tactic 2) Pay to Shut-Up:  
A more recent phenomenon where the "independent" analyst repeatedly publicly slams a vendor.  At some point, said vendor may succumb and write them a check for "subscription services", but the real deal is that the analyst needs to shut the xxxx up if they want to keep those checks coming. This tends to work for the more credible, influential "independents" who don't need to resort to blatant white-papering and reprint-whoring to make their money.
How to identify: This can take a while to figure out – essentially watch out for analysts who never offer comment on a key vendor in their space (especially one whom it's not very cool to praise, but has deep pockets).  Or just observe which vendors an "independent" analyst likes to criticize and work out why they're not commenting on others.
Tactic 3) Pay to Attack:  
Most pay-to-play independents, who've lost all sight of what it means to be credible, will write nasties about their non-clients and sweet-nothings about the paying ones (unless they are influential enough to make more cash via the Shut-Up model).  The vendors who get the nasty treatment have either given up trying to bribe the analyst, or have too much pride to be drawn into the pay-to-play game.  Or simply, the money from the vendors getting praised far outweighs the money on offer from the other ones.  This type of "independent" is in a constant state of flux praising their money masters and bitching about their competitors.  What's often most baffling is some these "analysts" are so lost in their little business model they actually believe the crap they are writing – they truly have become coin-operated.
How to identify: Pretty easy to figure these ones.  Just read their stuff and join the dots.
The Bottom-line:  Who can you trust?
There is only one opinion, at the end of the day, you can rely 100% on – your own. You'll hear all sorts of puff and bluster, observe all sorts of fancy grids and scatterplot charts, and you'll be able to pick up a lot of useful datapoints, especially with the plethora of free information available today. But the only opinion that ultimately matters is what you see with your own eyes – and hear from other customers who've experienced the products and services.
And trust research you know is straight from the customer and not written by whomever is bankrolling it.  Talk to the analysts writing the stuff too, as it's harder for them to play the act when they are actually having to give you their real opinion.
Sadly, this is only going to get worse before it gets any better.  Suddenly, in today's media-insane environment, everyone is an expert and can put out their own version of the world in many different forms and soundbites, across many different information channels. It must be getting really, really hard for some people to keep track of what is real versus propaganda (or just plain crap).  I can only hope that better filtering tools are developed in the future that allow us to manage our information environments better, de-social some of the insanity that deluges us, and focus on the experts we trust and opinions that matter.
Posted in : Confusing Outsourcing Information, HfSResearch.com Homepage, Security and Risk, Social Networking, Sourcing Best Practises