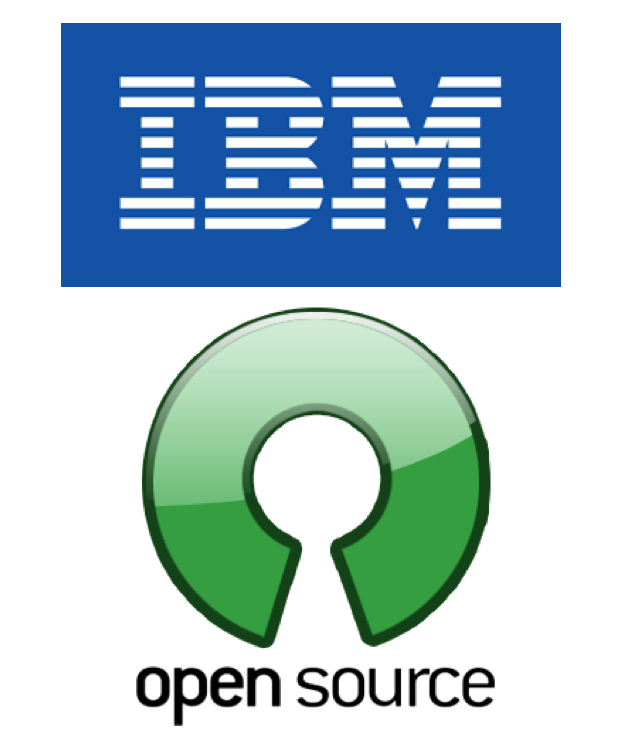 IBM's ingestion of RedHat, the third largest IT purchase in history, is all about Open Source and dominating cloud transformations.
Commentators are already pitching this deal as long-awaited reinforcements to the trench-warfare of the cloud wars. But in reality, we need to look much deeper to understand what persuaded IBM to part with such an exorbitant sum of money for Open Source giant RedHat.
Did we read that right? $34bn? – And what will happen to renegade

RedHat

?
Even for budding venture capitalists, the princely sum of $34bn is more than enough to make your eyes water – especially when it's hurled at a firm with annual revenues of just $2.9bn and headcount that will be just a drop in the Big Blue Ocean. So there must be more to IBM's thinking than a quick financial return – it's either a play to kick the other hyperscale players out of play, or a push to get the upper hand in the increasingly valuable Open Source sharing economy.
If we dig into the financials, it's clear that RedHat is a profitable firm with a strong track-record in the space – describing itself as the leader of Open Source capability. In many ways RedHat
has been a champion firm in the growing enterprise adoption of Open Source – a service line that has moved a long way since its one-man-band and hobbyist background. Open Source is now big money, and all of the major providers want a piece of the action. In exhibit 1, we can see, alongside the financial information, a look at the number of partnerships both IBM and RedHat have among the major IT Services providers.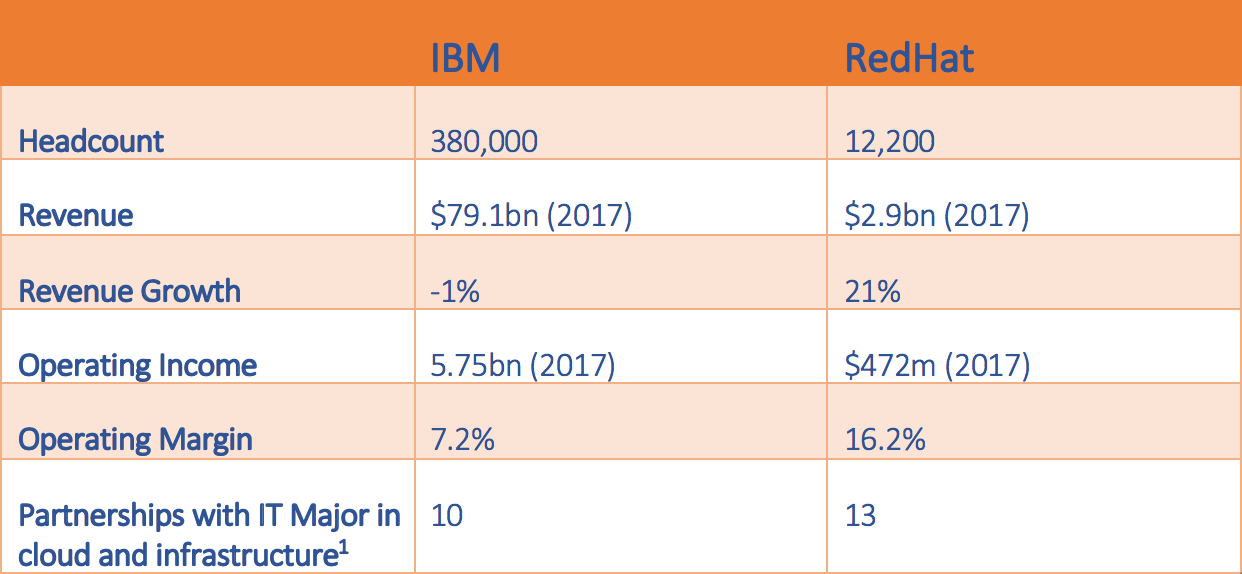 It should come as no major surprise that RedHat has a larger pool of big providers in its partnership ecosystem – IBM, while having a relationship with many has always struggled to balance its role as a major competitor and a partner. This challenge is likely to impact RedHat now, which has been able to play neutrality to build a strong partner network – some of which are likely to be sheepish now they're an arm of rival IBM. However, this risk has been addressed by a clause in the agreement which pushes for RedHat to continue enjoying relative independence.
James M. Whitehurst, CEO of RedHat advised after the announcement that "Importantly, Red Hat is still Red Hat. When the transaction closes…we will be a distinct unit within IBM, and I will report directly to IBM CEO Ginni Rometty. Our unwavering commitment to open source innovation remains unchanged," and went on to argue that "the independence IBM has committed to will allow Red Hat to continue building the broad ecosystem that enables customer choice and has been integral to open source's success in the enterprise." However, partners and clients may question how much of this lies in a carefully orchestrated marketing narrative, and how long IBM will hold true to its word given experiences with previous acquisitions. And the open source community can be quite unforgiving of commercial entities moving from benefactor to owner of IP – unless they tread carefully, IBM and RedHat may find themselves alone on the playground while all of the other open source kids play football, all because they held on to the ball for too long while they were in goal.
Even so, the formal press announcement from IBM and RedHat should settle some nerves – it advises that "upon closing of the acquisition, Red Hat will join IBM's Hybrid Cloud team as a distinct unit, preserving the independence and neutrality of Red Hat's open source development heritage and commitment, current product portfolio and go-to-market strategy, and unique development culture."
So that's all we know at this stage about how IBM plans to slot in $34bn worth of company in its leviathan and, frankly, unforgivingly complex structure. Let's just hope RedHat's reputation in the open source community isn't tarnished by selling out to a major player. Which brings us to our next point…
Forget about the cloud, this is all about open source
One thing should be made clear, the narrative a lot of pundits are pushing is that this is all about forging fresh weapons to take on the big cloud players – AWS, Azure, and Google. If it is, that's a woefully misguided objective. All of the major hyperscale firms have consistently built up assets and developed innovative cloud layers to meet the insatiable demands of the modern enterprise. RedHat – despite its credentials in Linux and Virtualization – isn't going to give any of the big three much pause for thought. If IBM was genuinely eyeing up targets to give them a leg-up in the cloud wars, RedHat wouldn't be at the top of the list. And although the marketing collateral from both firms is already championing the value of the tie-up to put a fresh spin on multi-cloud – this is far from fresh thinking in a market already packed with services and solutions.
So what it's really about, is cornering the growing appetite for Open Source in the enterprise IT services market. As Paul Cormier, President of Product and Technologies at RedHat recently announced "Today is a banner day for open source. The largest software transaction in history and it's an open source company. Let that sink in for a minute. We just made history."
IBM and many of its rivals have been scrambling around to win plaudits for the most engaged or best contributor to a raft of open source projects, and with them the attraction of key talent in a competitive labor pool. IBM is no stranger to open source, it's one of the original Linux Foundation contributors – but many of its rivals are also heavily engaged – Google, for example, is rated as one of the most generous contributors to GitHub. What this acquisition is really about is cornering off a large pool of talent, capability, and IP in the Open Source space – and with it core cloud capabilities across containerization, viurtualisation and a raft of other capabilities that are soon to be the essential building blocks of the new enterprise IT.
Bottom Line: $34bn is a steep price tag, but as enterprises look to replatform to make sense of digital, this could be a stroke of genius from IBM
One thing we've been tracking a lot here at HFS is the enterprise push to replatform to build the utopian ideal of a touchless IT environment. In many respects, RedHat brings with it many of the core components to achieve this business goal – the firm has innovated for countless years in the space to be at the forefront of changes in technology that standardizes operating environments across enterprises. The firm, along with traditional IT providers like IBM have worked to help enterprises bridge the gap between their on premise assets, old IT capabilities, and the newer technologies coming to the market. Increasingly we are moving away from a world which dictates businesses need to overhaul their environments overnight, and instead into the more realistic thinking that the modern platform will be a hybrid of the old and the new. The providers that can help enterprises link these systems and technologies together, and build a layer over the top to support the stresses and strains of the modern business will capture mindshare, and marketshare in equal measure.
So in many ways, although RedHat comes with a steep price that will leave most financial analysts puzzled – to analysts in the Digital and IT Services space, once you get passed the price tag and the old cloud wars narrative, this deal starts to make a lot of sense. There's also the interesting inference to make that IBM has taken a decided pivot away from poster-boy IA giant Watson, to go back to its enterprise IT core and solve real challenges for real people – and in the modern world, that will always involve cloud.
Posted in : Cloud Computing