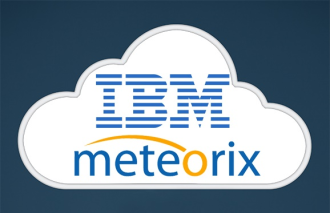 Just when you thought IBM's Global Business Services was cratering into an As-a-Sleep state, having sold-off its call center business exactly two years' ago, Big Blue's next-gen services star is once again shining, with the acquisition of one of the finest up-and-coming specialist Workday services firms in the market:  Meteorix.
Every HR head wants a Workday rollout… and every SI wants a SaaS services acquisition
There is a clear scramble for talent which can implement and support popular SaaS platforms, such as Workday, not completely unlike what happened with specialist consulting firms supporting the ERPs in the '90s and 2000s, such as SAP, Oracle, Peoplesoft et al.  Specialist SaaS services providers supporting SaaS products, such as Workday, Salesforce, SAP SuccessFactors, NetSuite, ServiceNow and Google apps, are now in hot demand as ambitious global service providers seek to avoid the commodity trap of legacy software maintenance, which can still generate revenues, but not at the growth rates of past years.
As HfS, we estimate this has set IBM back something between $80-$100m and adds 180 certified Workday consultants to IBM's stable. This creates the third biggest Workday services player in the market, with a total of 380 certified Workday consultants and elevates IBM into the coveted Winner's Circle of Workday service providers (please note this is numbers of certified Workday consultants only):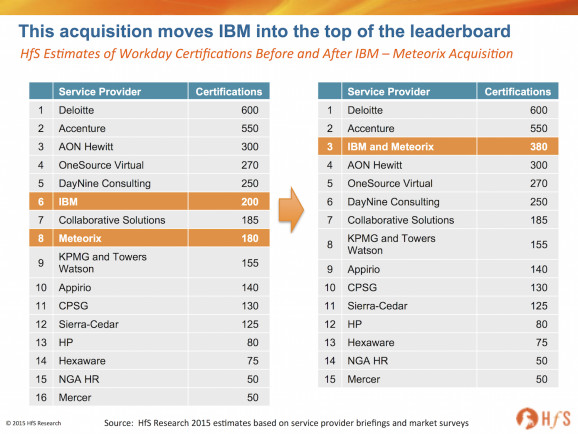 IBM has acquired one of the leading up-and-coming Workday services specialists, which leads the industry for execution capability for Workday clients:
Positives of the acquisition:
Adds considerable scarce talent in a hot market.  Not dissimilar to the recent Accenture acquisition of Cloud Sherpas, these SaaS services takeovers are all about the large providers hoarding scarce As-a-Service talent.  This deal effectively doubles IBM's share of certified billable Workday consultants and gives it greater scale and capability to compete with the likes of Deloitte, Accenture, AON Hewitt and OneSource Virtual on large Workday deals.  Meteorix staff brings an excellent client culture, collaborative reputation and great array of new clients – different from the pedigree HR transformation talent KPMG recently acquired from Towers Watson, but nonetheless great practical implementers and practitioners of Workday.  Our recent Blueprint report reveals that 60% of Meteorix's customers are in on-going "post-production support" state, one of the critical ingredients behind this deal:  acquiring talent that drives the business transformative needs far beyond the initial implementation and go-live activities.
Empowers IBM's ambitions to control core enterprise data. Being the service provider which controls the creation and interpretation of critical enterprise data, especially the knowledge of the global workforce, really creates a client stickiness that could be more powerful than ever before. Integrated SaaS suites, like Workday, have this capability to enable truly integrate data repositories – hence the trusted service provider of record will be in a very powerful future position to service its clients and deepen its footprints.
Prevents other disruptive As-a-Service providers entering the market. Unlike Salesforce, which has a much more mature ecosystem of service partners, there is a feasting on the small band of worthy specialists in the Workday arena, and they could all be swallowed up by the large players in a couple of years. There are really only a small number of attractive potential acquisitions left in this space after this acquisition which boast genuine scale in numbers, most notably OneSource Virtual, DayNine and Collaborative Solutions. In many respects, not making an acquisition of this ilk could have been more damaging to IBM's ambitions in Workday world…
Adds considerable services methodology to the IBM capability library.  Meteorix has already build more than 1000 reusable integrations into Workday.  If IBM can effectively leverage these into its global practices, there is some serious scope for scaling and expanding its Workday business.
Adds real North American depth and entry into the lucrative higher education market.  While Meteorix was not strong with multiple vertical industry depth, it does bring capability in the hugely lucrative US higher education market, upon which IBM can capitalize. It also negates IBM's need to partner with Sierra-Cedar in this sector and go after the space solo. What's more, Meteorix's North American bench is well complimented by IBM's resources across Europe and Asia, even though most Workday demands tend to be confined to the North American market at present. There is also the opportunity for IBM's practitioners to share their considerable years of SAP HR knowledge, that tend to span much broader global engagements across Europe and Asia/Pac, to where many Workday clients are hoping to expand their platform next beyond North America.
Mid-market focus and scale potential. Meteorix has tended to play in the upper-middle market space, which can provide a great platform to target enterprise level clients.  Not dissimilar to the ADP strategy of building the competency in the mid-market before scaling the solutions to move up, IBM has a great opportunity to do this with its new Meteorix talent and IP.  There is a huge amount of intellectual property to leverage – the key is to retain the talent and train it to work with higher end enterprise clients – and charge higher-end billable rates!
Potential negatives of the acquisition:
Retaining the new staff.  IBM will really need to work hard to create the right culture for its new found talent. This is its first significant services acquisition for some time and it needs to make this work. Meteorix had a very distinct culture, which needs to be nurtured and not suffocated under Big Blue doctrine.
Lack of a SaaS-centric services practice.  Accenture's acquisition of Cloud Sherpas is being integrated with its Cloud First approach, where consultants are trained to implement – and then provide – ongoing support for cloud clients.  IBM needs to create something similar with Meteorix to avoid merely being a glorified systems integrator for Workday.  The cardinal sin with SaaS is forgetting that SaaS is about empowering the end customer, not the consultant, and this is something IBM's GBS group needs to work hard at creating.  All the major SIs, like IBM, have made billions over the years selling IT programmers to stitch together legacy ERP platforms, which is not the case with true SaaS platforms like Workday.  IBM must ensure it instills and develops the business insights and skills for its clients, well beyond the go-live moment, if it truly wants to create deep analytical tentacles with its key clients.  Again, As-a-Service is about empowering the client, not the consultant…
Enterprise-enabling Meteorix's methodologies.  While this should be a major strength, this could also be a major weakness of IBM fails to nurture it's IP and talent and grow its client base across both the mid-tier and enterprise domains.  With its determined focus to develop its Watson offerings and cognitive computing capabilities, there must be considerable focus on investing in the "Born in the Cloud" clients of the future, and not just today's resource-laden legacy enterprises.
Creating strong Workday capability across both HR and Financial Management domains. The speed at which Workday's Financial Management modules are being evaluated and implemented is really beginning to pick up, and it's vital for the multifunctional providers, such as Accenture, Deloitte and KPMG to develop delivery and transformation skills across both HR and finance Workday domains.  While encouraging to see IBM being affiliated as a Workday FM partner, it's important to see the firm develop comprehensive Workday delivery skills across both domains long-term.
The Bottom-line:  IBM makes its As-a-Service claim, but the hard work starts now
Just when it really seemed that IBM's services strategy was simply to tie everything, in some way, to Watson, this acquisition is a refreshing reassurance that Big Blue is still very serious about competing for today's enterprise services with the leading global characters.  Now the real hard work is adapting to the new enterprise services culture of empowering the client and building genuine repeatable, scalable methodologies for the future.  It's also about creating platformized solutions for the F500 of 3-5 years' time and not simply catering to the needs of monolithic enterprises today. We believe IBM recognizes its challenges and is making measured strategies to get ahead of them. However, recognizing is one thing, addressing, making sacrifices and ultimately succeeding is quite another…
Posted in : Business Process Outsourcing (BPO), HfSResearch.com Homepage, HR Outsourcing, HR Strategy, IT Outsourcing / IT Services, SaaS, PaaS, IaaS and BPaaS, Talent in Sourcing, The As-a-Service Economy