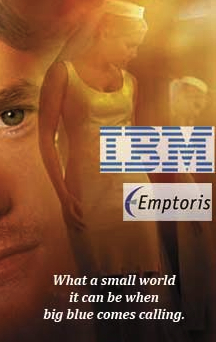 There will be technical weenies that exhort today's acquisition of Emptoris by IBM as yet another acquisition that will cause cosmetic commerce IP networks to collide in a dizzying array of cloudy business models. With $20 billion allocated to their acquisition war chest, IBM's incoming CEO clearly intends to accelerate commerce particles until a thick blue fog settles around us all.  The most technical of these weenies will explain this acquisition with their aaSes (PaaS, BPaaS, and SaaS) leaving procurement geeks with an impression it is all a stinky game of charades.
And then there will be the procurement weenies that scratch their heads and wonder why anyone would want to run a reverse auction for enterprise software on a platform managed by the service provider competing in the bidding. Especially when eRFX management, Emptoris' bailiwick, is widely available from a long list of competitors who are busy pricing themselves out of business. Frankly, it wouldn't be surprising to see a $0.99 iPhone app for strategic sourcing. Except, they'd soon be confronted with the king patent troll of all patent trolls, the so-called inventor of competitive bidding. LOL.
So what's the skinny on this marriage of Emptoris and IBM and why should you care?
The story begins with Procurement BPO. For a long-time the red-headed stepchild of the $50bn Finance and Accounting BPO market, Procurement BPO has silently grown into a respectable market with more than 400 deals with an estimated expenditure of of $2.5 billion this year. It is primed to be the most widely-adopted virgin BPO category at the enterprise level, with a fifth of them exploring first time adoption over the next year (Exhibit 1).
Exhibit 1: Procurement BPO tops Enterprise buyers' outsourcing intentions for new areas of adoption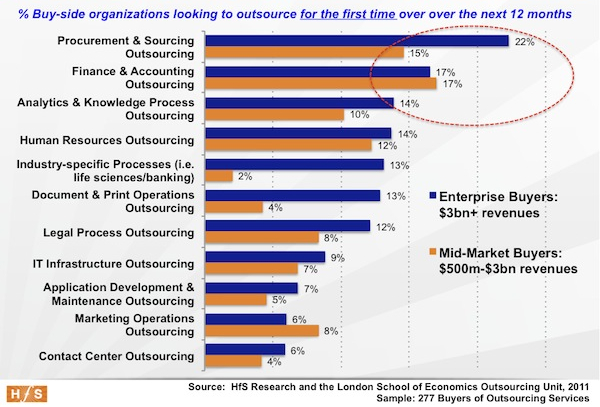 Procurement BPO is a real winner in the marketplace because service providers have proven capabilities that internal procurement executives have toiled against all the odds to create. Casting off the shackles of labor arbitrage, Procurement BPO service providers bring heavy category expertise to bear in sourcing events and category management. The results are impressive – the average Procurement BPO deal creates a ROI of almost 200% per year.
However, despite the rise of procurement technology and the hubbub with the likes of Hubwoo, SAP, Coupa, and Ariba, technology is simply not a major factor in most current Procurement BPO engagements. Our data shows more than 73% of procurement BPO deals neither upgraded the existing system or implemented a new system (see exhibit 2).
Exhibit 2: Percentage of Contracts that Excluded New Systems or Upgrades by Procurement Process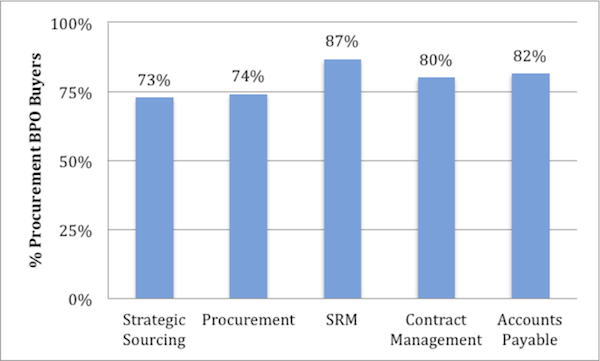 Source: HfS Research, 2011
Our research has concluded that there are many reasons for the lack of investment.  Namely, the technology is expensive, the ROI is perceived to be low, and most buyers have existing applications that are under-utilized.  Possibly more importantly, few technology partners have built successful, monogamous alliances with outsourcing service providers. In fact, technology service providers like Ariba, SAP, and Oracle will happily kiss anyone who has licensing dollars to spend. This confuses buyers who think these messy arrangements are all about marketing dollars and kickbacks.
Capgemini saw through this and acquired IBX to bolster its procurement capability – and more recently VWA in accounting.  Other Procurement BPO service providers white label their technology to keep their stories straight.  We view the acquisition of technology platforms, such as Emptoris, which providers can deploy as part of an integrated "Business Platform" offering, as the future of driving productivity and growth for their services lines as they seek to break from a heavy reliance on labor-based pricing models.  In some specific processes and functions, ownership of the technology by the service provider is proving to be a major differentiator, and we see procurement and sourcing as one of these with real potential.
What we think IBM is really up to: Becoming the intermediary overlord of B2B commerce.
IBM is already one of the two largest service providers of procurement outsourcing services, outdistancing the nearest competitor by more than 70 deals. Not only do they pack the punch of their mega billion dollar global procurement spend, but they bring together billions of dollars from their clients.  While Accenture's acquisition of Ariba's Freemarket's team created an extremely competent sourcing factory, IBM is likely heading down the path of creating a marketplace where buyers can leverage RFX tools built by sourcing gurus, request category assistance on demand from IBM's procurement gurus, and allow buyers to participate as desired in the services.  Whether buyers want to make a single vehicle purchase, develop a category strategy for fleet management and execute competitive bids, or ask IBM to manage this non-core purchase on their behalf, IBM will have the capability to support clients.  This is a lot different than how most Procurement BPO deals are constructed and will allow IBM to rapidly move into the long tail of middle and small markets, which has been largely ignored (see exhibit 3).
Exhibit 3: Size of Buyers' Companies which have adopted Procurement BPO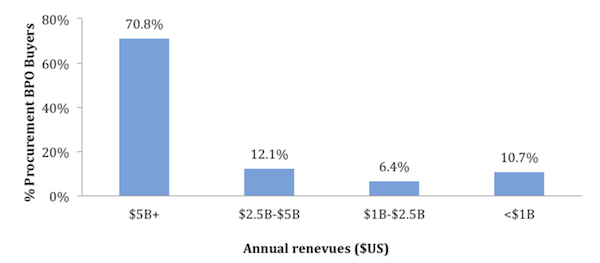 Source: HfS Research, 2011
Bottom-line: IBM made a smart acquisition to advance its B2B commerce and procurement market leadership
Emptoris' well-regarded user interface and strong brand recognition among the procurement crowd make it an idea mate for IBM's technology-driven focus and market leading Procurement BPO capability. While the integration of Sterling, DemandTec, and Emptoris will take some time to become "smarter commerce" (IBM's catch phrase), there will be some immediate upsides.  Emptoris' Rivermine telecommunications capability will be a boon to infrastructure outsourcing clients.  Emptoris' Xcitec brings IBM strong supplier relationship management capability that chief procurement officers need.  And, of course, IBM customers will get Emptoris, a leading sourcing and contract management toolset. Down the line, we expect more benefits of this acquisition as IBM develops a cloud business platform in the procurement category. Meanwhile, we wonder if Ariba's valuation just went up as they remain a major player capable of competing with IBM's technology advances.
Tony Filippone is EVP, Research at HfS Research (see bio).  He can be reached at tony dot filippone @hfsresearch.com
Posted in : Business Process Outsourcing (BPO), Cloud Computing, Finance and Accounting, IT Outsourcing / IT Services, Procurement and Supply Chain, SaaS, PaaS, IaaS and BPaaS, Sourcing Best Practises