The outsourcing industry is a labor arbitrage bubble waiting to burst.  And today's smartest buyers and service providers are poised to fatally pop it and build a better future.
We know that buyers were accomplices in the run up. After failing to invest in their operations, buyers saw limited value in their business functions.  Accounts payable teams were overwhelmed with paper, finance teams struggled with creating process rigor, and human resources teams bungled global resource management.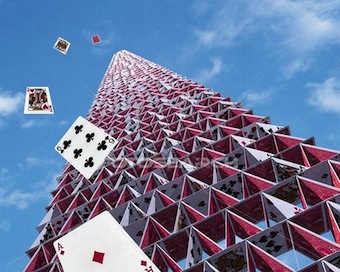 Struggling with recent macroeconomic issues, buyers simply didn't have the time or resources to reengineer for greater value.  So, they threw in the towel and asked service providers to manage their processes for them at a lower cost.  To them, reducing the monetary size of their cost centers was success.
IT was no different and they were the biggest buyers of expensive labor.  Their internal customers furiously revolted against swelling technology wai$tline$ and the lack of an "application development factory" mentality.  So, in the midst of economic haircuts, CIOs surrendered by outsourcing their staff to offshore companies that brought CMM and ITIL process rigor.  Yet, these efforts did little to simplify underlying application and infrastructure platforms that drove their high costs.
Have no doubt – labor arbitrage provided everyone immense value.  Yet, at its best, labor arbitrage is a funding mechanism for true best practice adoption.  At its worst, it is a circus sideshow absorbing management focus.   And we know that most buyers adopted to lift and shift, rather than rushing to adopt best practices at the outset of their deals…
Never before has the future of our industry been more clear: Today's wiser buyers know that the value of accounts payable, procurement, or customer service shouldn't be equated to its cost per invoice, PO, or call.  They want value.  Accounts payable should improve working capital and enforce contract compliance.  Procurement should generate hard savings and source best in class suppliers.  Customer service should eliminate the sources of customer frustration and create loyal relationships.
Still, the road to our future is unclear.  As buyers begin to line up for higher value services, their shift in demand will dramatically affect the marketplace.  Service providers that cannot develop IT-enabled BPO platforms, provide insightful analytics, or drive high value business outcomes will lose market share and be relegated to second tier "tactical" supplier status.  Service providers that can help extract greater value will dominate and their customers will benefit.   Billions of dollars are on the line and buyers need to make bold decisions – many of which involve justifying switching costs of changing service providers on improved business outcomes.
The Bottom-line: Today's Buyers Face Three Challenges
1) The foremost challenge facing buyers is the immaturity of service providers to provide more than labor arbitrage.  In every segment of the outsourcing marketplace, leading service providers are urgently developing solutions.  Like Accenture's acquisition of Duck Creek to provide value to property and casualty technology.  Or IBM's development of Watson and its application in the healthcare industry.  Or Genpact's acquisition of Akritiv to support account receivable departments.   Surprisingly, most service providers are non-committal and prefer "dating" through arms length partnerships, but their maze of third party partnerships are hard for buyers to understand.  Other service providers are hesitant to invest at all and instead try to talk their customers into co-investing in developing improved capabilities
2) The second challenge facing buyers is determining a fair fee structure of a value-based arrangement.  Because buyers have a mindset and past experience based on FTE-based economics, they find it difficult to compensate service providers for the value they will create.  Especially when comparing a value-based bid to lower cost labor arbitrage-based bids.  Buyers are notoriously cheap.  Buyers figure they can start "phase 1" with a low cost FTE-based structure, but rely on the service provider's unplanned "innovations" that may provide more value.  But they are unlikely to be satisfied with the results.  The foundation of any outsourcing relationship should be making changes that maximize a process's business value.  Service providers who create better outcomes should be entitled to better margins, which buyers should be willing to pay – if the outcomes are assured and proven.
3) The third challenge facing buyers is managing transitions to new service providers that can provide value.  If their business cases are not sound, internal pundits will hamper transitions and long-term value.  Risk adverse buyers with limited experience with switching service providers will need to manage large transition efforts. Most importantly of all, if buyers fail to establish the right governance leadership, they will fail to achieve their ultimate goals.
Much of what lies ahead is unclear.  As the economist Adam Smith said, "On the road from the City of Skepticism, I had to pass through the Valley of Ambiguity."  To this end, HfS Research will continue its aggressive research agenda focused on providing unbridled, industry-leading research to organizations seeking improved clarity.
Tony Filippone is EVP, Research at HfS Research.  He can be reached at tony dot filippone @hfsresearch.com
Posted in : Business Process Outsourcing (BPO), Captives and Shared Services Strategies, IT Outsourcing / IT Services, Sourcing Best Practises