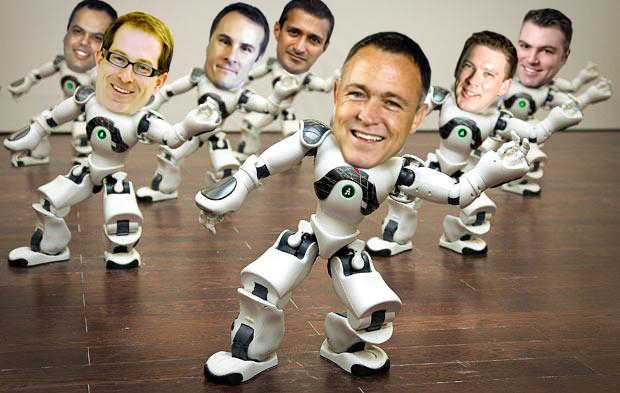 No joke, but where else can you hear a discussion about reproducing the cerebral cortex in a piece of software?  Where else can you truly understand how paychecks will be processed and IT systems will be remotely operated by robotic human clones in the near future?
Had something better to do than be one of the 800+ registrants for yesterday's Ultimate Robotic Automation Debate? Or, were you so enthralled with the debate that it's left you hungry to devour more information on how and when to deploy your very own, round-the-clock robot?
Well, fret no further as HfS Research's powerful, little, semi-automated, back-end assistant makes it a practice to disseminate our webinar slides and replay for your robotic revelry.
Oh – and a special thank you to our excellent panelists:  Lee Coulter (Ascension Health), Pradip Khameni (Blue Shield of California), Chetan Dube (IPSoft), Alastair Bathgate (Blue Prism), Ian Barkin (Sutherland) and Charles Sutherland (HfS).
Click here to access our slides
Posted in : Business Process Outsourcing (BPO), HfSResearch.com Homepage, IT Outsourcing / IT Services, Robotic Process Automation, Talent in Sourcing