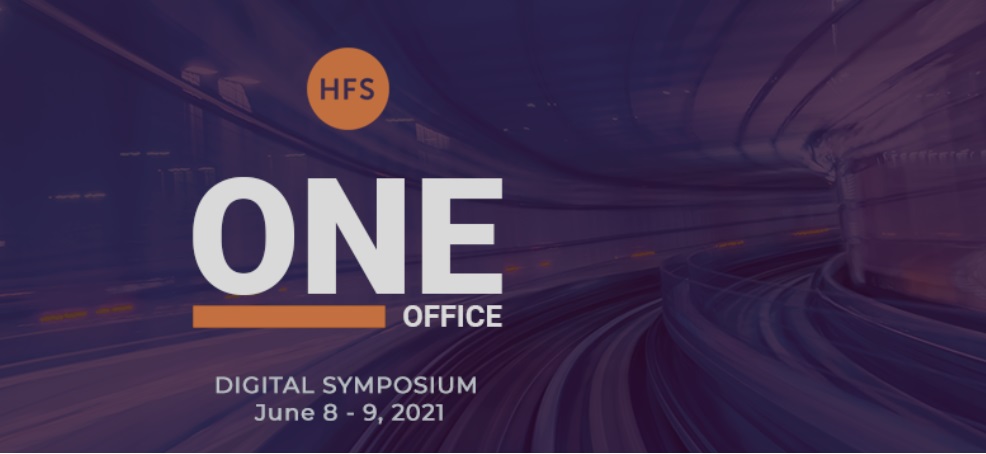 The countdown has officially begun for the first HFS One Office Digital Symposium on June 8 and 9. This is an exclusive digital symposium for industry leaders in business and technology to gain access to the most expansive global community of pioneers, practitioners and peers.
HFS CMO Nischala Murthy Kaushik spoke with me to learn more about the complete story around the symposium…
Nischala : Firstly, Thanks for your time Phil. We are a few days away from the HFS One Office Digital Symposium. How are you feeling about it?
Phil : I am excited about hosting the HFS One Office digital symposium. As a company, our events are well known and popular in the industry as we bring together executive leaders for thought-provoking discussions and unfiltered dialogues – in the unique and exquisite HFS signature style.
However, the reality is that we are far from doing live events yet! And so, as a company, we felt it was a good point in time to host our first digital symposium. I am personally excited about the amazing speaker line-up of 70+ speakers from across the world, the topically relevant agenda we have curated, the sponsorship support we received from our clients, and also the phenomenal response from the industry in terms of registrations.
When I last checked, we had more than 800 sign-ups and are still counting and expect to surpass 1000 before registration close on Monday! And the interesting insight is that we have registrations from across all industries, geographies, roles and functions. The best part is that doing a digital symposium presents us the opportunity to connect and engage with a wider section of the global industry and ecosystem; it's almost ~4X the numbers we typically host in our live events!
Nischala: That's wonderful to hear Phil. And I am sure there is excitement in the air at HFS around the upcoming HFS OneOffice Digital Symposium. I also know that you have committed to use the proceeds from the HFS One Office Digital Symposium towards the COVID-19 relief response work in India. Can you please share more about it?
Phil: Yes, Nischala, a lot of our business and clients are based in India – it is the heartbeat of the global services industry. Over the past few weeks, we have seen and heard of the ground reality of the situation in India. And we made an executive decision to make immediate donations from the Symposium proceeds for the collective fight against the pandemic in India.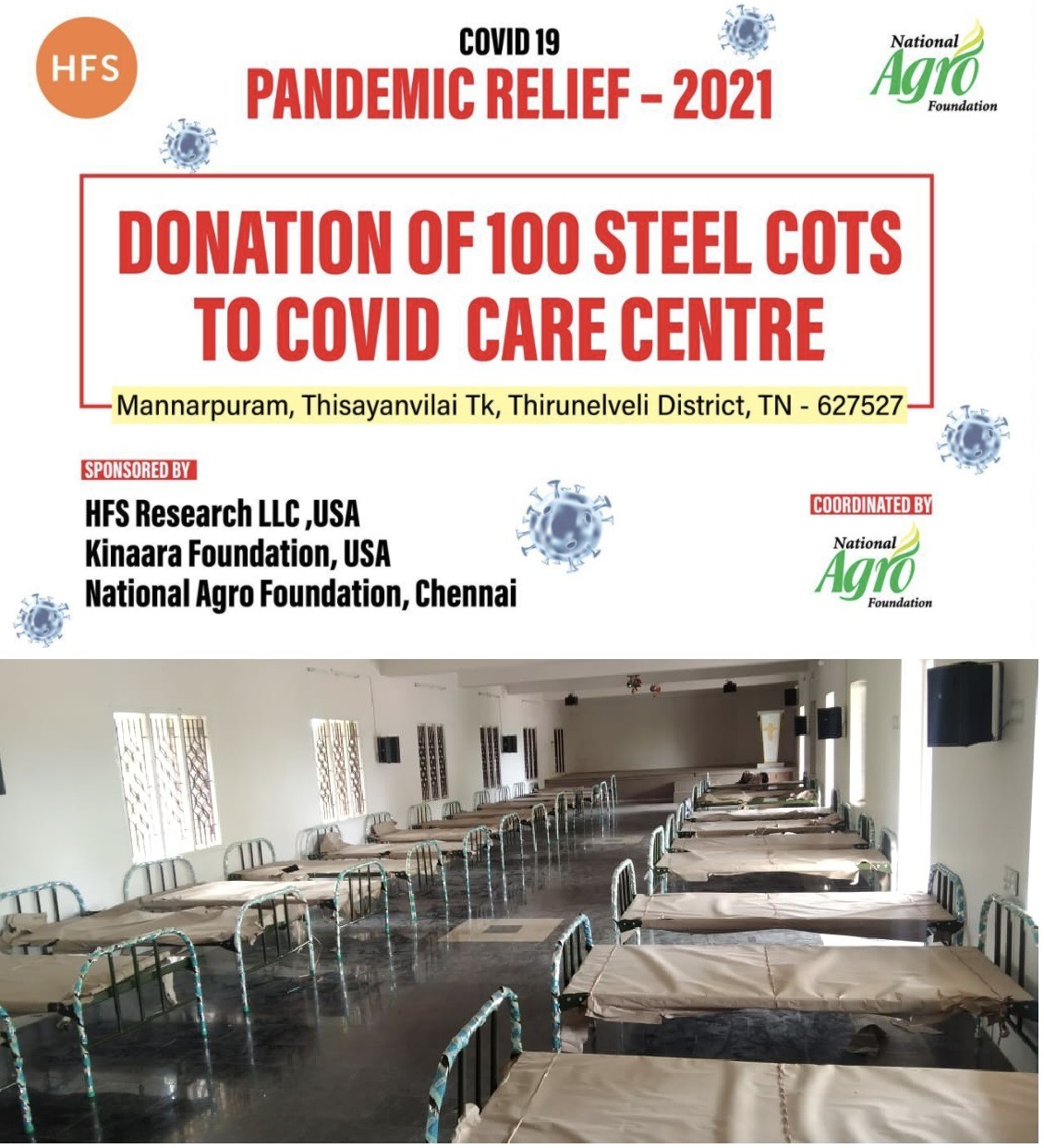 These are the organizations we are supporting – please join us in doing so today in lieu of registration fee: Give India, United Way, Sewa International, and Kinaara.
I am incredibly happy that the funds we have given are making a real difference on the ground. A facility for pregnant women with COVID-19 needed $7,000 to open. We just made that happen. We also funded a 200-bedded hospital in a small town in Tamil Nadu and have just helped a maternity center become operational for women with Covid-19. So it truly gratifying to see the realization of our passion for a purpose to make a real difference.
In addition, HFS commits that the symposium proceeds will also be used to support causes we believe in – especially the importance of accessible college education for all racial minorities..
Nischala: That's great to hear Phil. What is personally heartwarming is to see and read the immediacy of the impact of how the symposium proceeds are making a real difference on the ground in the lives of people.
Phil: yes. Every time I get a direct update on how the symposium proceeds are being used – it is personally very satisfying.
So attending the HFS One Office Digital symposium is really a win – win for all.
One, we all collectively make a positive difference in life of someone through what we do at work.
Two, anyone attending the HFS OneOffice digital symposium stands to only learn and gain.
So, anyone associated with the HFS OneOffice digital symposium is part of the conversation and the solution
Nischala : So, what is the theme for the HFS One Office Digital Symposium?
Phil: The theme for HFS is OneOffice. OneOffice is a really a "mind-set" which we strongly believe organizations need to consciously institutionalize for them to have a fair chance of long term survival, sustenance and success.
Thanks to the global pandemic, organizations have just taken a rapid drive down an unprecedented channel of change. It's been a shock for many and a calling card for accelerating digital transformation.
This forced transformation is a final reckoning to create a collaborative, cross-functional, enterprise operation that natively automates your processes, propels your people, and powers your decisions – breaking down your front-to-back legacy silos to create the only "office" that matters: OneOffice
And we are almost at the half year mark in 2021. And we already see many organizations have embraced this mindset. For those who haven't, it is a good time to start. Hence, we felt the combination of the timing and theme was appropriated to bring together industry leaders, business titans, decision makers and influencers to have an open authentic dialog on the future of industry, ways of working and navigating change.
Nischala : So, who should attend the HFS One Office Digital Symposium?
Phil: Any industry and anywhere in the world, if you are a business leader, decision-maker, or influencer in the area of business process, emerging technology, innovation, diversity, data, people, change management – you should sign up for the HFS One Office Digital Symposium.
Nischala : It is a power-packed speaker line-up and an equally power-packed agenda you have there. What are the Top 3 sessions you are really looking forward to and Why?
Phil: It's hard to single out any one session as they are all so awesome across all aspects of people, process, technology, and change – just check out the agenda =)
Nischala : Our last interview was for International Women's Day in March 2021 around the topic of gender diversity. As part of our conversation, you highlighted that for all HFS events we actively and consciously identify women who can be invited to speak. How does the speaker lineup look at the HFS One Office Digital Symposium in terms of gender diversity?
Phil: I am so glad you asked this question. We made a public commitment and I am happy to share that we have honored that commitment.
So for the upcoming symposium, we have a line-up of 18+ women speakers. They are all very senior women leaders, mostly C-suite and from across roles/functions and also across industries. I must confess that as a company, we do spend a significant amount of time as part of the event planning exercise ensuring that we identify and invite the right speakers based on their experience and expertise.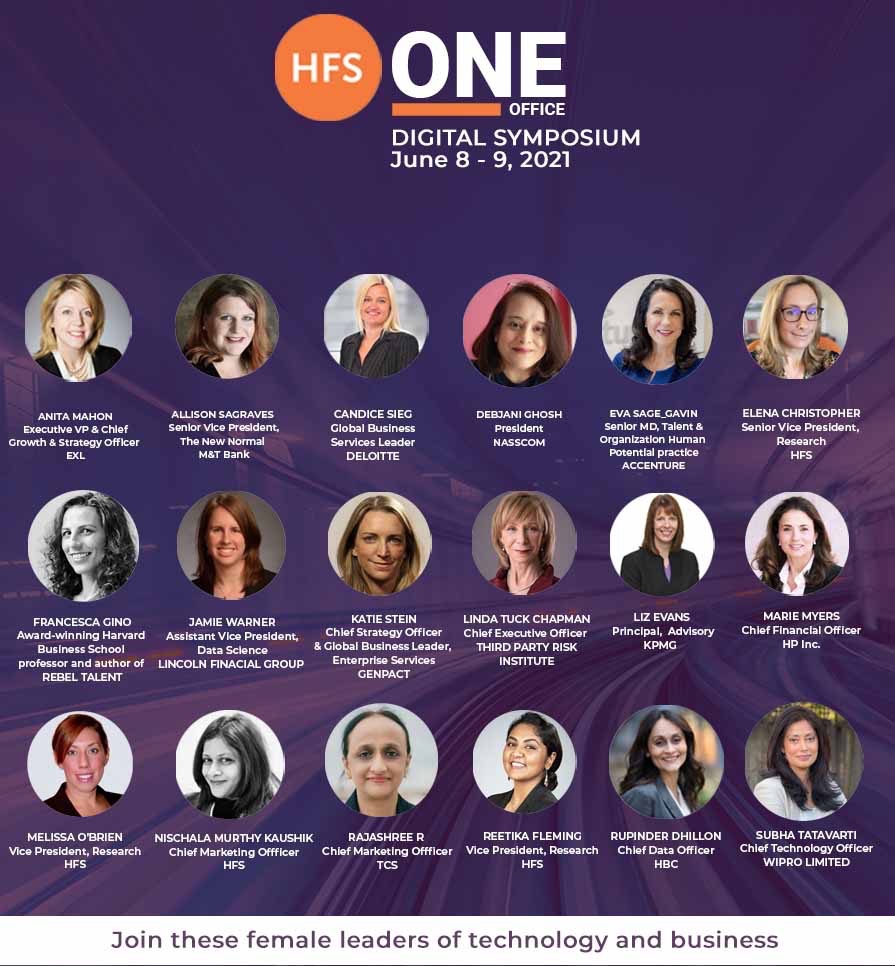 And the good news is that all these women are out there. So we believe it is our responsibility to give them the podium to share their ideas, insights, and inspiration.
Nischala: Anything else about the HFS One Office Digital Symposium that you would like to share with any reading this piece?
Phil: We really need to come together as an industry to shape the world we're moving into at a speed we have never experienced before. We have so many more complex issues to grapple with that will impact us, such as our brittle infrastructures that are being exposed, especially in the wake of unprecedented cyber-attack escalations, getting ahead of subconscious biases with gender, race and sexual orientation, learning to innovate in this work-from-anywhere environment and paying much more than lip-service to climate change… where there is no vaccination to get us out of trouble. Please do try and join us and a voluntary donation to our Covid-19 relief organizations is deeply appreciated. Cheers!
Quick Links
Posted in : Artificial Intelligence, Business Process Outsourcing (BPO), Digital Transformation, Global Business Services, intelligent-automation, IT Outsourcing / IT Services, OneOffice, Outsourcing Events, Outsourcing Heros, Talent and Workforce