This morning I nearly choked on my cornflakes to the incredible revelation on CIO.com from analyst firm, Gartner Group, that outsourcing doesn't save money.  Everything I thought I'd learned over the last 15 years suddenly went up in smoke:
In Sydney for the Gartner Symposium, analyst Linda Cohen spoke to CIO Australia and said the idea that outsourcing is a problem solver is not always the case.

"We ask our CIO clients to consider outsourcing as an operating strategy rather than a problem solver," she said. "Historically, outsourcing has been a bandaid and a way to fix the problem."

Cohen said another misconception CIOs may have about outsourcing is that it will save the business money over a period of time.

"The number one reason they choose to outsource is this theory that they can lower their costs… honestly, history tells us the act of outsourcing doesn't save money," Cohen said. "The real problem is how do you sustain the lower cost to operate?"
So, let me get this straight, you do receive a lower cost to operate when you outsource, but face a challenge to sustain it?   That's a little strange, because when we spoke with 50 of the largest enterprises across the US, Europe and Australia recently, they all outsourced IT to save a lot of money, and the majority were looking aggressively at increasing their outsource scope to find further savings, while others were pretty content with the status quo.   Noone felt their firm hadn't benefited financially from the exercise, and those that had initial teething problems had largely got on top of them.  And most of them actually liked the value and the access to specific software expertise they received from some of their providers – and their only real complaint was that they wanted more.
Moreover, when we spoke to another 209 enterprises earlier this year, 52% were planning to increase their application outsourcing scope this year, which also jives with the stellar growth results of many of the leading IT services providers this year: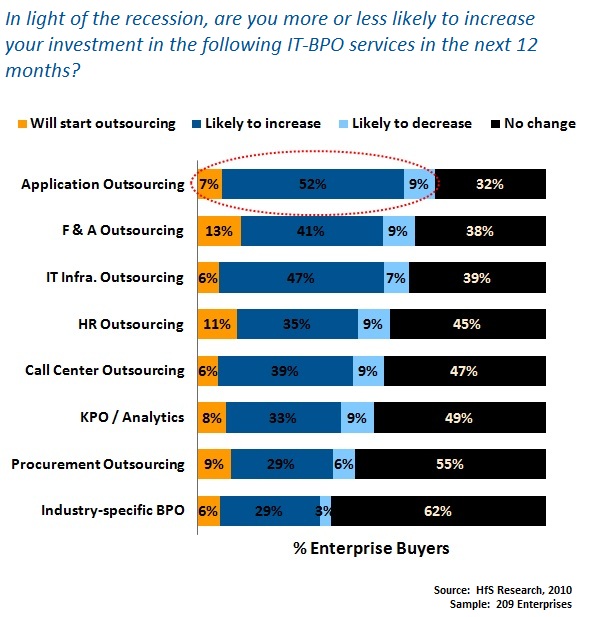 In all honesty, I know where Linda Cohen was going with this, but – c'mon –  most enterprises moved a good chunk of their operational ADM work to low-cost locations years and years ago, and are way beyond saving money on the operational stuff.  Their challenge is to align innovative IT with the business to drive productivity and revenue, to explore Cloud Computing and smarter governance / multi-sourcing models.  To advise CIOs that "the act of outsourcing doesn't save money" is simply WRONG.  Honestly, Linda…
Posted in : Confusing Outsourcing Information, IT Outsourcing / IT Services