Dear Friends – it's time to push the biggest events button in 2018!
Oh yes… we're excited to trigger the first nuclear tranche of speakers for the Future of Operations in the Robotic Age (FORA) Summit in New York, March 7-8. The summit will span the entire two days with the theme "Learning to Change" rocketing the conversation.
The tech is here and is being proven, but are we really, truly ready to disrupt our underlying corporate DNA to exploit it to its full potential? Can we really change how we operate, think, collaborate and focus to embrace the new wave of data-driven transformation that is engulfing us? In true ballistic HfS style, we are bringing together some of the finest minds from enterprise buyers, academia, technology and BPM services to share how change can be realized – and how to venture outside of our comfort zone to get there. As always, this is a non-salesy sharing of best practices and research between the key industry stakeholders. No cardboard cutouts, plastic booths or dodgy salesmen… honest!
Do apply here to save your seat …space is limited and filling up fast. Let's push some great big buttons, people…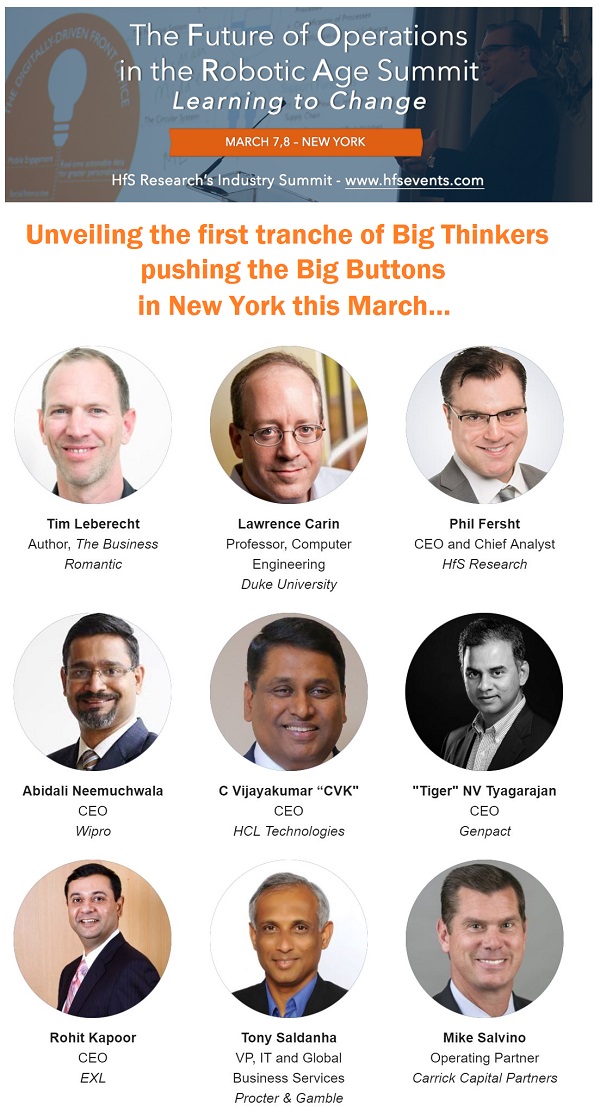 Posted in : Business Process Outsourcing (BPO), Cognitive Computing, Digital Transformation, Global Business Services, IT Outsourcing / IT Services, OneOffice, Outsourcing Events, Robotic Process Automation, smac-and-big-data, Sourcing Best Practises