We are just analysing our "State of IT Services Survey 2017" at the moment – this survey is being conducted largely to support our IT Services blueprint process. We have interviewed 302 IT service decision makers to find out what they think of the IT services providers infrastructure management services, digital-focused consulting and their application management services.
We are hoping this will add an additional buyer perspective when we rate and review the global IT services companies – getting away from the usual marketing blurb and focus on what is important for the organizations buying external services.
As part of this work, we asked these business leaders to rate their familiarity with infrastructure management service providers and then rate them on, amongst other things, service quality. This gave us the opportunity to see whether familiarity with the providers has an impact on the ratings -the infographic chart shows the findings.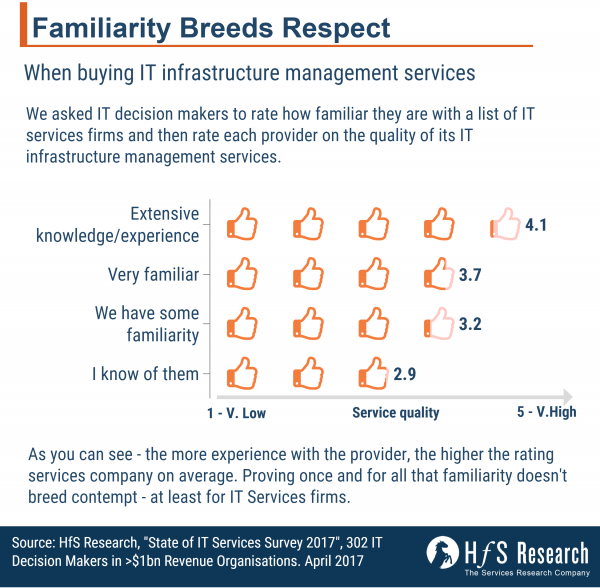 The Bottom Line – buyer respect is earned through good service delivery
The good news for the industry is that, except for a couple of notable exceptions, as buyers start to use a providers infrastructure services the rating for quality of service delivery increases. With a big leap from merely heard of a provider to extensive knowledge.
We are analysing and publishing more of this survey over the next few weeks.
Posted in : it-infrastructure