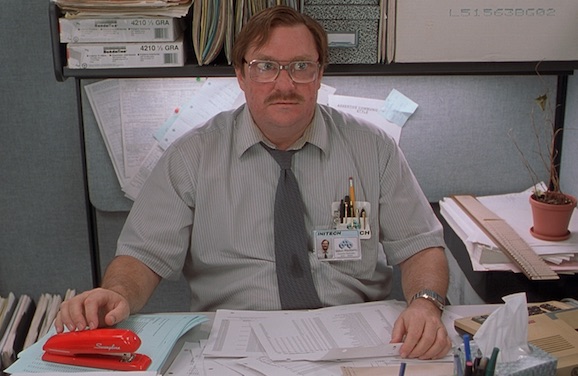 It suddenly dawned on me what the core issue is with the future of the workplace: the simple fact that company leaders and their stakeholders started viewing employees as walking costs at some stage over the last 30 years, and have devoted a huge amount of focus and energy trying to figure out how to remove as many of them from their business as possible… without it impacting the top line.
Surely, people, human labor should be viewed as a valuable commodity that adds value to a business, not some burden on the profit margin that needs to be eliminated at all costs?  So what's really gone amiss here?
Enterprises hired people into jobs they no longer value. Over the decades, our enterprises have ballooned with staff hired to provide inputs into process chains to keep them ticking over – whether they were writing lines of spaghetti code to make processes flow from one subtask to the next, or producing reports out of SAP for a historical view of the business some manager will archive away somewhere. Or taking customer orders over the phone… or faxing insurance claims from doctors' surgeries and inputting the data into some system. Today, many of these jobs could have been avoided, if these enterprises had simply invested in a better suite of software applications (which may not have been available 10-20 years ago), or cost-effective service providers were on hand to do the work – and were trusted enough to take it on.  Today, the vast majority of enterprises are trying to figure out how to eliminate these jobs that they themselves created in the first place.
People have just stayed consistent to performing tasks that now fail to align with today's desired outcomes. Many of the staff hired to produce these tasks just haven't evolved into doing anything else. The only innovation in their lives is going from Windows 8 to 10, or adjusting to the latest Oracle upgrade. On the surface, this isn't their fault – they are merely performing tasks they were hired to deliver. In reality, they should be smart enough to realize their job is becoming legacy and should be working with their employer to find areas of the business to work on where they can add real value. "Let's talk about my role" is usually a welcome discussion to have with your boss to work out additional areas you can focus on that align with the evolving goals and desired outcomes of the business.
People have grown entitled to being employed and lost sight of their value in the workplace. Some people simply think they deserve a chunky paycheck because they turn on their laptop and forward around a bunch of emails, perform a series of rudimentary tasks that just about check the "enough not to get fired" box. It amazes me how some people have hugely over-inflated views of their own self-worth and self-importance to the business. People need to take a serious look at the value they deliver to their employer – do they help bring in new clients?  Do they go out of their way to  keep existing clients delighted? Do they produce work that is unique and differentiated? Do they do things that are very distinctive and hard to find in the workplace today? Are they proactive and actually do things on their own initiative that they were not merely instructed to do? Get a reality check, people…
The workplace ethos is no longer about creating a safety net for people. Ugh – but it's true. Employers, by and large, only care about themselves and pay lip service to their staff to make them think they really care. Just look at people who quit their jobs after years of service and wind up being sued by their former employer who they thought cared about them… This is not a loving, caring, fluffy work environment, people… and this goes both ways for both employee and employer.  The same can be said for employees who pretend to love their employer, then shaft them over when something better comes along. This is not a love-fest, this is business. Let's just be honest with each other about our goals and expectations.
Governments have lost touch with reality.  Just watching this US election in full swing baffles me. Politicians are out of touch with the realities of the modern workplace. Make it attractive for employers to hire people again and curb draconian labor laws and payroll taxes. And create tax incentives for businesses to employ  and train people… seriously.  It's no wonder so many firms only want to add headcount offshore, where they are not subject to all the risks of hiring locally.
Academic institutions are not aligned with economic reality.  Sad, but so true. Are most kids coming out of college truly trained and ready for this workplace? Or do today's enterprises have to manage all the orientation to mould them into an effective working style? I look around so many industries today and only see aging management teams and pathetic succession plans in place.
The millennial generation mentality is a poor fit for many legacy businesses. When the meritocracy in many firms is still based on the length of service performed, they are going to struggle to create a fruitful environment in which most ambitious millennials can flourish. They want a sense of purpose and a flatter organization structure, a more collaborative style of working that encourages creative thinking and  a broader set of work activities that align them with the goals of the business. Apologies to many legacy businesses bending over backwards to change their cultures to adapt to more of a "startup" culture… but my client interactions are not giving me the warm and fuzzies that things are really changing… all that much.
Bottom-line: Fear the next recession, when it comes, as this could get really ugly
The thing I hate about these long, sustained periods of economic growth is the simple fact that enterprises just paper over the cracks of their failings and only deal with them when disaster strikes. And when disaster strikes, the solutions are usually draconian short term measures, like wide-scale damaging layoffs, travel freezes, marketing cuts etc. My fear is the last 6 years of (largely) false economic prosperity has instilled a sense of denial that we need to make deep, painful changes to how we manage people, and how we run our enterprises. When employees are largely viewed as "costs to be reduced" (which is all I pretty much hear from leadership today), as opposed to "people from whom we can source real value", there is only going to be one likely outcome when the xxxx hits the fan…
Now enjoy your weekend and forget I wrote this cynical distribe =)
Posted in : HfSResearch.com Homepage, HR Strategy, sourcing-change, Talent in Sourcing, The As-a-Service Economy