Let's get to the point: most of the past five years have borne witness to our industry postulate on the why and what of digital (and many still do).  It's time to focus on the how.
Unlike the wild grandiose claims from most services and tech providers that everything they do, these days, is "Digital"… it is far, far more than simply investing in new technologies.  Digital is about embracing interactive technologies, mobile, social and analytics to drive new revenue and customer experiences, as well as harmonizing business silos to support these digital outcomes.
However, success in digital initiatives is much less about technology adoption… and much more about people and culture, and the ability to manage that change. Code errors can always be fixed, workflows stitched together, apps integrated… but taking enterprise teams through the whole volatile experience, helping their staff learn new techniques, creating an environment where an enterprise can keep evolving on its own accord, and not rely on armies of consultants until perpetuity, is how we evaluate the performance of today's ambitious service providers. 
With this evaluation objective in mind, HFS shortlisted and assessed 10 leading providers: Accenture, Capgemini, Cognizant, EY, Genpact, IBM, Infosys, KPMG, TCS, and Wipro across the following five dimensions of digital-change prowess:
1. Embracing emerging change agents;
2. Creating true partnerships;
3. Promoting the principles of OneOffice;
4. Enabling change management for digital labor;
5. Driving real business outcomes.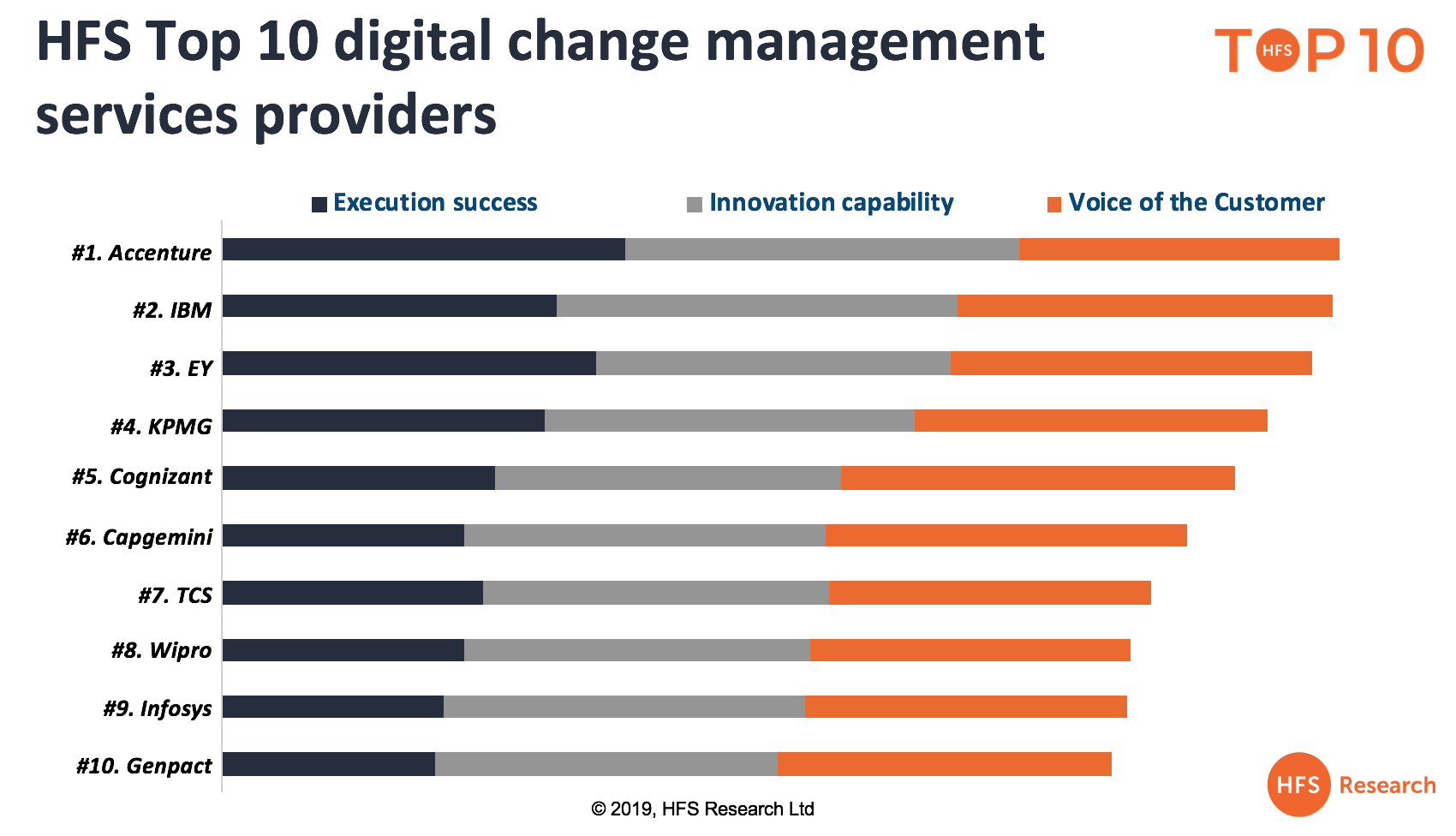 Click the table to view more detail
For a limited time, we are making our new report: "The Top 10 Digital Change Management Service Providers" completely free to HFS subscribers. (Click to download)
Posted in : Digital Transformation, OneOffice, sourcing-change