The recent post entitled "Can we ever get back to the thinking workforce" focused on the poor work habits that have infiltrated many of today's workers to create a dearth of analytical thinkers for our organizations.  However, one critical aspect we overlooked during the excellent discussions, was centered on how our corporate managers have allowed this to happen.
As if by magic, I was presented with a new survey carried out by Kelton Research, on behalf of  talent management SaaS provider, Cornerstone OnDemand, which canvassed views of 494 employed Americans over the age of 18.  It's clear that the very attitude and approach towards talent management has shifted radically in recent years.
What stands out for me are five main aspects:
1) Managers are not being developed or trained property to nurture and develop our talent;
2) Over half of employees today are taking a short-term view of their current employment;
3) HR has become a forgotten function in the business when it comes to aligning employee performance with objectives;
4) Corporate leaders are losing interest in developing their own talent, and looking for "silver bullet" hires;
5) This short-term attitude towards talent management is surely increasing the value proposition of partnering with sourcing providers.  If they can fill your talent gaps quickly and inexpensively, then why bother developing your own?
So let's take a closer look…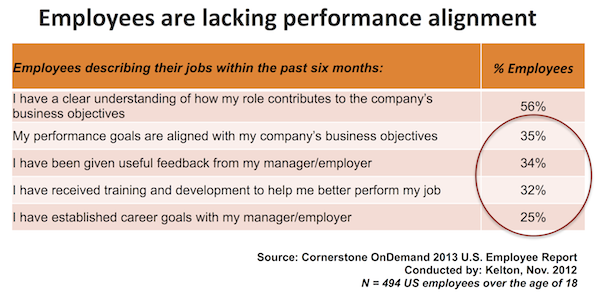 While employees still, by and large, know how their jobs contribute to the business objectives (56%), barely a third feel their performance goals are aligned with their organizations' objectives, or are managed or trained adequately.
Question: Are managers simply too busy to devote time to their staff, and are many not being trained in the art of developing their employees' careers?  And – even more importantly – do many corporate leaders even care?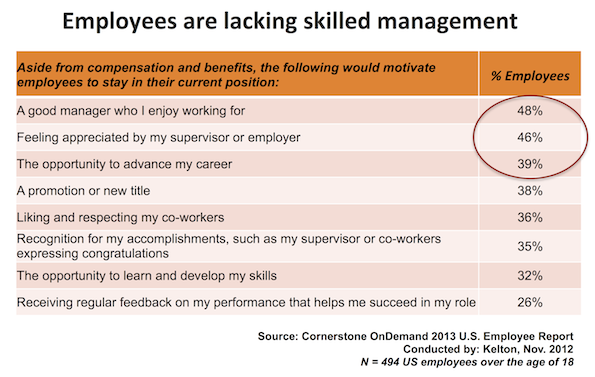 While more than half the respondents do not view their future with their current employer for longer than a three-year period,  it's clear the main reason for this is a lack of skilled managerial talent which can motivate and mentor their staff.  Almost half of today's employees would take a longer view of their current organizational career track, if their manager showed them sufficient development, attention and appreciation.
Question: Employees want to be managed well, so why are so many asking for it?  Have companies forgotten the art of good staff management?  Or have many simply have lost interest in developing their staff?
The Bottom-line:  The "career employee" culture is clearly on the wane, opening the door for deeper sourcing relationships
While we can bemoan the poor progress in talent development, for which an alarming portion of the US corporate sector is now responsible, I believe there is a deeper message in all of this:  not all firms are "dropping the ball", they simply do not have a vested interest in the future development of many staff, and their management layer doesn't have the time to train junior staff.  Many have taken the attitude that they can replace poor performers with high-performers, if need be.  Moreover, many are also viewing their sourcing relationships as opportunities to downsize their current workforces (such as the recent Citigroup announcement).
The data also signifies that many organizations are probably already too ill-equipped to become superlative talent development environments, especially in functions that do not create a great deal of competitive advantage for the business… so maybe it's time for them to look at new ways to manage business functions.  While we haven't witnessed a rapid burst of outsourcing activity since 2008, it doesn't mean business aren't re-aligning their resources and readying for it in the future.  This data suggests they may well be.
Posted in : Business Process Outsourcing (BPO), HfSResearch.com Homepage, IT Outsourcing / IT Services, kpo-analytics, SaaS, PaaS, IaaS and BPaaS, Social Networking, Talent in Sourcing