There has been a considerable amount of hype around the China's potential as a BPO power-house, typified by this recent article by Sridhar Vedala and Vibhash Ranjan of sourcing advisor Equaterra, which claims the China BPO market reached $1.3 billion last year.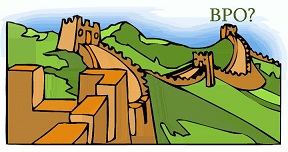 The definition of BPO is somewhat vague, so I will refrain from commenting on this figure, but am sure the economic climate out there is capable of commanding this level of BPO work.  The article has some excellent points regarding the advantages and potential of China as a BPO destination, namely:
China's BPO market will be driven by (1) companies from Japan, Korea and Hong Kong outsourcing low-end services; (2) foreign investors that have thousands of employees in China (i.e. Danone and Fuji);  and (3) domestic companies that outsourcing within China.  American and European firms are "rarely sourcing" BPO services from China.

Global BPO firms, such as IBM and Genpact, are developing a presence in China (even thought IBM is the only firm that has surpassed 1000 employees for BPO services);

New BPO locations, such as Chengdu and Tianjin, are 30% cheaper that the mainstays of Beijing and Shanghai, and their attrition is only running at 5%, as opposed to 30% in the big cities (this really fills me with confidence);

"China offers multi-region support to the surrounding customer markets, which sets it apart".  I am assuming these are for regions that require Chinese dialects, such as Jin, Wu, Hui and Pinghua, in addition to Taiwanese, Japanese and other Asian languages.

Multinationals are shifting their Asia/Pacific regional HQs to China and establishing shared services centers or outsourcing local firms.

De-regulation of the Chinese banking sector.  It is now much easier for foreign investors to offer retail banking services in China – a real drive for BPO.
Look beyond the hype….here's my take on China and BPO:
The Asia/Pacific region has been crying out for more comprehensive shared services and outsourcing structures for years.  Singapore and Hong Kong have traditionally assumed the role of "regional hubs" for most multi-nationals over the last 20+ years, but are now far too costly for running shared services, or outsourced operations.  China is offering potential, not too dissimilar to India 5 years' ago, for multi-nationals to invest in servicing their Asia/Pacific regional businesses.  Many Pan-Asian businesses, or regional hubs of global multi-nationals, have shied away from shared services or outsourced models as they didn't really have low-cost options available, and the Asian business culture has traditionally centered on inhouse models for its administrative support functions like HR, finance and procurement.
So while there is an obvious opportunity for a BPO industry to develop in China, I have several reservations that it will develop into anything more than a local hub for supporting Chinese-speaking business and a handful of multinationals:
1) China is in a time-crunch.  China is already touting it's Tier 2 cities, such as Xi'an and Chengdu, as it's mainstays of Beijing and Shanghai are already suffering from chronic job attrition (30%) and wage inflation.  At least in India, and other offshore locales such as Philippines and Eastern Europe, they enjoyed a stable period of a few years to develop their BPO infrastructures before these issues crept in. With China, it is moving into BPO with little breathing space to establish its infrastructure and build critical mass.  It is easier for BPO firms to combat attrition and wage inflation once there is critical mass of staff and infrastructure available (see this post from earlier last year that contrasts the typical approach being taken by the leading Indian outsourcing providers).
2) Wages are already high. Wages in China are not much lower than in India, which has more experience in BPO and much better English language skills.  As a side note, you can actually get cheaper accounts payable done cheaper in Mexico that China…
3) The India experience all over again.  With all the initial teething problems firms had sending out BPO services to India, why would they want to go through all this again with China?
4) China's core competency is engineering. China is more of a manufacturing / industrial powerhouse… I cannot see it being so adept at doing back office work, with the exception of Dalian, which can service Japanese and Korean-speaking businesses.  Engineering services are in the Chinese DNA, rather than BPO services… this is the direction I see China taking, for example industrial design work, contract manufacturing, biotech services etc.
5) Movement away from mere labor arbitrage.  BPO is moving away from the "body shopping" game, and more towards value-services and innovative offerings. Moving more work to China seems like a regressive step for many multi-nationals.  Having said that, experienced BPO firms can claim to have learned from past mistakes and seek to rectify then in a Chinese delivery model.
6) China's English-competency is a major minus for BPO.  Whereby Singapore and Hong Kong adopted English as their mother tongue many years' ago, China is still a good decade away from being able to boast good English-speaking competency.   Beyond the Chinese-speaking languages, and some surrounding Asian languages such as Japanese and Taiwanese, it is difficult to see China becoming more than a local hub for it's domestic economy and some of the Asian-speaking countries.   To run truly pan Asia/pacific services, not having a strong English-speaking competency is a major issue with BPO.  When running the vast majority of BPO services, there needs to be elements of close interaction between the outsourcer, or offshore worker, and the mother company outsourcing the services. 
So all-in-all, China has potential to develop a compelling BPO industry, but there are many obstacles the country needs to combat, in order to develop this beyond an industry that is merely serving a sub-region.  Moreover, it is tempting for people to get over-excited at anything "China-related" these days… it is important to look beneath the surface to get a dose of reality.
Posted in : Finance and Accounting, HR Outsourcing, Procurement and Supply Chain, Sourcing Locations