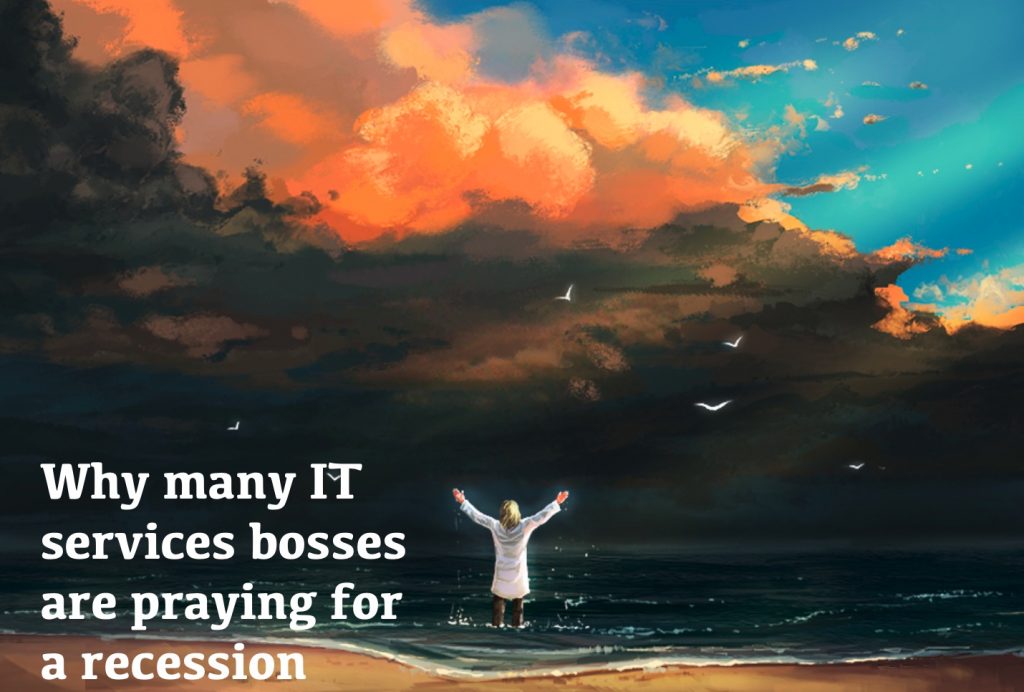 According to the 33rd President Harry S, Truman, "It's a recession when your neighbor loses his job; it's a depression when you lose yours."
In the case of the IT services and outsourcing industry, it's the neighbors who are in trouble, and service providers are in pole position to take full advantage.  There will be no services depression… and recessions only last a few quarters.
A recession may just be a blessing in disguise for IT and business services
It pains me to say this, but a recession could drive a healthier long-term outcome, not only for the IT and services industry but for economies in general.  We've been living on printed money for 14 years, venture capitalists have bankrolled billions in business plans that make no sense (and will leave a trail of destruction), and many people can't even motivate themselves to leave their houses to go to the office.  Let's be honest folks, the global economy is unsustainable on its current trajectory and we need a big reality check.
Moreover, the IT and business services industry is likely to benefit considerably from a global recession as cost-control takes center stage, in addition to the urgent need from enterprises to migrate securely to the cloud, automate processes and get cleaner, quicker access to data.  Let's examine why this is a likely scenario…
Slowing attrition will repair fractious client relationships and stem the bleeding
Staff turnover in IT and Business Process services deals has reached levels where many customers are screaming at their service providers to stem the bleeding, and we're seeing some contentious situations developing, including some supplier switching.  While some providers claim to have their attrition more "under control" than others, the problem is massive and widespread, and having (almost) entire project management teams take flight midway through complex cloud migrations has become all too common over the past few months.  In short, if this situation persists, many clients will just bite the bullet and bring more IT back in-house.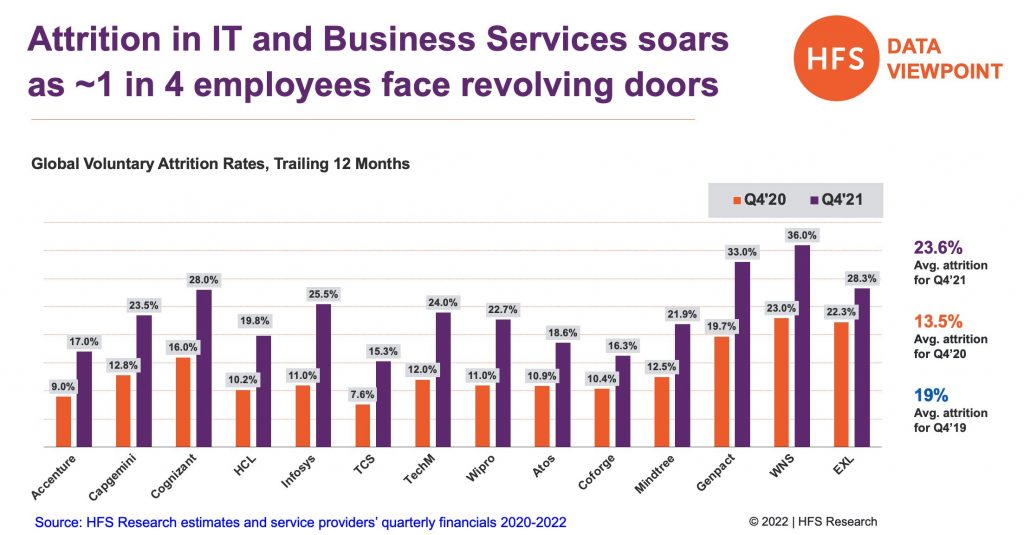 Economic recessions have historically driven growth in services and outsourcing and this time should be even more aggressive as cost reduction becomes hugely significant
As attrition slows, there will be enough scale in India to respond to the needs of enterprises in dire need of reducing costs and accessing capabilities.  While wages have increased in services (likely 10-15% on average), there is easily enough profit margin from all the TWILTCH providers to compensate and be able to offer clients 30%+ cost savings, on top of whatever innovations they provide.  After the 2008 crash, we saw a significant spike in offshore IT services, in particular application development, which has pretty much carried us through to this 2022 recession.  Since pandemic times, focus has shifted more to the frantic rush to the cloud and the focus on cost savings has been overshadowed by this great "hurry" to move enterprises into these critical virtual environments.  However, we see a swing back to cost as the major impetus to outsource as industries like hi-tech, financial services, and healthcare have no choice but to improve their profitability to survive.
The Bottom-line:  Cost reduction has traditionally been the conversation starter for outsourcing… and it's back again in spades.
However, deep customer scrutiny on attrition and execution capability will dictate which providers come out on top.  We know service providers can keep pushing the cost reduction capabilities, but they have to get ahead of these critical attrition issues fast – and they have that opportunity with the global economy tightening.
The turmoil in global supply chains and challenges of remote workers should work in favor of using smart outsourcing models, especially for enterprises that are struggling to retain their own key talent in areas such as cybersecurity, hybrid cloud migration, app dev etc. The leading outsourcers are those which have a depth of resources in critical areas (and at less expense) which make themselves such critical partners for their clients. I would add a huge caveat here that service providers have to get their own attrition under control, but a recession will slow down the great resignation and should stabilize this work environment.
Cost is king when recessions bite, and outsourcers that can deliver 30%+ cost savings via access to lower-cost labor at scale, combined with strong cloud delivery and automation, will be sitting pretty.
Posted in : Business Process Outsourcing (BPO), IT Outsourcing / IT Services, Talent and Workforce