There's little doubt about what's been providing the rocket-fuel behind the rebounding services business: IT outsourcing.  Simply put, there are plenty of eager providers to choose between, they have access to most of the technical skills companies need, and their rates are far cheaper than retaining or hiring staff inhouse.  Some are also getting pretty handy at becoming consultative business partners, and not simply low-cost body shops.   Our recent study tells the real story –  50% of enterprises are either kick-starting, or scaling-up, their ITO right now.  "So tell us something new", I hear you groan into your laptop screen…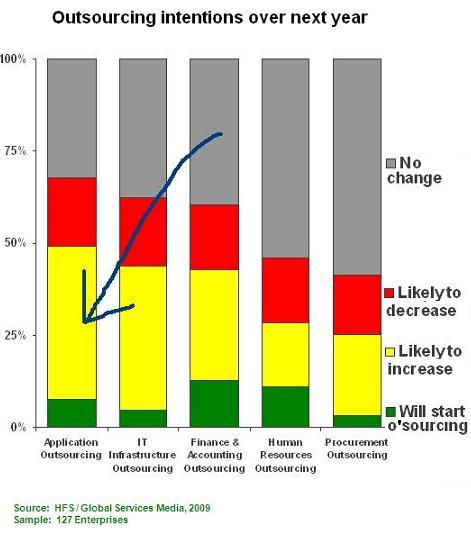 What's different as we emerge from this crisis, is that the perceptions of IT from the other parts of the business are becoming increasingly cynical in many companies.  Many companies are hiring new CIOs with the mandate to "turnover half the department, or outsource it", and IT middle-managers are being seriously questioned about the value they are adding to the business.  While much of the bottom-layer of IT has already been contracted out, it's now the middle layer of IT professionals which is under threat.  CIOs are under pressure to prove the value of maintaining these heavy middle-layers, or move them out of the organization.  Some CIOs are already operating under the strategy of hiring a few people who "genuinely get it" to drive IT value, while outsourcing as much of the operational work as they can.
Remember marketing in the '80s and early '90s, where firms had these bloated marketing departments doing multiplous tasks such as PR, communications, database management, which used to be so critical to keep inhouse etc?  Today, nearly all CMOs surround themselves with a handful of folks who "get it" and parse most of the operational work out to agencies.  That is the norm today, and no-one questions it. 
My fear for IT, is that it's going down a very similar path.  Or should this really be "fear"?  Maybe this should be "hope" of much-needed change?  CIOs can't exactly hire 20 people over night who "get it"; firstly, they may only know a couple of suitable people who'd be prepared to join them, and secondly, they'd likely have a hard time getting the requisitions for a lot of expensive high-end IT talent which can apply innovative-thinking and new technology to source fresh avenues of revenue and productivity for them.
So the middle-layer of IT has a shot  at saving itself - their CIOs need to pick talent that can prove their business value to the firm and mould them into the IT engine of the future.  I do not believe that IT is going the way marketing did, but it does need to step-up a gear and win-back credibility from the cynics who simply want to offload the excess fat in this economy.  That means CIOs need to train their staff to think out-of-the-box, to learn how to work more effectively with the business units, and to bring technologies into the organization that can truly impact the business and the corporate culture, such as virtualization, Cloud, video-conferencing and social media. 
I do believe we're genuinely arriving at a critical juncture in the IT world, where it's time for CIOs shape-up their teams, or look outside of the organization to regain the lost credibility.
Posted in : Cloud Computing, Finance and Accounting, HR Outsourcing, HR Strategy, IT Outsourcing / IT Services, Procurement and Supply Chain, Social Networking, Sourcing Best Practises