The vote for Brexit wasn't really about debating the finer points of EU membership – it was a big thumbs down for the establishment from over half the UK voters who feel disenfranchised. This is a reflection of the ever-widening gap between the wealthy and the working classes, the educated and the uneducated, the socially-connected ambitious younger generation and the disconnected older generations, who've lost interest in the direction of the modern world that no longer represents their interests.
Moreover, this rebellion against the establishment can be clearly mirrored in many of our enterprises, where similar issues of disenfranchisement are rapidly permeating.
Rote jobs are being eliminated with limited reorientation and progression planning
We talk a lot about the new work and career opportunities being created by digital disruption and digital business models, but these require greater problem solving skills, critical thinking and creative capability, if the World Economic Forum's new jobs report is to be believed:
And while we can complacently talk about all the exciting work creation the As-a-Service Economy is bringing, we've already precisely pinpointed that 30% of routine, low-value positions are being phased out through automation over the next five years, far outweighing the expected new jobs being created in the medium-high skills areas:
This means we need to ensure our businesses and colleges alike are actively involved in reorienting this 30% to avoid their exit from working society. This is serious stuff which needs to be urgently addressed by our politicians, if they genuinely want to get back in touch with their increasing base of disenfranchised voters.
The younger generation, clearly more in tune with opportunities of free labor movement and their career growth, overwhelmingly voted to remain in the EU. In fact, the majority of British voters under the age of 45 want to stay "in"; it's the 45+ year-old people which see no value of EU membership for themselves, which opted to stick it to the faceless politicians: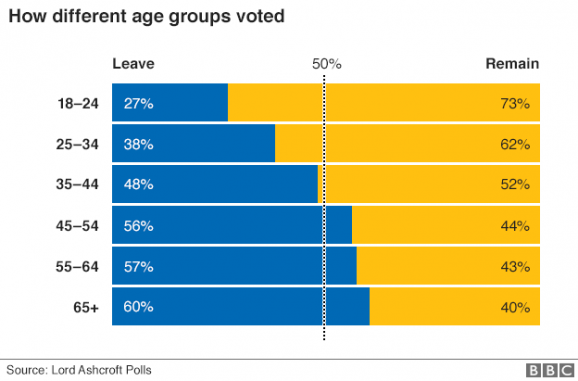 And when we delve even deeper, it's also highly obvious that the better educated the person, the more they were inclined to vote "remain":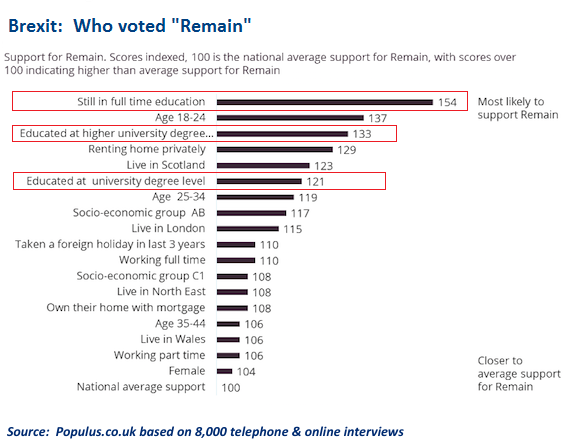 The Bottom-line: As automation and further outsourcing take a firmer grip on enterprises, we face an almighty challenge – and cost – to reorient staff in low-skilled jobs
We've long-countered the whole argument about job elimination and offshoring, with the response that businesses need to be competitive and this is all part of the natural evolution of society and business. However, when 30% of services jobs are likely to be phased out over the next five years, we need to ensure these people can orient themselves into new jobs. Politicians need to forge closer ties with business leaders to ensure this happens, otherwise we'll have more Brexits and more fascist lunatics creating frightening futures for us.
When you have 52% of your voting public sticking it to the establishment, there is a serious situation emerging that could change the game forever: if we can't have leadership that can get back in touch with the people doing these rote jobs, we will end up with governments that force even more draconian measures on businesses to protect jobs. And this will likely mean less competitive businesses and less jobs to go around in any case. This is a journey to the bottom if we give in to archaic government measures and an avoidance of investment in work creation through re-education and training.
Taking away EU employees from British firms, and the ability for low-wage EU workers from places like Poland, Ukraine etc to wait on tables and clean hotel rooms, the economy is much worse off. Just as a benchmark, British science is hugely dependent on EU grants and talent to keep it going. It's the same with university programs and technology start ups benefitting from EU synergies and subsidies alike.
Many governments need to accept the fact that this 30% of future job elimination is caused by woeful education systems over the last few decades that long lost touch with the reality of business and modern day commerce. Serious investments need to be made by governments to fund the reorientation of workers to be relevant for the future workplace. Our businesses need to be funded to retrain staff and retain them, not simply look to reduce headcount wherever possible.
Brexit symbolizes the failure of government to listen to so many of their people who are just angry. They feel neglected at the ever-widening gap between the rich and the poor. There's a reason Bernie Sanders and Donald Trump (for various reasons) gained so much popularity. Love or hate their policies, many people see them as politicians who can "hear" them. David Cameron may have fought – and lost – the cause to keep Britain in the EU, but the majority of his people felt cut off from the future and made their voices clear.
The painful process now begins for legacy establishment politicians across the globe to wake up to the reality that an increasing majority of their voting bases are fed up with their lack of affinity to the common workers, and the fact that our business leaders have limited (or any) incentives to protect them or reorient them. Otherwise, they will get voted out and we'll have some alarming social unrest that could well put us all out of business. This is serious stuff, and we can't afford to keep brushing these issues under the carpet in a democratic society.
Posted in : Business Process Outsourcing (BPO), Digital Transformation, HfSResearch.com Homepage, HR Strategy, IT Outsourcing / IT Services, sourcing-change, The As-a-Service Economy