As we mentioned in our recent blog on the IT Services Market we are looking to make our content more visually appealing. So we have below the companion primer cover the BPO market for 2015 to 2021. We will be doing a full update of the forecast at the end of Q1. When we have a chance to analyze all the vendor results for 2016.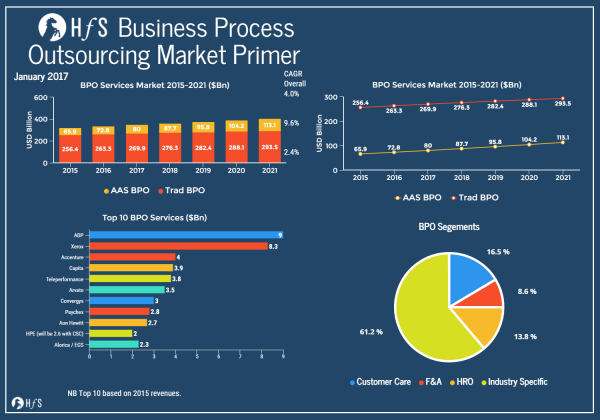 This chart gives our top level view of the BPO market in numbers – this provides a top level look at the market as a whole. We will be looking at producing a number of cuts of this data over the next few months, especially as we roll out our BPO Top 50 report and our updates to our market forecast.
The Bottom Line – Watch this Space
We are publishing a point of view on market conditions over the next few days, which presents these charts again with some additional commentary. Please find the piece at www.hfsresearch.com.
Posted in : IT Outsourcing / IT Services