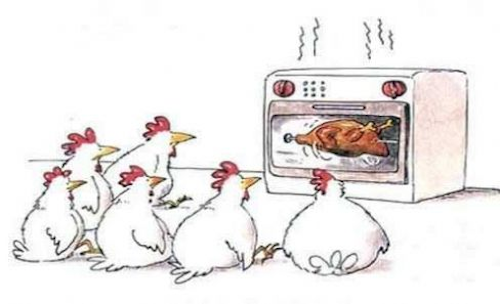 Most British people around my age will be familiar with Not The Nine a Clock News – a satirical sketch show on the BBC in the early eighties, which was one of the first vehicles for Rowan Atkinson. I remember a sketch where a customer was visiting an electrical retailer and asked a series of questions to one of the staff members about a Stereo's features, like "does it have Dolby?" With the member of staff just parroting back affirmatives to every question, "yes it has Dolby." The customer, with increasing disbelief asks if it could microwave chickens – with the "expert" answering with disinterest "yes it microwaves chickens."
This is the type of response you get when you ask an "expert" about blockchain. What does blockchain do? Everything. Or so it seems.
I have the fortune (or misfortune depending on your perspective) to hang out a lot with IT and sourcing industry analysts – working in the industry they make up my colleagues and many of my friends. This means that, over the last couple of months, I have had to endure a whole spate of blockchain theses testing the boundaries of sanity. The issue with a topic like blockchain is it's hard to understand what is real and what is not. Because blockchain is a difficult concept to understand, many of the people I have encountered talking about the benefits do not seem to understand what it actually is. Except that it will revolutionize lots of things – by making electronic voting a reality, electronic financial transactions perfectly secure, IoT actually happen and work, helping to enforce digital rights and combatting physical counterfeits. Which are all laudable aims, but I tend to lose confidence in people's predictions about a subject, when they do not understand how it works. Just saying "well you know, it's blockchain, of course it can (microwave chickens)," just doesn't inspire.
What is more, this overblown confidence in blockchain's ability to change the world is not shared by business leaders at the moment. Our recent research on achieving Intelligent Operations, which canvassed 371 major buy-side enterprises, showed interest in blockchain at a similar level to using drones.
Posted in : Blockchain, Financial Services Sourcing Strategies, Security and Risk