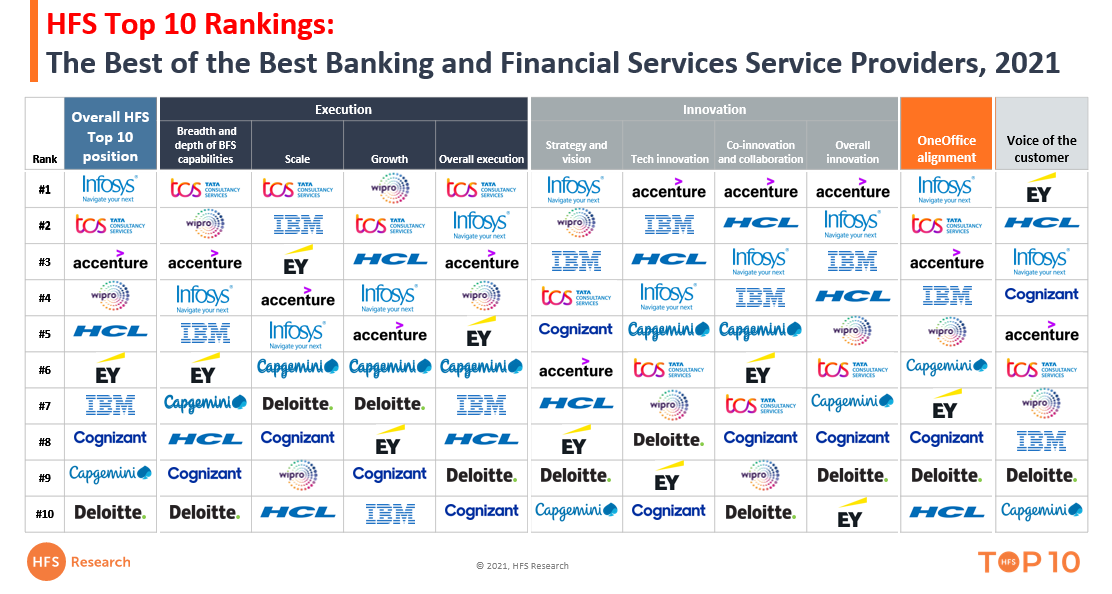 The banking and financial services sector remains the largest market for IT and business process services and is generally regarded as one of the most aggressive in terms of emerging tech adoption. However, do not confuse the spend and the adoption with digital transformation. So much of what gets done in established banks and capital markets firms is all about care and feeding of some of the largest and most complex tech stacks and business processes in the world. As with the rest of the planet, the pandemic exposed the lack of digital transformation achieved by established financial services firms.
Many subsegments of the financial services sector were 100% certain they were digitally transformed pre-pandemic. It took a global crisis to lay bare the precise lack of connectivity between glossy front-end customer engagement interfaces and the myriad of aging back-office systems that actually run financial services firms. The post-pandemic imperative is rapid modernization across all BFS subsectors, with implicit cloudification and digital optimization to connect the front to back. This is only achievable with a collaborative ecosystem approach. This is where service provider partners came up big during the pandemic.
Our BFS practice lead, Elena Christopher, weighs in to share the results of our 2021 Banking and Financial Services research on the leading service providers specialized in supporting BFS customers.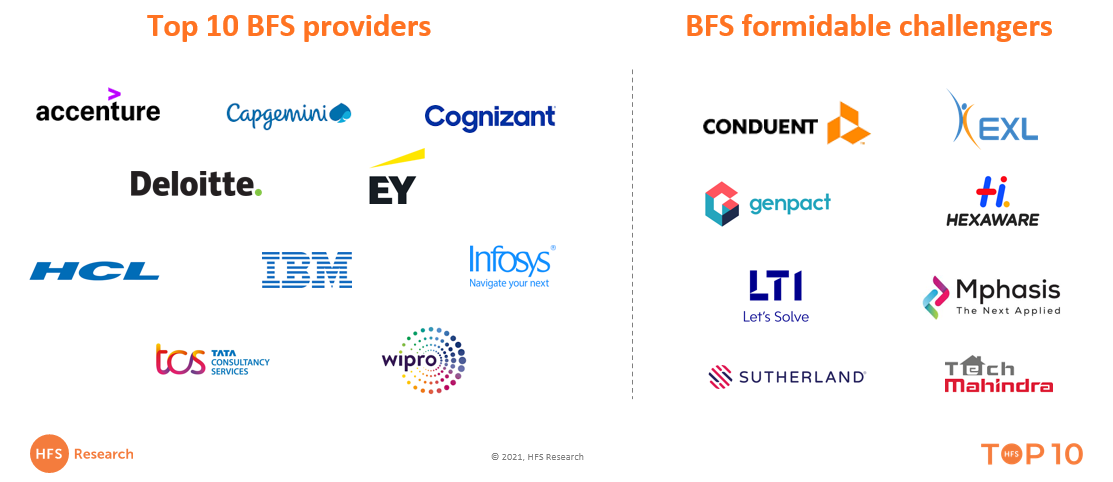 Elena, what did you learn?
Well, aside from a searing validation of the myth of digital transformation in BFS markets, the pandemic served as the ultimate reality check of what happens when digital CX is not linked to the back office and employee and partner enablement. This pursuit of the OneOffice yielded three core study themes around context, collaboration, and creativity.
Context. The pandemic ultimately helped BFS firms and their service partners prioritize their transformation needs with leading priorities centering around payments modernization, core banking transformation, and enhanced digital experiences for its customers. In all cases, the cloudification of legacy or migrating applications to platform solutions increasingly offered as managed services enabled the transformation. Digital enablers such as Triple-A Trifecta tech (automation, AI, and analytics) are increasingly embedded in engagements as native enablers rather than as engagements in their own right. This is transformation contextualized for BFS.
Collaboration. You can't achieve contextual transformation alone—at least not at pace or with guaranteed success. IT and business process service providers are critical partners to help BFS firms on their change journeys. Part of their value is their ability to help curate partnerships and form collaborative ecosystems of services expertise, technologies, hyperscale cloud capabilities, and industry expertise. It is this collaboration across partnerships and ecosystems that fosters exponential speed and value.
Creativity. Driving differentiation as a provider of IT and business process services to the BFS sector is hard work. It's a highly competitive, crowded market, often ruled by incumbents. Its strong sourcing culture is perhaps over-focused on the best deal rather than the best outcomes. Aside from table stakes investments in offerings, talent, and tech, providers are getting creative with commercial and engagement models such as modernized managed services offerings. They are also finding digital whitespace in neglected corners of the BFS market, such as wealth management, retirement, commercial banking, and capital market front-office capabilities.
Which service providers are really helping BFS enterprises make an impact?
For the BFS study, we assessed 18 service providers who specialize in industry-specific services across banking and financial services value chain. We opted to break the results into two reports:
For the Top 10, we assessed 10 service providers across execution, innovation, OneOffice alignment, and voice of the customer criteria. The top five leaders are 1. Infosys, 2. TCS, 3. Accenture, 4. Wipro, and 5. HCL. These leaders' shared characteristics include deep industry expertise across BFS subsegments combined with strong consulting, design, and IT and business process expertise, continued identifiable investments and growth in their BFS businesses, strong cultures of innovation, deep and ever-evolving third-party partnerships, internal OneOffice alignment enabling a comprehensive external approach with clients, the ability to deliver business outcomes, and exceptional customer experience.
Some specific call-outs on the BFS Top 10 leaderboard:
For the Formidable Challengers report, we assessed eight service providers across execution, innovation, OneOffice alignment, and voice of the customer criteria. The top three leaders are: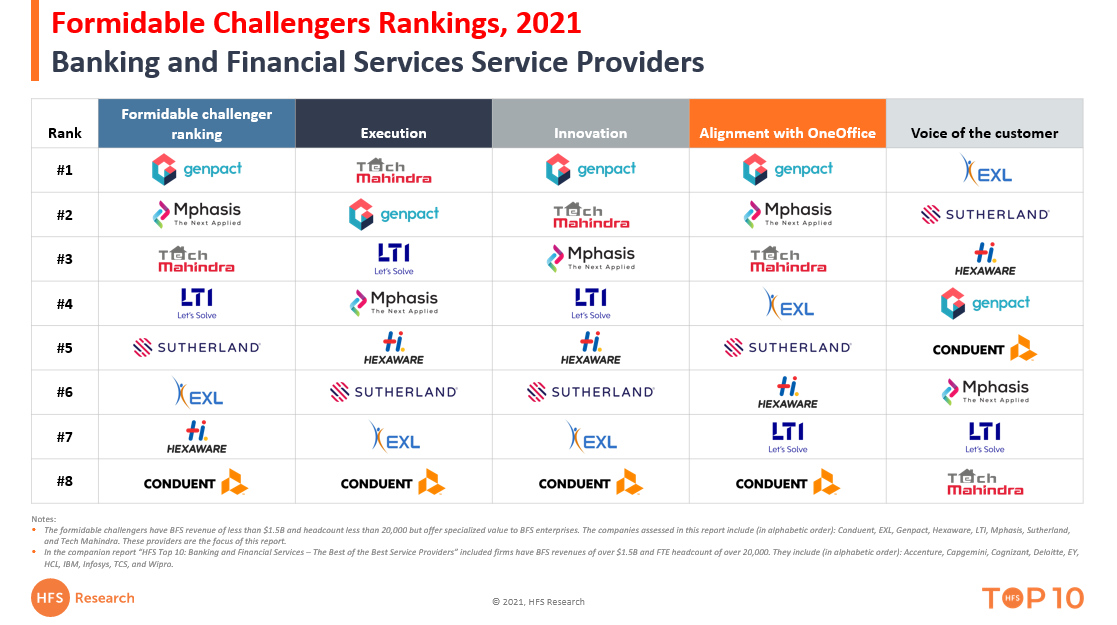 Details on notable performances from our BFS Formidable Challengers include:
We always go deep on Voice of the Customer to round out our research. Any notable take-aways here, Elena?
In a nutshell, BFS firms pick their service partners based on execution criteria, not innovation potential. This needs to change.
We did deep-dive interviews with over 50 BFS firms as part of our VOC research for this study. We observed that BFS firms select their providers based on execution-oriented criteria such as delivery quality, array of services, and industry and domain expertise rather than leading with innovation criteria such as advisory, digital expertise, automation, or partnership ecosystem. Downstream in the relationship, when assessing satisfaction, BFS firms have the highest levels of satisfaction with execution, while innovation capabilities leave something to be desired. If BFS firms want to get real about transformation and results, they need to prioritize innovation as part of the perfect partner capabilities mix.
Click here to access the full reports folks:
Posted in : Banking, BFSI, Digital Transformation, OneOffice