Question:  Which vertical industry really struggles to let anything remotely strategic go out the door when it comes to outsourcing?  No, it's not public sector, it's banking.  So why is this?
Banks are seeking to grow their revenues in many areas impacted by the recession, most notably lending services. As they regain momentum in areas such as mortgage processing and commercial lending, the operational support and infrastructure that many banks had previously down-sized, is again needed and outsourcing helps add that scale and flexibility in this volatile environment. Hence, while cost savings continue to drive outsourcing business decisions, the capabilities to scale up business volume and meet complex regulations are paramount: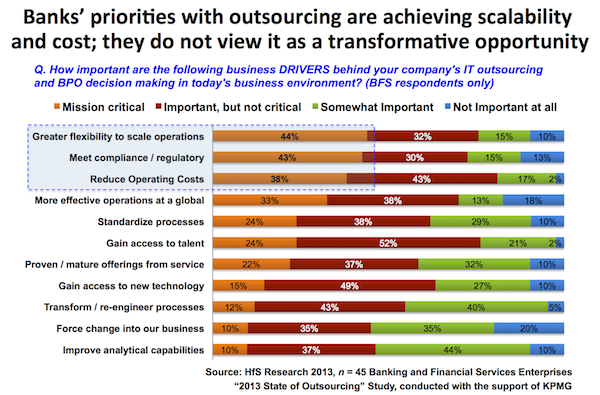 Conversely, banking and financial services organizations are clearly not viewing outsourcing as an opportunity to improve analytical capability or transform operations. Clearly, many banking executives still view outsourcing as a utility solution and are yet to be convinced of the greater strategic benefits… or are simply control freaks who just can't let go of anything remotely strategic to their organizations.
2013 poses unprecendented challenges
The banking and financial services industry has endured one of the most turbulent times in the history of the global financial markets. While there is no doubt that this pivotal time has re-shaped the industry forever, it is now time to look into the future and move ahead. 2013 is poised to be the year of action. Financial services are poised to have a huge year; there will be mergers, systems upgrades, global expansion and new product launches all designed to regain their positions as industry leaders. Leaders are faced with regulatory changes that can't be compared to anything seen in history, customers who are demanding improved services, credit policies that seem to change with the weather and shareholders who are tired of waiting for results. Strong business leaders understand they cannot be successful alone and they cannot operate the same way they did a decade ago, so there will be changes, the question that remains to be answered is who will make the right changes for success? It all starts with these two questions:
1. Have companies learned from the crisis and are they taking meaningful action to prevent a future one?
2. How will financial institutions conduct business going forward and regain the confidence of their customers and investors?
In our new report "Business Services Outsourcing in Banking and Financial Services", HfS Research looks at the willingness of executives to utilize outsourcing in helping the meet these challenges.  BFS leaders have shared with HfS that they do not plan to bring large amounts of work back onshore; they don't even plan to change providers in most cases.  What they do want is to be able to build stronger more collaborative relationships with their service providers but what does this mean and are providers finally willing to put some skin in the game themselves and step up to support their clients?
Data shows that providers continue to do a great job at decreasing cost and bringing great process rigor to their relationships but they are not supporting their clients at the next level; technology platforms and innovation.  Our recent survey tells us that buyers continue to want a partner that is willing to help take their business to the next level, whether this is through technology or better processes.  As the businesses have evolved to include in-house processing, captives and outsourced models, both providers and buyers must work together to be able to effectively integrate these into a seamless operation.  Those who do this and do it well will finally realize the value of a global operating model.
HfS Research has calculated that the outsourcing market is now closing in on $170 billion and will continue to grow at just over 5 percent a year for the next five years.   While BPO services are expected to grow at just over 7 percent, ITO and professional services will be around 5 percent.  The difference can be attributed to the overall market ITO and the services business as compared to a more immature BPO market.
However, who will be the providers that will benefit from this growth and which providers will remain in their safe zone of lift-and-shift commodity BPO processing?  For those businesses that are ready to move ahead in 2013, HfS Research has looked at 13 of the top providers in the BFS space and ranked them against their peers based on their scale, capabilities, technology and ability to drive innovation in the financial services space: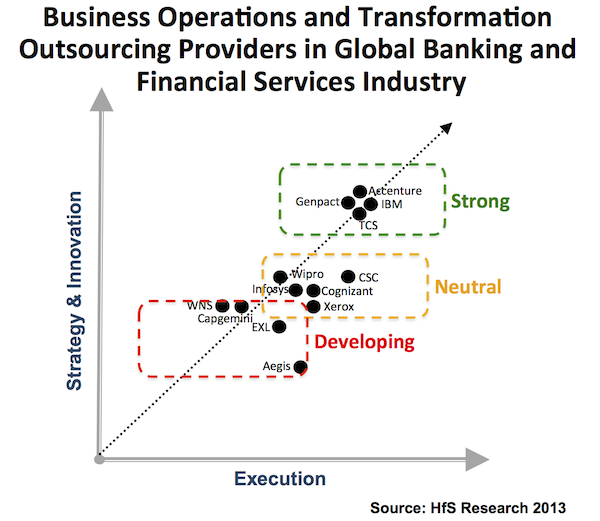 Premium subscribers to HfS Research can read on by downloading "Business Services Outsourcing in Banking and Financial Services".
Posted in : Business Process Outsourcing (BPO), Financial Services Sourcing Strategies, Global Business Services, HfSResearch.com Homepage, Security and Risk, sourcing-change, Talent in Sourcing