We're shortly going to release the results of our new study delving into BPO talent, which probes into whether there is a genuine career path to follow for BPO and operations professionals, or whether we're terminally stuck in the "accidental career" we never intended to venture into. In anycase, I wanted to share one set of data points that show which skills have been increasing in significance.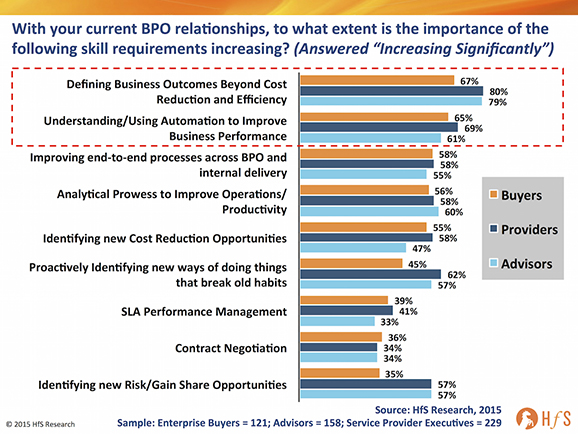 RPA has arrived as a core part of BPO's future
Over the past year, the skill where demand and expectations has become the most elevated, more than any other, is automation. 65% of service buyers and 69% of provider professionals cite the need to understand and deploy automation is significantly increasing as a skill requirement – and even 61% of advisors are feeling the pressure to knowledge-up.
Essentially, as the room for additional cost savings diminishes for BPO buyers, the logical next step is to reduce manual tasks (and ultimately unnecessary labor costs). With the heavy marketing coming from service providers and technology firms offering robotic process automation (RPA) solutions, the awareness from the buy side – and pressure on operations managers – to have a more defined, measurable automation strategy, has never been as intense as it is today, and is likely to crescendo for some time to come yet.  At HfS, we are getting calls every week from buyers wanting support developing an RPA plan for their business – it's becoming the new efficiency drive for many experienced BPO buyers.  Whatever actions buyers eventually take with RPA, they at least need to have some sort of strategy developing to placate the higher-ups questioning where their next 20% of productivity benefits are going to to come from.
The Bottom-line: RPA provides transformation baby steps for buyers wanting away from overdependence on labor arbitrage
RPA provides that logical first step for buyers and service providers to reduce their reliance on throwing lower cost human labor at problems. It provides the building blocks to develop more streamlined end-to-end processes, to perform more meaningful analytics, to create more of a digital infrastructure across the business. Essentially, RPA is the new arbitrage for many, but is unlikely to yield massive cost-savings in the near to medium terms – it is more about helping enterprises deploy their talent on higher value activities. In short, RPA is about working smarter, not cheaper.
Posted in : 2015 Talent in BPO Study, Business Process Outsourcing (BPO), HfSResearch.com Homepage, HR Strategy, IT Outsourcing / IT Services, Robotic Process Automation, smac-and-big-data, Sourcing Best Practises, sourcing-change, The As-a-Service Economy