It's no secret that the traditional infrastructure outsourcing market has taken a beating over the last few years, with our predictions of growth for the overall IT infrastructure management market hovering around 2% the last couple of years.  We are forecasting a calculated annual growth rate of 2.2% from 2015 to 2020 for this market globally.
The chart below shows our estimation of the size and forecast for the IT infrastructure management market – a market set to reach $129 billion in 2016. The chart illustrates this showing the split between the traditional IT infrastructure management market and the new "As-a-Service" model for IT infrastructure.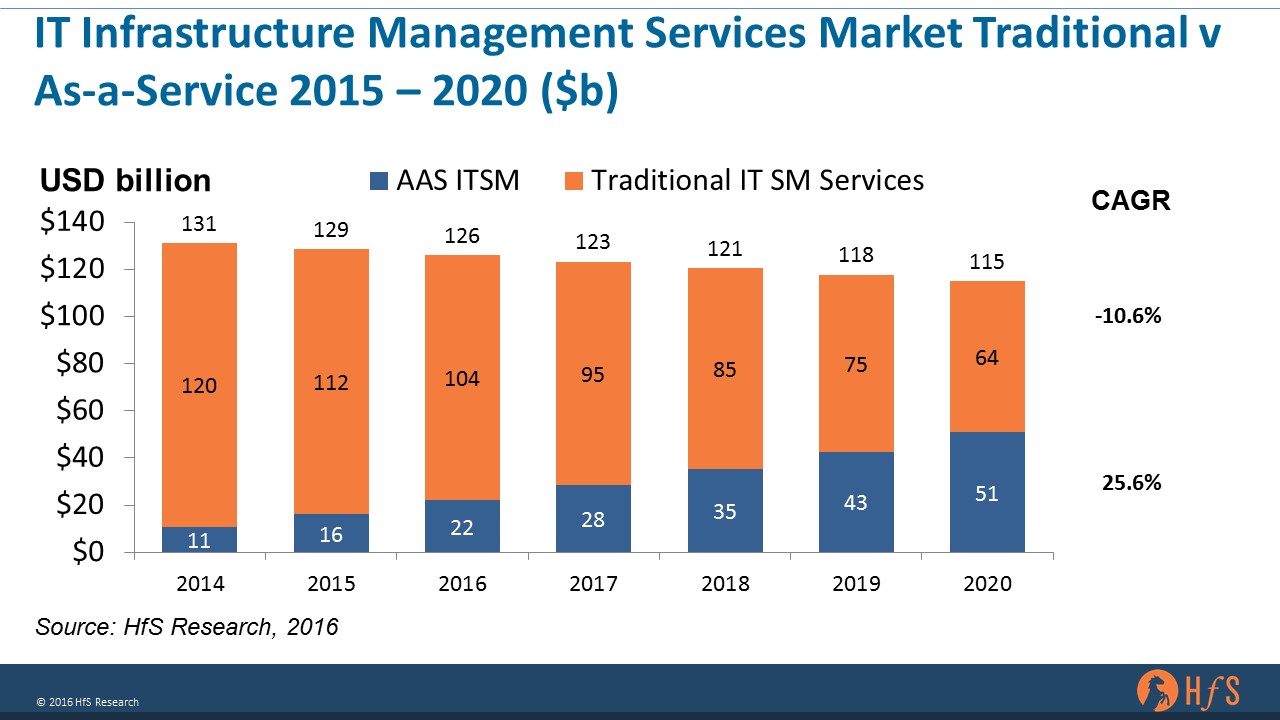 In our view, As-a-Service IT Services includes infrastructure managed services delivered in either a pay-per-use or a managed cloud platform. When we include the whole IT services market, it includes professional services revenues related to transformation to cloud/SaaS, digital engagements and the move to IT-as-Service delivery models.
The disruption we expect in the market over the next few years is dramatic, with almost half (44%) of spending from infrastructure management anticipated to come from  As-a-Service models by 2020. We believe that this forecast is a touch conservative and there is a possibility that the As-a-Service component could even grow more aggressively. This won't necessarily reduce the traditional infra spend, as the biggest uncertainty in our market model surrounds companies that don't currently use any traditional IT service management, particularly small and medium enterprises and companies in Asia. If growth in that sector shifts more toward the top end of our scenario, we could see the As-a-Service component even reach as high as $70billion in this timeframe.
One of the big impacts to the competitive landscape will be Amazon Web Services (AWS). The company recorded revenues of $7.9b in 2015, with estimates of $12b in revenues in 2016, meaning if it tracks with the market at the current rate it will reach around $25+b in revenue by 2020. Please note not all of AWS would be counted in this category and given their propensity for disruption it's unlikely its revenue profile will be the same in 2020. To put this in perspective, these estimates mean it would be competing with Accenture for the number 2 position in the IT services market by 2020.
Bottom Line: The infra market has already made the shift, now we need a plan to take advantage of the benefits of AaS
It's worth pointing out that the reduction in spending isn't all about a transition to the As-a-Service model – but the increasing efficiency of traditional IT infrastructure management. Causing deal values to plummet over the past five years as the offshore firms aggressively target this space and buyers opt for asset light solutions with more automation and remote managed "traditional" options.
Increasingly, it will become hard to differentiate between the two models, particularly as they meet in the middle, with large enterprise customers wanting cloud and As-a-Service packaged in a managed service-like wrapper, with professional services bundled into the mix.
For buyers this broadly means more choice, increasing flexibility and scope while making informed choices about risk. Public cloud will be an increasingly viable option for more types of workload – which means more organizations will need to consider it as an option for both new and existing compute. The rise of richer public cloud options and managed hybrid cloud platforms to help manage more complex infrastructures should help this transition process. Cloud was seen as a limiting choice for infrastructure in terms of workloads – now there are very few cases where security and compliance requirements cannot be met.
For the traditional IT infrastructure providers it is increasingly about partnering and making your hybrid offerings as rich as possible. On the SaaS side, it is about partnerships with the likes of Salesforce, Infor, Pega, and Workday – as well as Microsoft, Oracle and SAP. On the infrastructure and hybrid cloud side it is about having a managed service layer that helps shield clients from the complexities of cloud. One that allows them to bridge legacy applications and legacy infrastructure pools, bringing cloud flex to existing environments – and helping clients build devops platform for future development work that encompasses great architecture and great creativity. This means partnering with AWS, Google as well as Microsoft – helping increase clients choice without reducing scope and risk.
Posted in : IT Outsourcing / IT Services