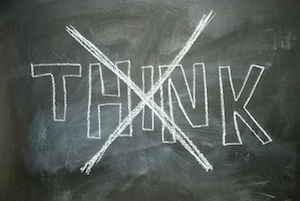 For a long while now, I have privately been concerned about the negative impact modern work culture is having on the disintegration of work ethics within many of today's firms.  Many workers, whose jobs once forced them to think and focus, have today become reactive, easily-distracted and operational.  
It first dawned on me about a decade ago, when I was enjoying one of those rare "in between jobs" periods, that I was still able to spend my whole day absorbed in front of my laptop.  Let's be brutally honest here – people think they are "at work" as long as they are sitting in front of their computer screen.  Peoples' obsessions with their favorite news pages, blogs, social sites and their 3+ email accounts has disintegrated work productivity for so many.
Too many office staff today have lost their focus and analytical value to their firms
How many people reading this blog are able to turn off their email for at least an hour, so they can focus on whatever work activity they need to finish?  How many workers have become mentally lazy, preferring the cerebral chewing gum of short-term attention span theater than actually having to read, learn and think?  How many people have evolved from problem-solvers to passive information jockeys, doing little more than responding to emails, passing on instructions, or forwarding along information someone else produced… with little (or no) value added by themselves? And how are you supposed to focus on being good at your job when you can't concentrate on any one activity for more than five minutes, being  expected to respond to emails as soon as you receive them?
I believe it is this culture of poor productivity, of reactive corporate political environments, that has resulted in operational business functions becoming, frankly, much too operational and failing to add real analytical value to their organizations' leaderships.  And while this may not seem like a big deal today, you only have to look at some recent workforce data from the McKinsey Global Institute, to understand how much trouble our businesses are going to be in, if many of our office workers fail to improve their analytical skills.  According to McKinsey's research,  US firms are already short 200,000 data scientists per year, while we will have an excess of 300,000 office support staff by 2020: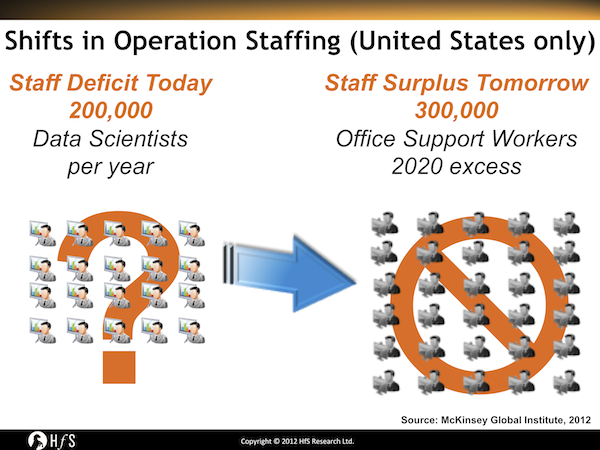 This is a wake-up call for staff worried about being "one of the 300,000"
The net result is that many of today's businesses are over-bloated with operational staff whose modus operandi is about maintaining the status quo, as opposed to exploring new ways to advance the business.  The very nature that many businesses feel the need to hire "data scientists  to improve their own self-awareness and strategic direction just about sums this up; they are essentially admitting defeat in improving the analytical and innovative capabilities of their own personnel, and are looking elsewhere to re-ignite their business fortunes.
However, it's the existing personnel within a company which knows its business the best – the quirky institutional processes, the politics, the customers and suppliers etc. The keys to success are about forcing these people to open up their minds to work with real data to understand better how to streamline existing processes, to understand better their capabilities, to pinpoint where new consumer demand may be untapped, or where existing demand is going to dwindle… right across their supply chains.  As the McKinsey data shows, the data scientists simply aren't going to be there to slot into these positions at some future moment (when it may be too late).  The really effective potential scientists are the ones busily managing their Facebook contacts, in between berating their providers for failing to bring any innovation to their procure-to-pay processes.
The Bottom-line:  Analytics providers can help re-orient the workforce to be more effective, but only if firms have the desire to change
This data is also a massive wakeup call to the sourcing industry:  organizations and analytics providers can work together to create stronger analytics based-relationships. This means not only training existing personnel to develop their own analytical personnel, but also re-orienting the work culture to re-focus the staff.  Providers can deliver armies of people with tools to add analytical capability, but they will only be effective if the provider's resources can be utilized as an extension to the client's team, as opposed to a factory of data gatherers.
Hence, partnering with providers can help get frustrated enterprises from A to C a lot quicker, bypassing much of their painful naval-gazing exercises, where they bemoan their lack of talent – and in a way that is far less expensive and risky than simply hiring "data scientists" who either do not exist, or are far too expensive for their meager budgets.
I truly believe  savvy partnering with providers can be really effective for a business seeking urgent and dramatic change to their very work culture.  "Outsourcing" (yes, I said it) strikes fear into the staff, and forces them to justify their very existence in a company.  It provides a trigger to force much-needed change into businesses.  "Outsourcing" gets a bad rap because it scares people worried about their jobs… hey , if you're worried about being outsourced, then make yourself more valuable to your organization.  Employees need to get the message – and get it fast – if they don't add analytical value to their organization, their own career opportunities are going to be limited.  It's for their own good – only possessing tactical operational skills is only going to get them so far. Who wants to be part of the 300,000 excess?
Today, I have to confess to being impressed by the armies of analytics staff and tools that providers are pushing at their clients.  This is where the real change is occurring in business and is also providing the true differentiation points across the provider landscape.  If providers can prove they can bring genuine analytical skills to their clients, then that's half the job done… the other half is their clients wanting to change and break out of this disturbing holding-pattern in which so many companies find themselves today.
Posted in : Business Process Outsourcing (BPO), Finance and Accounting, Global Business Services, HfSResearch.com Homepage, HR Outsourcing, HR Strategy, IT Outsourcing / IT Services, kpo-analytics, Social Networking, sourcing-change, Talent in Sourcing