We really didn't want to over-toot our horn with regards to our performance with the recent excellent 2014 Analyst Value Survey, which canvassed the views of 1093 enterprises, analysts and vendor consumers of research. However, we were extremely excited (and proud) to see how effectively our research has penetrated European organizations:
We've been trying very hard to increase our readership and client uptake in Europe and this really validates our open model for getting our research into the nooks and crannies of global enterprises.  It also goes to show how much noise you can make with a "Born in the Cloud" business model these days, when a small boutique like HfS can outperform a host of firms many times our size, because of our ease of access and quality of work. It's also a great validation for the services industry when we have firms like ISG, Everest and NelsonHall also outperforming many of the mainstay traditional analyst firms.  This is also very apparent when we look at the rankings global for "Value for Money":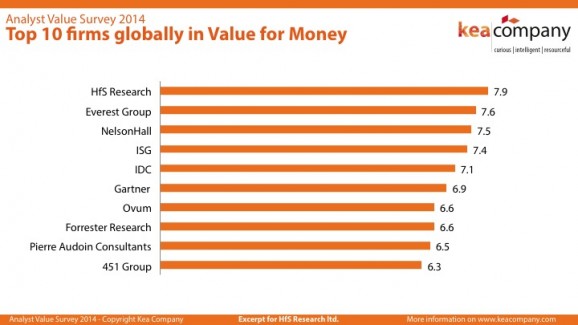 Well, that's the last of our horn-tooting for now, but a special shoutout to the team at Kea, especially Duncan Chapple, Bram Weerts and Derk Erbe, for doing such a tremendous job pulling off this innovative and unprecedented research.  Oh – and people can purchase a full copy of the data for a few shekels here.
Posted in : HfSResearch.com Homepage, IT Outsourcing / IT Services, Sourcing Best Practises