Although we expect to see more and more core IT moving to the cloud in the coming months and years, largely this is preceded by successful use of public cloud for new application development and deployment. This continued uptake in the use of public cloud eases the pressure on large organizations, with the availability of on-demand flexible computational power that scales rapidly to cater for changing business and customer needs.
For example, the rapid deployment of more customer applications as part of a digital strategy, or trying to collect more data from IoT devices, or making better use of SaaS applications are typical drivers of the thirst for on-demand scalable computing power. The issues for enterprise enterprise functions and their IT departments with cloud remain: managing cloud alongside existing infrastructures, making sure the solution complies with security and other enterprise risk concerns, ensuring they have the skills and resources to manage it effectively, performs to the right standards, is genuinely scalable, and, of course, is cost effective.
One solution to this problem, for many enterprises, is moving to a more holistic software defined datacentre model – or a hybrid cloud platform – which gathers together cloud instances and, in some cases, legacy IT into a manageable framework. This is what Accenture, and many of the other infrastructure outsourcing service providers, are doing as a way to continue to be relevant and add value in the cloud world.
In this vein, Accenture has formed another cloud-centric alliance as part of the firm's Cloud First strategy, by teaming with Google. While this encompasses pure cloud computing from Google, it also includes other Google-specific technologies, namely Android, Google apps, analytics, augmented reality, big data, IoT and machine learning. Accenture has integrated the Google Cloud Platform into its own multi-cloud platform, the originally named Accenture Cloud Platform (ACP) – ACP existing partners include AWS, Microsoft Azure, and NTT. ACP helps manage enterprise IT and cloud resources across multiple public and private cloud instances – helping to manage and automate infrastructure requirements.
The likely success or failure of such a move depends on your position on cloud platforms and their long-term future in infrastructure management. As you can see in the diagram, HfS took a position on this last year posting our view of the three most likely scenarios for enterprise cloud adoption over the next five years.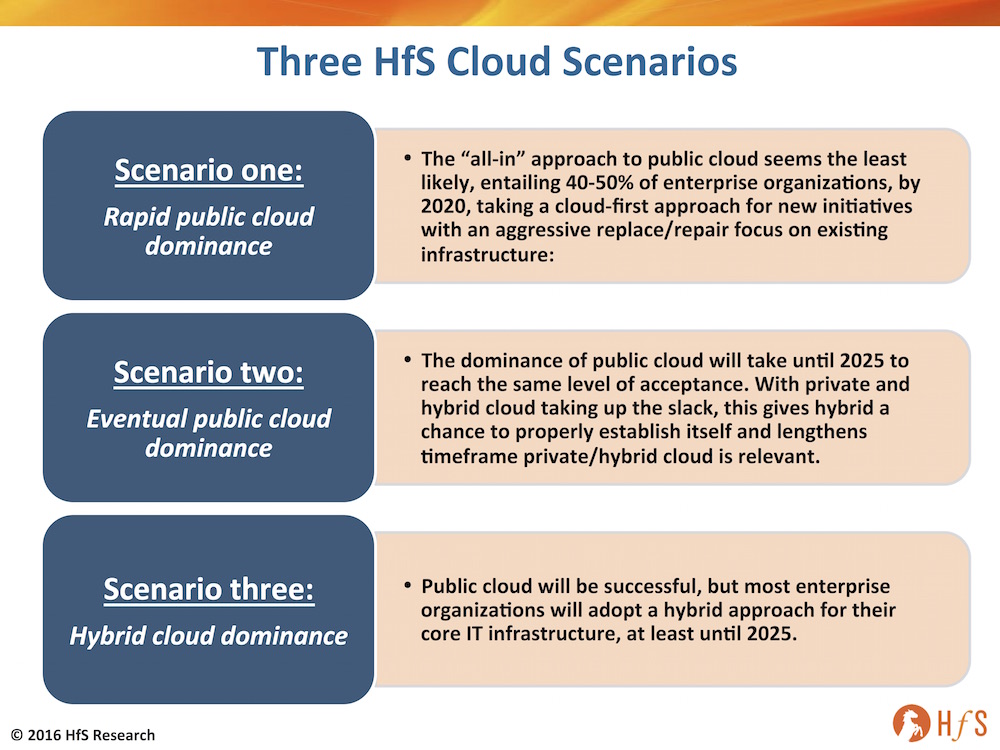 HfS stands by this schema and is increasingly of the opinion that the eventual outcome will be two or even three – with the timeframes for two perhaps stretching beyond 2025 – largely because this is the nature of prediction. Everything takes longer than people think or you desire, when it comes to replacing legacy IT. However, the big deciding factor will be the success or failure of orchestration platform layers and cloud ecosystems. However, even if scenario 2 is the ultimate winner, it still provider us with a healthy runway for cloud platforms – and these platforms are likely to be retained for enterprise environments if only to make sure the client receives the best price and cloud operators continue to innovate and provide good value.
So it seems that, at least for the time being, these platforms will be part of the on-going story for infrastructure management, particularly in complex and risk-averse enterprise environments, for several years to come. Before AWS cries fowl and says our customers tell us that they're going 100% cloud without a platform. Or that a hybrid platform creates a lowest common denominator of cloud services. I need to explain that this is a generalisation aimed largely at the enterprise space and there will be many organizations that will choose to use AWS, Azure or Google as the window into Cloud. But there are still significant numbers that don't want to be locked into a single provider, the investment in legacy is too much to abandon and that have complicated requirements that one solution won't work.
OK so now the question is who will win the battle of the cloud platforms? In the old legacy IT outsourcing world there were many "winners" with providers winning deals based on complex sets of criteria and there was scope for differentiation outside of pure technology skills or efficacy – largely because the engagements were all heavily customized and deciding which provider would deliver the best service was based very much on whether an enterprise was important enough to the provider to warrant its best resources and get the "A Team". A provider's ability to deliver value over and above the technology in IT infrastructure management engagements will persist somewhat but will be diluted by benefits that flow from the platform itself. The big changes we'll see with selecting a hybrid cloud platform will be: The big change with selecting a cloud infrastructure platform will be:
A large part of the success of the platform will be the richness of the ecosystem – both regarding quality of partner and number of services/partners in the ecosystem.
The actual functionality of the platform will also be crucial to its success. So functions like plug and play analytics, brokerage, and automation.
Finally, the way the platform deals with commercial aspects of cloud management will also be key to its success. Platforms that allow flexible methods of payment and structuring of engagement will be key. We can envisage the most flexible platforms being able to offer a full range of pricing options at a fixed monthly price managed service approach to fully pay per use cloud model.
The Bottom Line: Accenture has a firm handle on the most diverse and complex cloud capabilities to support its long-term roadmap
A key aspect of the deal between Accenture and Google is it helps to make sure the Accenture's cloud ecosystem is a rich and diverse as possible. One of the most important, if not the most important criteria for any hybrid platform will be its ecosystem. This is likely to mean there will be competition for the "best" ecosystem, and perhaps the most important gauge, for the time being, will be who has the richest set of partners. So it makes sense that Accenture adds Google to its list of partners, not just to give another compute option, but also to leverage Google's investments in other technology like AI, analytics, and automation. This a great opportunity for Google to tap more directly into the enterprise space with Accenture's credentials – similar to the benefits AWS is hoping to enjoy from its arrangement with Accenture.
More widely we expect to see more partnerships looking to build out cloud ecosystems. We expect this to happen at the infrastructure layer and also the DevOps layer. So more partnerships between PaaS platform operators and service partners – as although PaaS environments success is around broad capabilities/functionality, access to ready pools of skilled developers who use the platform is essential.
Posted in : Cloud Computing, SaaS, PaaS, IaaS and BPaaS, The As-a-Service Economy