Have we ever got so excited about a market that isn't even yet past the half-billion dollar spend level? Are we getting over excited about solutions because of their potential before they are fully tried and tested in reality?  Let's get to the realities of RPA by examining the size and five-year forecast for software and related services expenditure: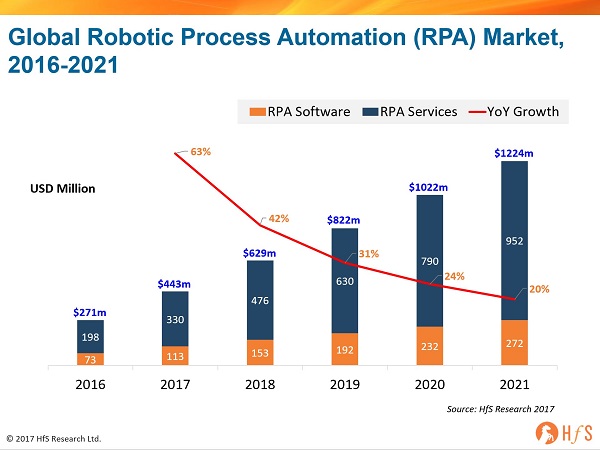 The global market for RPA Software and Services reached $271 million in 2016 and is expected to grow to $1.2 billion by 2021 at a compound annual growth rate of 36%. The direct services market includes implementation and consulting services focused on building RPA capabilities within an organization. It does not include wider operational services like BPO, which may include RPA becoming increasingly embedded in its delivery.
RPA describes a software development toolkit that allows non-engineers to quickly create software robots (known commonly as "bots") to automate rules-driven business processes. At the core, an RPA system imitates human interventions that interact with internal IT systems. It is a non-invasive application that requires minimum integration with the existing IT setup; delivering productivity by replacing human effort to complete the task. Any company which has labor-intensive processes, where people are performing high-volume, highly transactional process functions, will boost their capabilities and save money and time with robotic process automation. Similarly, RPA offers enough advantage to companies which operate with very few people or shortage of labor. Both situations offer a welcome opportunity to save on cost as well as streamline the resource allocation by deploying automation.
The bottom-line: RPA provides the building blocks for digitizing rudimentary processes in the digital underbelly, but the broader market for intelligent process automation is more than 10x the size
Stay tuned for our broader forecast for the global Intelligent Process Automation market, which is in the final stages of its fine-tuning, as the expenditure enterprises and service providers are making their internal teams to learn how to automate business processes intelligently, the internal training and development, pilot projects and trial implementations, is so much larger than simply software licences and third party professional services to work the software effectively. 
Net-net, we have to be realistic about the value RPA brings to enterprises today, versus its potential for the future. RPA's value for most of today's early adopters lies in the digitizing of rudimentary manual processes. It's a starting point for designing the underbelly that enables a digital OneOffice environment: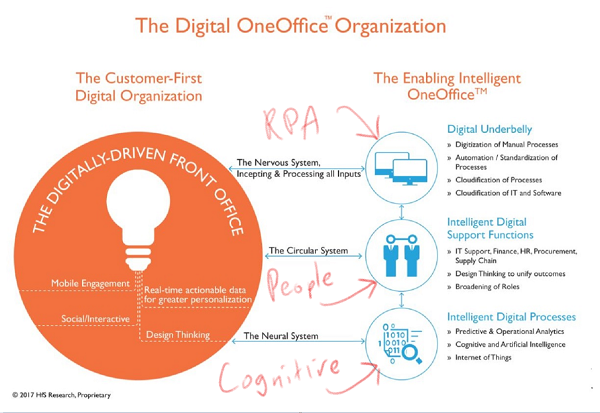 Digital effectiveness is all about organizations enjoying real-time process flows forged through the elimination of manual process break-points and intelligent linking of data patterns across the front and back offices.  RPA is a critical building block in facilitating this journey, but ultimately it's the whole OneOffice, not the sum of the parts, that matters for true real-time effectiveness. This is about one integrated organization unit, where teams function autonomously across front, middle and back office functions and processes to promote real-time data flows and rapid decision making, based on meeting defined outcomes. In the future… front, middle and back offices will cease to exist, as they will be, simply, OneOffice, and RPA has a critical role to play supporting the building blocks. However, the market is still very young and we're only at the start for so many organizations, so let's not get too carried away until we see really robust solutions with proven ROI and long-term business value.
In short, every siloed dataset restricts the analytical insight that makes process owners strategic contributors to the business. You can't create value – or transform a business operation – without converged, real-time data. Digitally-driven organizations must create a Digital Underbelly to support the front office by automating manual processes, digitizing manual documents to create converged datasets, and embracing the cloud in a way that enables genuine scalability and security for a digital organization. Organizations simply cannot be effective with a digital strategy without automating processes intelligently – forget all the hype around robotics and jobs going away, this is about making processes run digitally so smart organizations can grow their digital businesses and create new work and opportunities. This is where RPA adds most value today… however, as more processes become digitized, the more value we can glean from cognitive applications that feed off data patterns to help orchestrate more intelligent, broader process chains that link the front to the back office.  In our view, as these solutions mature, we'll see a real convergence of analytics, RPA and cognitive solutions as intelligent data orchestration becomes the true lifeblood – and currency – for organizations.
Posted in : Cognitive Computing, Robotic Process Automation