As services firms secure a new digital future, leading the journey to cloud-native for many firms is the need to modernize the vast number of applications across their technology and business silos.
While application modernization is commonplace as systems constantly need to be upgraded or migrated to newer solutions, data from our HFS's Pulse survey of Global 2000 firms' investment in microservices is increasing by over 40%.
As part of our application modernization services research, we interviewed 17 services providers and 50 enterprises about their efforts to rehost, re-factor, re-architect, replace, and retire legacy applications. Key learnings included:
Funding is coming from the business As a result, the business is driving (and funding!) the vast majority of modernization efforts;
Access to talent is the most significant limiting factor There is a battle for talent as enterprise and services providers struggle to recruit, develop, and retain the cloud-centric development skills needed for microservices, Kubernetes, Docker, and serverless software architectures;
All in on the cloud Hybrid cloud is the preferred platform for developing these solutions; this has triggered additional needs across infrastructure planning, technology architecture strategies, data management, and security.
Services providers are seeing traditional outsourcing revenues stagnate as digital revenues increase dramatically. Global stalwarts are reporting a rise in digital revenues in their financial filings, attributing to 20-40% of revenues now attributed to digital and new business opportunities in their pipelines of 60-80% of projects being digital. Meanwhile, formidable challengers like Hexaware, Mphasis, and Virtusa are reporting digital making up 70% or more of their revenues.
These are all being driven by digital.
The journey to cloud-native is here. Services providers boost their Agile practices, acquire firms with deep experience with hyperscalers and cloud-first development, and modernize their DevSecOps teams to deliver microservices, edge, and serverless computing technologies.
The modernization of applications also means significant investments in modernizing enterprise data strategies. As applications are connecting with new data solutions from Amazon's AWS (RDS) or Google's Cloud Big Data, we also see growth in NoSQL solutions and cloud-native SQL'esque solutions from Couchbase MongoDB and others.
You can (but you shouldn't!!!) modernize your applications without modernizing your data.
To this end, we have published the Top 10 Applications Modernization Services report and its companion Formidable Challengers: Applications Modernization Services. These reports delve deeply into how 17 services providers bring sophisticated practices that bring people, technology, skills, partnerships, and innovation to market.
I sat down with Joel Martin, our Research Leader for Cloud, SaaS, and applications at HFS, to learn about the experiences and insights from this new research.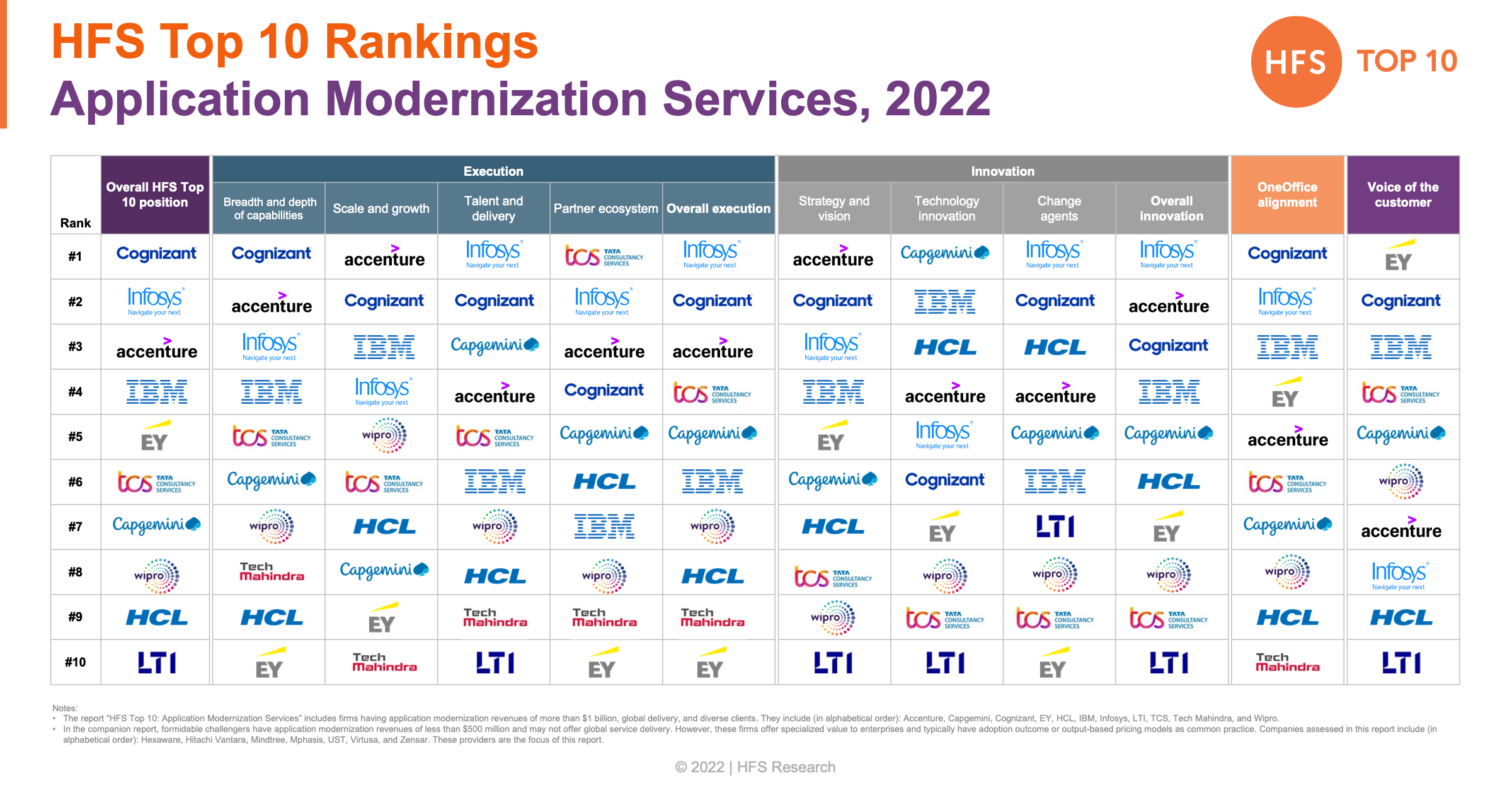 To download a copy of the report, please click here.
Phil Fersht, CEO and Chief Analyst, HFS Research: The 2022 HFS Application Modernization Services Top 10 provides a comprehensive look at the practices leading services companies are bringing to market. Joel, what changes or shifts did the pandemic put in motion?
Joel Martin, Research Leader, HFS Research: Thanks, Phil. With the switch to virtual, there is a bigger than ever expected for technology to deliver value for the business. In 2021, we saw a surge in applications modernization efforts funded by the business unit and directly tied to measurable outcomes. The positive result is that technology departments are thinking more like the business regarding how products (or services) lead to top-line growth or bottom-line efficiencies. Thus, the way they have engaged with their partners, the services provider we profile in this report, is also changing. This was reflected in our engagements with both parties in the way they set goals brought in "squads of teams from the business, partner, and technology groups" to co-innovate and co-develop solutions. I also saw how pricing models are changing to reflect the client's desire for their technology or applications development partner to commit to the outcome or output-based pricing. More often than not, the client said, "if you want to win my business, you need to put some damn skin in the game as well!".
The second big topic is the war for talent. The best talent is becoming very mercenary. Suppose you need Kubernetes experts good luck finding them or keeping them. Enterprises are investing in full-stack development teams and guarding them against other firms, software vendors, hyperscalers, and services firms that are all looking for skilled individuals. Services firms have excited their certification programs and training by partnering with universities and actively acquiring smaller firms with skills in cloud, apps, and data. A case in point is how aggressive Accenture's efforts have been in 2021 towards acquiring over 20 firms in this area!
Phil: What should enterprise leaders take away from this research, Joel?
Joel: Business leaders should take away the simple fact that modernization will improve their team's ability to deliver results. They don't need to go out to get their software because their technology teams are too busy fixing legacy solutions. Instead, the efforts of technology teams and partners to enable a largely virtualized workforce have sharpened their perspective on what teams need to deliver the services people need to provide what a customer is ready to pay for. I heard multiple stories about how technology and business became a lot closer in the past two years than in the previous decade.
On the other hand, technology leaders can look to the research to guide their opinions on the skills, domain expertise, and partnerships that these services firms bring to the market. We have collected some great insights into how these firms can execute, innovate, and help break down business processes and technology workloads based on customer case studies and interviews we conducted as part of this research.
Phil: So, Joel, who are the service providers are at the top of the list, and why are they there?
Joel: We had a very competitive market where skills and innovation are in high demand. However, after reviewing RFIs, talking to enterprise customers, and multiple vendor briefings, Cognizant, Infosys, Accenture, IBM, and EY came out as our Top 5.
#1 Cognizant has doubled down on its efforts to deliver application modernization projects tied to clear business outcomes. For example, the firm's case studies showed how squads of developers mixed technical, project, development, business, and programming experience. How these were aligned to the client's desired outcomes and delivered on these will assist in the training and developing client-side technical skills. In addition, Cognizant was willing to put its money where its mouth was and has embraced output and outcome-based pricing models.
#2 Infosys showed a deep appreciation for their customers' challenges in applications modernization, from finding the budget to IT and business alignment. In addition, Infosys shows how visionary they are becoming in their view of how important it is for customers to understand how applications modernization services must incorporate data & decisions, connected & responsive value chains, and employee and customer experiences.
#3 Accenture continues to build on its Cloud First program by aggressively adding talent through acquisition and internal programs. Not only is it deepening its skillset, but it has heavily invested in domain expertise that brings deep industry knowledge for both business and technology leaders to leverage in their applications modernization practice.
#4 IBM went through a fair bit of change in 2021, the biggest was splitting from Kyndryl, but the firm continues to make key moves that underpin its focus on hybrid cloud and AI. These both factor into the firm's applications modernization services, where they bring AMS teams, Garage, and Red Hat tools to bear to deliver compelling success stories.
#5 EY surprised us with how well its customer spoke of the firm's commitment to their journey. EY consistently was given stellar feedback on how their teams brought innovative approaches to the challenges preventing their clients from reaching the desired outcomes. In addition, EY championed the need for measurable business outcomes, brought in partners and tools to delivery, and wasn't afraid to pivot if a new technology was introduced to make the final solution more sustainable over the long term.
Phil: Joel, was there anything that surprised you in this study?
Joel: How much the service providers and transforming their own business in 2021. The firms are getting a lot crisper in how they lead with their solutions, automation for assessment, discovery, and code conversion being the key ones. Each of the services providers has developed, partnered, acquired, or a mix of all three, some compelling solutions that aid their clients in expediting the software development lifecycle as it applies to applications modernization efforts. Several firms, like LTI, have a clear view of how they lead across partners to drive domain-centric solutions with customer success teams. At the same time, companies like TCS have one of the most diverse partner ecosystems allowing them to bring talent to nearly any re-hosting or re-factoring opportunity.
Phil: Are there any interesting technology trends you spotted in your conversations with customers?
Joel: The key trend ties back to something we identified in the Top 10 Hyperscaler Services research we did last year. That is the importance of deploying, delivering, and managing applications and workloads across multiple clouds. IBM's Red Hat Open Shift is not only part of their solution but popular with other services providers and enterprise users to manage hybrid and multi-cloud based on Kubernetes. While Google's Anthos, AWS's EKS, and Microsoft's Kubernetes Service (AKS) are valid competitors, none of these currently match RHOS when it comes to enterprise-grade, multi-cloud applications management.
Phil: How do you think the application modernization opportunities will evolve over the next 12 to 18 months?
Joel: As more front and back-office systems are moved to the cloud, we will see significant changes in how data is managed and delivered. As we see more cloud-first applications developed in Node.js, PHP, Perl, Python, Ruby, and JavaEE and deployed as microservices or serverless how these are integrated with core systems and databases (PostgreSQL, MongoDB) or data warehouses (Snowflake, Cloudera) is going to drive significant changes in computing and storage architectures.
In addition, we are seeing a lot of interest in the role low-code and no-code will play. This is very important when addressing the talent gaps faced by many firms. The growing use of low-code and cloud-centric development tools can be a boon for enabling teams both on the client or partner-side to use a common set of tools (Unqork, Outsystems, Pega, Appian, etc.) to develop and support many of these exciting new projects.
Phil: Who are the disruptive players in this market?
Joel: While the big guys have tremendous global reach, they better watch their backs. We spoke with a handful of formidable challengers, including Hexaware, Virtusa, Hitachi Vanatara, and UST. These firms are very dynamic, have developed automation and AI tools for the application modernization value chain that rival larger firms' solutions, and are even more willing to go all-in with pricing that reflects success from the customer's point of view. These firms aren't burdened by legacy lines of business and outsourcing contracts, so we saw them willing to go after sub-$250 million contracts and wedge themselves into both mid-tier and Fortune 1000 firms. They also bring some outstanding specializations. For example, Hitachi Vantara is a strong manufacturing and supply chain player, Mphasis kills in banking, and Hexaware's Amaze portfolio continues to be one of the most clearly thought out solutions for automating the discovery assessment and conversion of legacy software to modern systems.
Phil: What do you expect to see as the biggest challenges for CTOs in 2022?
Joel: Phil, I must go back to talent and skills. Partners and the enterprise will have to continue to lean on one another to access a finite talent pool. Many architectures, microservices, Kubernetes, and serverless solutions are still evolving. Microsoft, Amazon's AWS business, and Google Cloud Platform teams.
Wipro cited one exciting example of developing talent with their Topcoder initiative. Recognizing the battle for talent and that many talented individuals would be happy being freelance, they've created a crowdsourcing marketplace for their customers. In the market in general, to find key talent. Wipro has combined Open Source with Open Talent models. This program is definitely worth watching.
Phil: Thanks for your time and insights, Joel.
HFS premium subscribers can click here to download our new Top 10 Report: Application Modernization Services, 2022
Posted in : application-development-maintenance-outsourcing-and-testing